Samuel Thayer's foraging books Nature's Garden and The Forager's Harvest are well loved by foragers, and his upcoming book, Incredible Wild Edibles, promises to be another great resource. 
Thayer doesn't cover the same wild edible foods in any of his books.  Each book goes into great detail about a few dozen wild foods to forage, with new wild edibles in each book.  This means if you're looking for information about a specific wild food then it's very helpful to know which book will cover it. 
It turns out it's really hard to find a list of the wild edibles covered in each of his books, though.  Even Amazon doesn't list the plants on the book's pages (and there's no "click to look inside" option) so once I finally found out which plants were covered in each book I figured I'd post the list here to help other foragers. 
Here are the lists of wild foods covered in each of Thayer's books.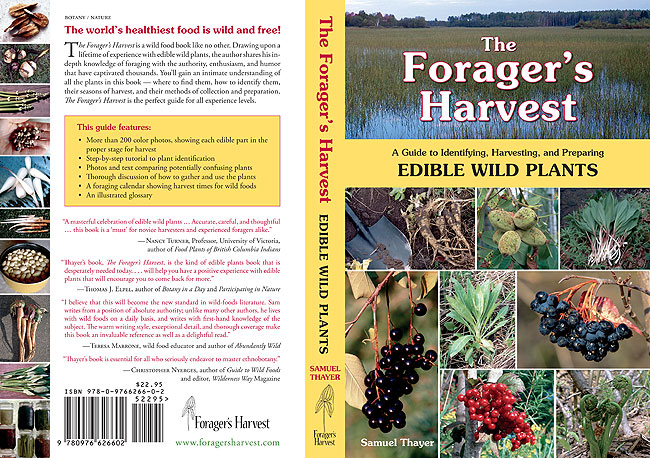 ostrich fern

cattail

wapato

wild rice

wild leek

smilax

butternut

siberian elm

stinging nettle 

wood nettle

sheep sorrel

goosefoot or lamb's quarters

spring beauty

marsh marigold

swamp saxifrage

serviceberry (a.k.a. juneberry or saskatoon)

chokecherry 

pin cherry

ground bean or hog peanut

hopniss

black locust

sumac

wild grape

basswood

evening primrose

parsnip

common milkweed

virginia waterleaf

nannyberry

black haw

highbush

cranberry

burdock

thistle

trout lily

solomon's seal

false solomon's seal

american lotus

mayapple

hackberry

walnut

acorn

hazelnut

prickly pear

amaranth

passion flower

toothwort

garlic mustard

blueberry

huckleberry

cranberry

black huckleberry

new jersey tea

wild strawberry

black cherry

sand cherry

wild plum

aronia

autumnberry

bunchberry

wood sorrel

honewort

wild carrot

cow parsnip

black nightshade

bugleweed

elderberry

jerusalem-artichoke

ox-eye daisy

dandelions

wild lettuce

sow-thistle

prenanthes

chicory

salsify 
Honestly, I'm a little perplexed as to why Thayer chose to include some of these at the expense of other wild edibles that I consider much tastier and better to forage.  For instance, I wouldn't go out of my way to ever forage Virginia Waterleaf, which he included in the first book.  While it's certainly easy to find (especially in spring when little else is), I have yet to find a way to cook it where I'd want to eat it regularly unless it was a survival situation.  He chose to include that at the expense of either acorns or elderberries (two of our family's all time favorite foods to forage) until four years later? And no mulberries, crab apples, wild asparagus….  I kind of wonder if he purposely holds back some of the best wild foods for future volumes, which makes sense for book sales but not so much for the forager who wants one comprehensive guide to the best wild edible foods.

Samuel Thayer also has a book set to be released in November, Incredible Wild Edibles.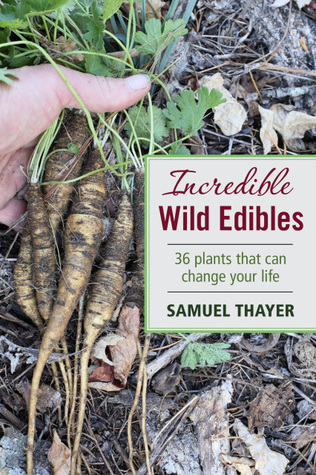 The book description promises that once again Thayer will not cover any wild edible plants he covered in previous books but once again it doesn't list which wild edible plants it will cover.  Thanks to a helpful reader who commented, we now know the list in this book too.
Black Mustard

Bladder Campion

Sweet Flag (Calamus)

Caraway

Chickweed

Chufa

Creeping Bellflower

Fennel

Wild Garlic

Gooseberry

Hickory

Hops

Japanese Knotweed

Kentucky Coffeetree

Maple

Miner's Lettuce

Mulberry

Pawpaw

Persimmon

Poke

Prairie Turnip

Purple Poppy

Mallow

Purslane

Quickweed

Rose

Sassafras

Shepherd's Purse

Sochane

Strawberry Spinach

Sweetroot (Sweet Cicely, Aniseroot)

Violet

Watercress

Water Parsnip

Wild Radish

Wintercress 
I'm happy to see some of our family favorites on the list, like mulberries, violets, wild garlic and maples.
The description says: 
Incredible Wild Edibles covers 36 of the best edible wild plants in North America: fruits, berries, nuts, shoots, leafy greens, root vegetables, culinary herbs, teas, and syrups that boast exceptional flavor and nutrition. The plants chosen represent every habitat and every region in North America, from the northern forests to the southwest deserts, from the largest cities to the wildest mountains. Rather than cover hundreds of species in brief accounts that leave the reader unsure of how to proceed, Samuel Thayer encourages readers to thoroughly learn one plant at a time. Each of these traditional foods has a rich culinary and cultural history―a wholesome past that is still relevant for our health and happiness today. The text is fully accessible to the novice, but remains botanically accurate and has the in-depth information that seasoned foragers crave.

     Sharing the wisdom of a lifetime of daily foraging, the author answers all of the reader's questions about each plant: How do I identify it? What might I confuse it with? Where can I find it? What part do I use, and when is it ready to be picked? How do I gather and prepare it? How can I be sure to harvest it responsibly? This discussion is accompanied by more than 350 color photos showing all the key features for identification, including potentially confusing species. Photos also depict the exact parts to use and the proper stage for collection. All of this is delivered in a familiar but authoritative tone, along with humorous anecdotes and insights from extensive real-life experience with each plant covered in the book.

     Incredible Wild Edibles contains an index, bibliography, illustrated glossary, range maps, and foraging calendar. This third volume in Thayer's Forager's Harvest series has no overlap of the plants covered in the first two volumes.
If you've read the newest book, please share your feelings about it.  I'd love to hear your thoughts.

**
This post contains affiliate links.  Purchases made through our links earn us a small commission at no extra charge to you.  Thanks! 
Save
Save
Save
Please follow and like us: