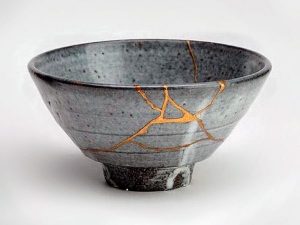 You've heard of the Japanese art of kintsugi, where broken pots are repaired with lacquer mixed with gold so they're more beautiful than they were to begin with.  
We can do the same things with our clothes, blankets and other belongings with darning, embroidery, patching and other techniques. 
It's wonderful to learn simple mending techniques, and even more rewarding when things end up looking even cooler, more beautiful and more interesting than they were to begin with.
These first two books are my favorites for teaching techniques to do this.  They're very different in spirit and content, but both are excellent.
(Note: these are affiliate links.  Purchases made through our site earn us a small amount of commission at no cost to you.  I encourage you to look for the books at your library or local bookstore too!)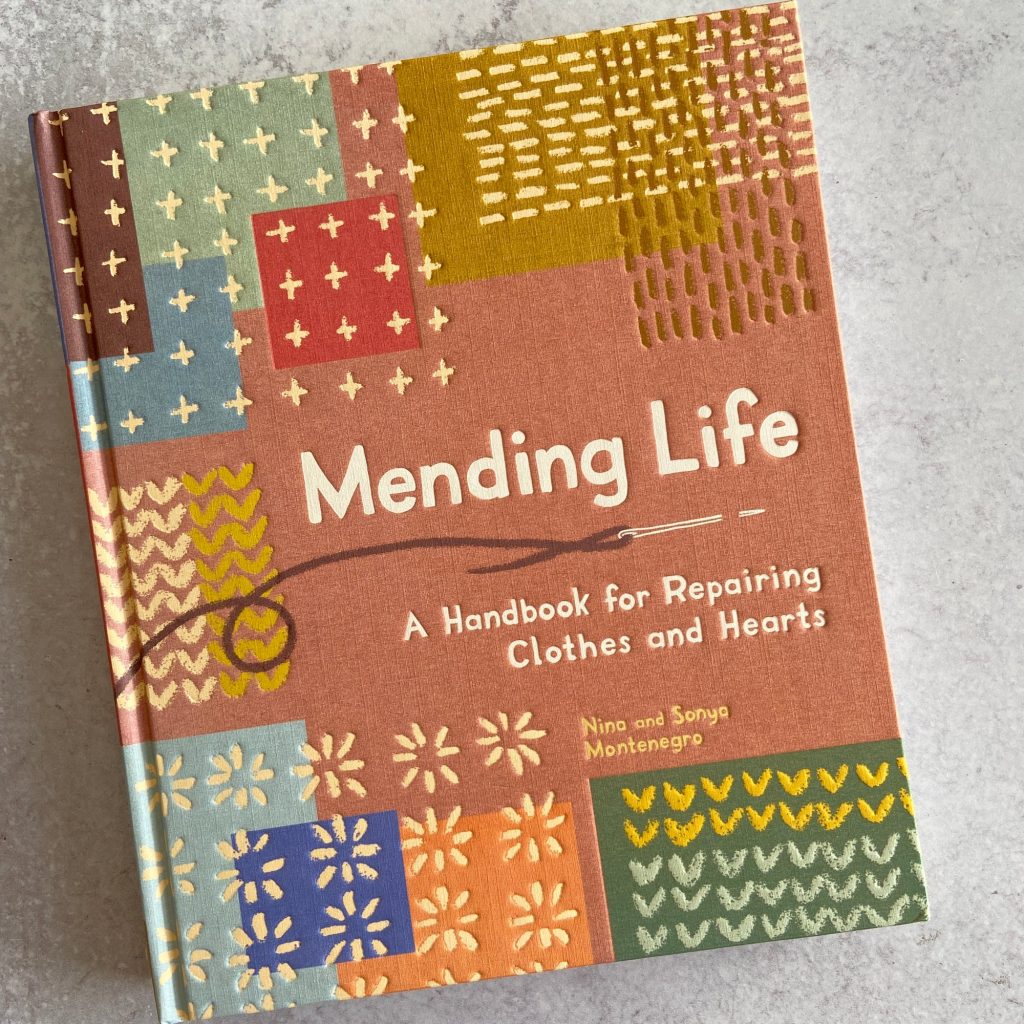 by Nina Montenegro and Sonya Montenegro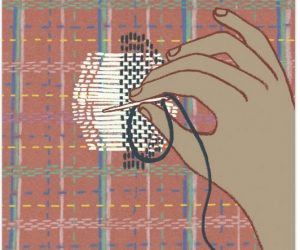 This whimsical book gives you information on "Basic Stitching, Sashiko, Darning, and Patching to Practice Sustainable Fashion and Repair the Clothes You Love." 
It is a lovely and thorough book that teaches you not just how to mend simple clothes like shirts but also sweaters, the pants of jeans, zippers and all kinds of other garments.
Written by two sisters, it's accompanied by illustrations that show how to do each kind of repair. The authors go into the reasons to mend garments and also further the lessons with instructions on how to do other repairs like mending pants, taking in clothes and sewing on buttons.
There is also quite a lot of a spiritual and philosophical feel to the book, not in a religious way but related to mindfulness, simplicity, healing, and so on.
My husband and I have always mended our clothes and we've passed this on to our kids, but this book taught me some techniques that I never knew like how to repair knitted garments.
It's a very modern and whimsical book interspersed with poems, quotes and illustrations — great not just for people who want to learn to mend their own garments but also for those of us who'd like to up our games.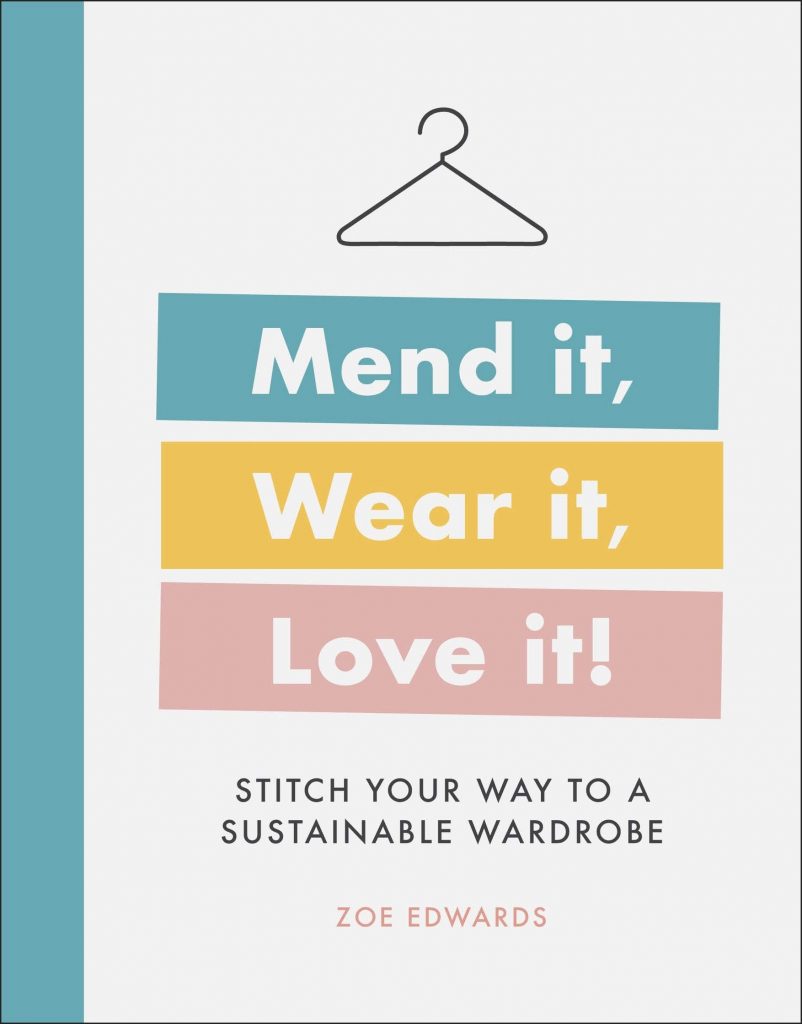 Stitch Your Way to a Sustainable Wardrobe Hardcover, by Zoe Edwards
This is a fun and informative guide to mending and altering your clothes.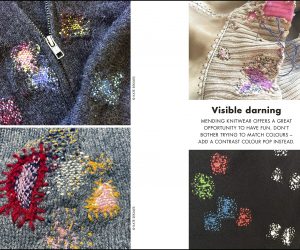 There are detailed instructions with drawings that show you how to shorten hems, darn holes, fix zippers, embroider to cover stains, add elastic, let clothes out, add darts, dye, make pockets and more.
There are some photos of the types of alterations that are visible (like patches and stitching that show and become part of the aesthetic) although I wish there were photos showing the subtle mending techniques too.
I appreciate that there are also left handed directions, and the directions tell you how to use a sewing machine or do it by hand.
This one really goes into a lot of territory, such as removing stains, taking care of clothes and adding patch pockets.
Other Great Mending Books On My Radar
I was able to read both of those books through NetGalley before they were released.  There are a couple of related books that look equally great and are on my wish lists.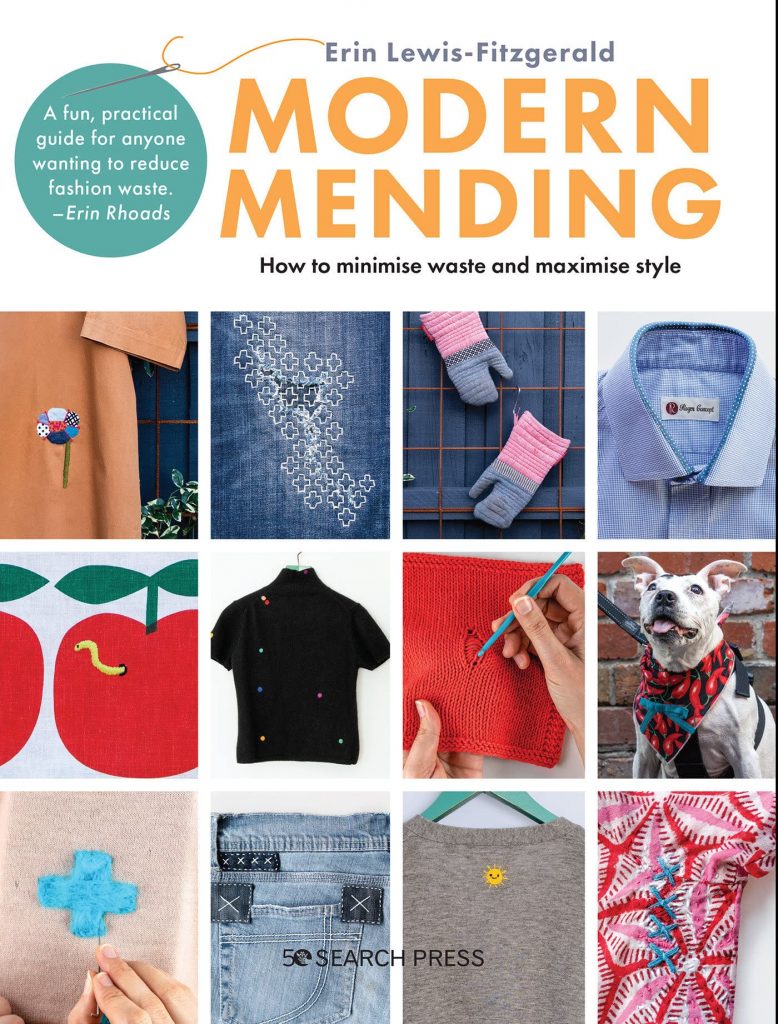 This one was recommended by a friend on Goodreads and has a nearly 5 star rating with lots of people raving about it. 
The publishers say:
Second Edition: Now with even more clever mending hacks!

Bring new life to your old clothes and fabrics with this fun, easy-to-follow guide to modern mending.

Australia sends millions of tonnes of clothing to landfill each year and our clothing consumption is among the highest in the world. But mending is trending and it's never been easier to repair and reinvent your favourite clothes.

Inspired by the global slow fashion movement, Erin Lewis-Fitzgerald has created a comprehensive guide to mending your own clothes that combines creativity and sustainability. She demystifies mending and shares step-by-step instructions for a range of techniques, including stitching, darning, patching, needle felting and machine darning.

So next time you tear your favourite jeans or find a hole in your jumper, think twice before throwing it away. With Modern Mending, you'll gain the skills and confidence needed to rebel against fast fashion and save the planet.
50 Modern Stitch Patterns for Visible Repairs (Landauer) Iron-On Patterns Included – Mend Your Clothes, Practice Sustainable Fashion, Save Money, and Build Your Sewing Skills, by Erin Eggenburg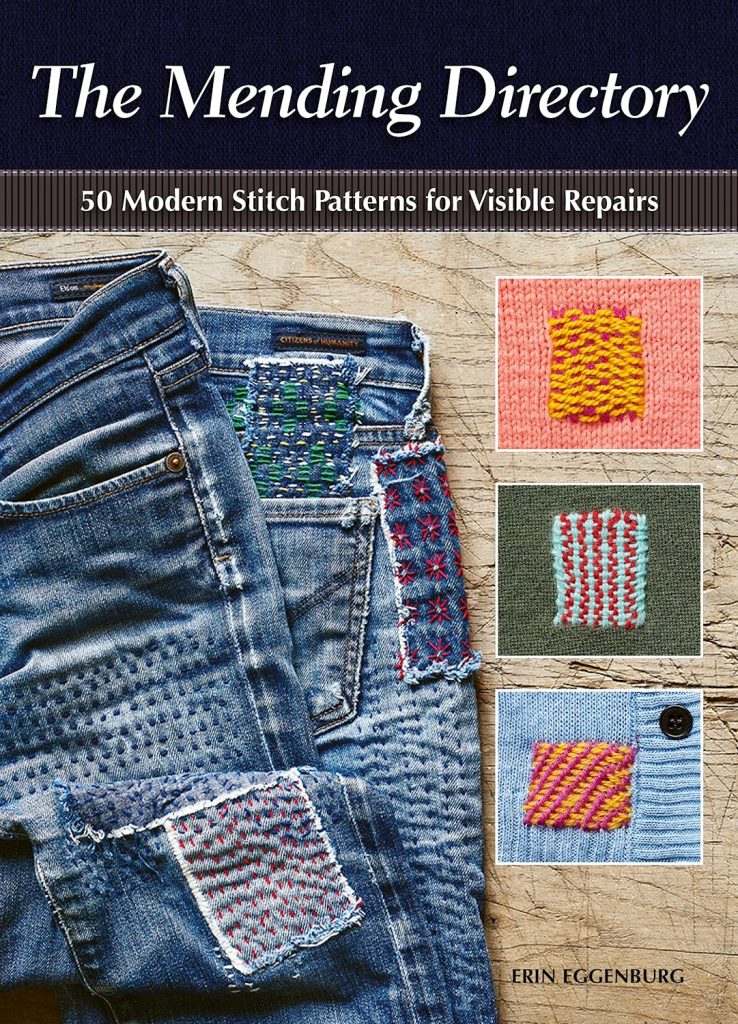 Repair your well-loved clothes beautifully:

Over 50 modern stitch patterns

in a variety of styles, from geometric grid-based designs to looser nature-inspired patterns

Make stylish repairs

with sashiko mending designs that are visible and trendy

Save money

and practice sustainable fashion instead of buying new again and again

Iron-on templates

for applying to fabric patches are included and reusable

For any skill level

, with mending patterns organized from beginner to expert

Step-by-step diagrams

to show you how to recreate each look, as well as stunning photography of every completed project

Transform your favorite pieces from worn-out to wow!

Do you want to make your favorite clothes meaningful and give them new life? Are you intrigued by alternating stars and zigzag stripes? If so, join super-mender Erin Eggenburg as she shows you how to work over 50 fabulous stitch patterns for visible mending.

An inspiring guide to eco-conscious, sustainable fashion, The Mending Directory offers 50 modern stitch patterns and sashiko visible mending designs to inspire you to repair your clothes in stylish and trendy ways without having to consume more clothing.

This 144-page collection of hand-stitched and darned patterns is organized by skill level from beginner to expert, and each includes step-by-step instructions and a gorgeous photograph of the finished pattern. With designs ranging from geometric grids—including diamonds, zigzags, and chevrons—to those in a looser, nature-inspired style such as dandelion clocks, rainbows, and windmills, this is the perfect source of inspiration and instruction for every mending project.

Perfect for both beginners and those with sewing experience, this guide will help you save money, build your sewing and stitching skills, and make stunning fashion statements! The 50 patterns feature a variety of styles for all kinds of wearables. From squares, triangles, and diagonals to flowers, raindrops, stars, hearts, and more, The Mending Directory has something for everyone and every item in need of TLC! Also included are reusable iron-on transfer templates for applying to fabric patches.
If you have other great books to recommend, please add them in the comments!
Please follow and like us: