A well-known Instagram star's popular new foraging cookbook has been pulled by its publisher, thanks to the fact that some actual foragers got a hold of it and alerted readers to some dangerous (and seriously unpalatable) recipes inside it.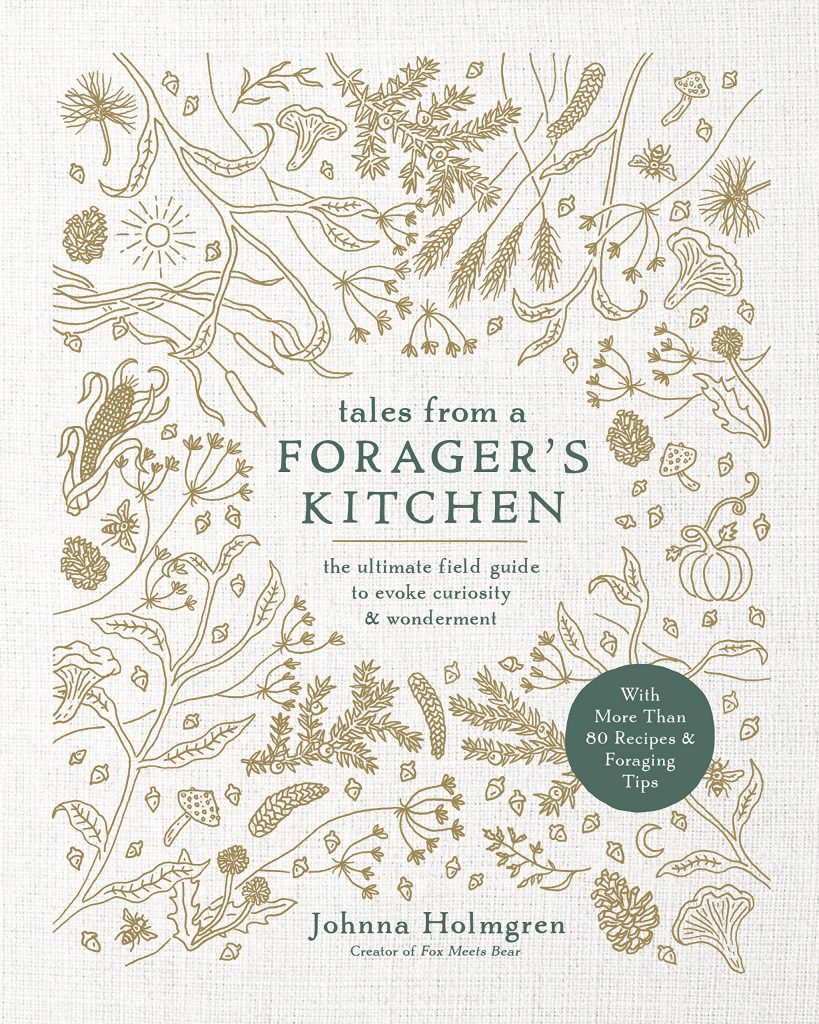 Tales from a Forager's Kitchen: The Ultimate Field Guide to Evoke Curiosity and Wonderment with More Than 80 Recipes and Foraging Tips was pulled on August 10, after enough readers sounded the alarm that its recipes involving acorns, mushrooms and elderberries were potentially toxic. 

Early reviews were all five star reviews on Amazon, until readers with actual foraging experience weighed in with damning reviews that detailed many concerns about author Johnna Holmgren's recipes.
Reviewer Wild Rose wrote:
Examples of recipes in this book that encourage haphazard preparation of wild foods include:

Instructing readers to consume RAW Wild Mushrooms, like the Chocolate Dipped Fungi that calls for Raw Morel Mushrooms. That's a pretty big no-no. Morels need to be cooked first to be safe for human consumption.

I was also alarmed to see a Smoothie Recipe that calls for 1/2 cup RAW elderberries. It's well known that Raw elderberries are not recommended for eating in Raw form. The elderberry seeds (inside each berry) contain cyanide-inducing glycoside which is toxic to humans, to get rid of this toxin you just need to cook the berries first. People have been poisoned from consuming too many raw elderberries, which has caused symptoms of nausea, vomiting, abdominal cramps, dizziness, numbness, and weakness.

And I was alarmed to see a Pumpkin Soup Recipe in this book that calls for 2 cups whole acorns. Acorns need to be leached first (ground finely, and soaked in multiple changes of water to leach out the tannins.) In raw form, acorns are not edible to humans, and if you've cracked open an acorn, and taken a bite, you will know how un-palatiable these nuts are until properly leached.
Sam Sycamore of Good Life Revival wrote:

Unfortunately, I have to conclude that this book is about the style and not the substance, which contains several quite glaring and damning errors that would have immediately been caught by anyone with at least a couple years of experience with wild foods — or cooking, for that matter.
He added:
For her part, Johnna attempted to quell the storm on Instagram with a post that insisted she had consulted with foraging experts who assured her that "some people" can eat raw mushrooms no problem. She also offered the disclaimer that she's not a forager, nor a nutritionist, nor a botanist, nor a chef, etc. This post spawned tons of negative comments, and has since been taken down.

To be perfectly honest, I feel like a jerk writing this review, because I'm sure many people worked very hard on this book for a pretty long time. But I can't help but suspect that this book is simply an attempt to cash in on a passing trend, and as someone who's really passionate about this stuff, I really hate to see bad information go unchecked. At best it will turn people off from what could otherwise become a lifelong passion, and at worst it could actually hurt those people.
As a forager and foraging author myself (and one who has written books specifically about foraging elderberries and acorns), I was shocked and disheartened to find out that a major publishing house like Rodale had published a book with such dangerous and uninformed advice.  There's simply no excuse for a "foraging author" not to know common sense things like the fact that unleached acorns are not only unhealthy but also will taste absolutely horrible.  There is no way that Holmgren could have eaten some of the recipes in her book and not known they were bad.
For those who are new to acorn foraging, here is an excerpt of the basic process from my book, Acorn Foraging:
Harvesting acorns requires 6 basic steps, which will be covered in detail on the following pages.

Gather your acorns.
Remove the caps, if necessary.
Play "sink or swim" to easily weed out the bad ones.
Remove the acorn meat from the shells.
Leach out the tannins with either cold water (over time) or several changes of boiling water.
Dry, roast or dehydrate the acorns or meal.
Some people dry their acorns first but this is unnecessary unless you plan to store large quantities of acorns to process later in the year.
You can leach the tannins out of acorns with hot water leaching or cold water leaching.  Each has benefits.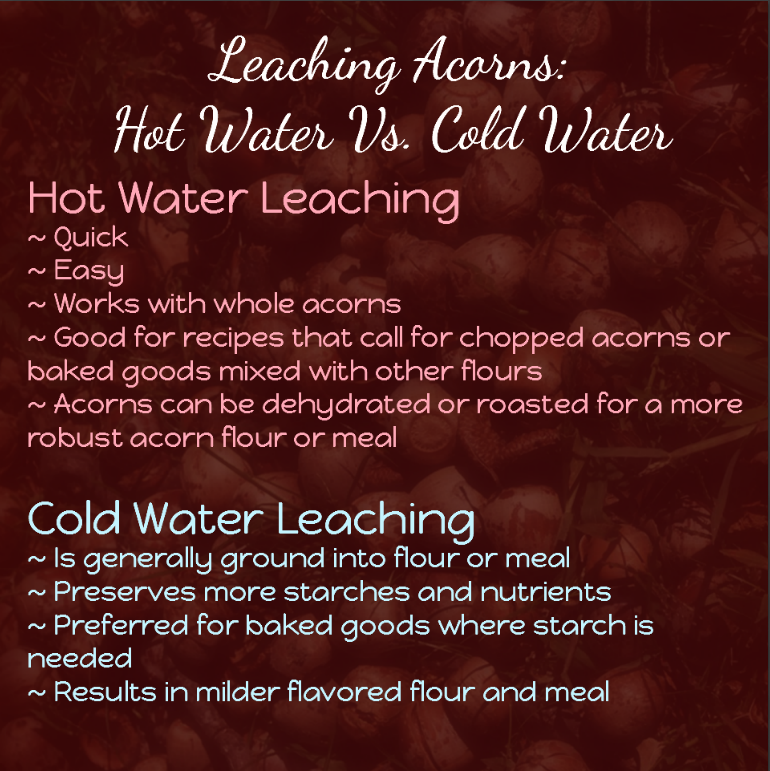 There are many ways of leaching acorns, and I go over quite a few of them in the book.
It is work to process acorns, but we find that it is work that is easily worth it.  When properly prepared, acorns are a healthy, delicious, gluten free (and paleo!) food source that is incredibly versatile to work with in all kinds of recipes.  Acorn flour is a delicious gluten free flour and acorn meal can be used any way that you'd use corn meal (especially as it has the same thickening properties, which make it wonderful for recipes like tamales and polenta).  Acorns make delicious hot cereals (think cream of wheat but much tastier and more nutrient-rich), beverages (such as acorn coffee, acorn tea and racahout, which inspired the invention of hot chocolate), desserts and more.  When left whole and cooked, they can also be added to dishes and work much like garbanzo beans.  Acorns also make the best vegetarian "burgers" and "meatballs" that I've ever tasted.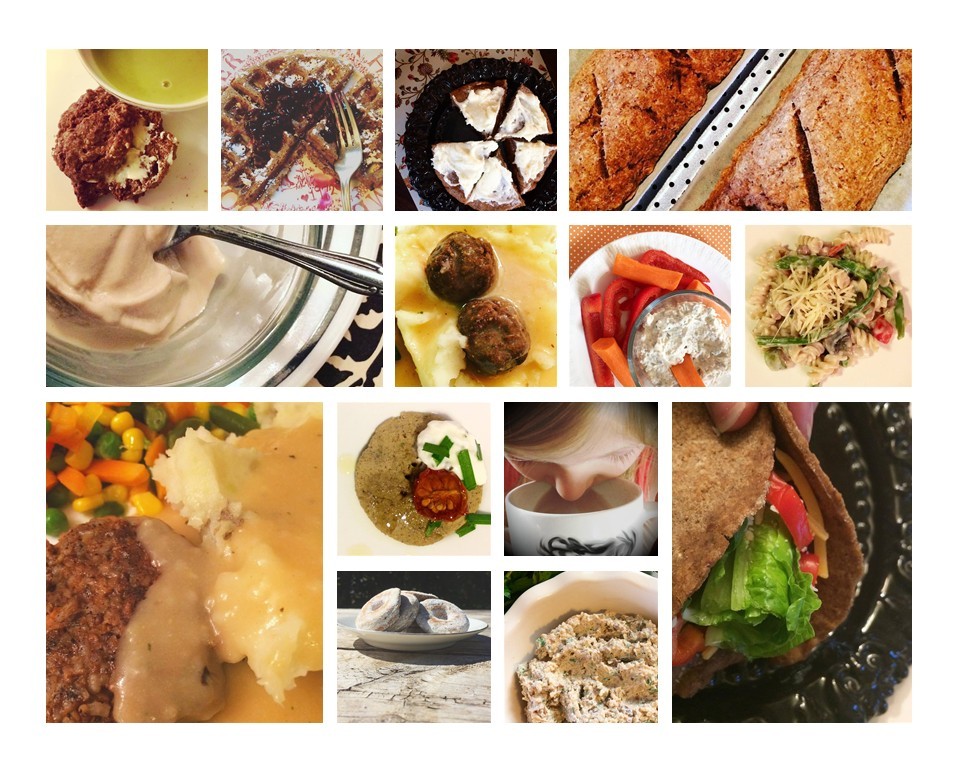 I also hope that this book and the negative publicity doesn't scare people away from elderberries.  Most people know how amazing elderberry syrup is at curing the flu and regulating the immune system (among many other proven medicinal purposes), but elderberries are also absolutely delicious — once they're properly cooked and prepared.
Elderberries and elderflowers are wonderful for health remedies, jams, jellies, beverages, pies, cakes, liqueurs, wines, muffins and more. 
https://www.instagram.com/p/BVnSXonFqZV
https://www.instagram.com/p/BTaVuF7lVdD
That said, each elderberry contains three seeds that contain cyanide-inducing glycosides (just as apple seeds and many other foods do). Eating enough of these glycosides can cause a toxic buildup of cyanide in the body and make you quite sick. People who consume raw, whole elderberries can experience nausea, vomiting, diarrhea, and even coma. Elderberry poisoning is incredibly rare (I cover the only known case of elderberry poisoning, which was the result of reckless and frankly idiotic preparation of elderberries and their branches by some people at a nature retreat, in my book) but it can happen. Most people recover quickly, although hospitalization may be required in extreme cases.
Cooking elderberries destroys the glycosides present in the seeds, making the berries with their seeds safe to eat. It is also fine to use whole elderberries to make wines, tinctures (steeping the berries in vodka over time) and juice (which we make by covering the elderberries with water, simmering, pressing, straining and then canning to use all year).
I repeatedly warn not to consume raw elderberries in my elderberry book, Elderberries: The Beginner's Guide to Foraging, Preserving and Using Elderberries for Health Remedies, Recipes, Drinks and More.  I also give extensive information about identification, poisonous lookalikes, health benefits and contraindications, scientific studies and other important information to educate readers as mWch as possible about how to properly use and enjoy elderberries and elderflowers.  I consider this a crucial part of any foraging book and am really floored that nobody in the entire team responsible for publishing Tales from a Forager's Kitchen did this kind of research and education for multiple wild foods in this cookbook.
I sincerely hope that none of the negative publicity surrounding Tales from a Forager's Kitchen deters people from learning about foraging wild edible foods.  I can certainly see the appeal of Holmgren's book and the lifestyle she attempts to portray through her huge Instagram page, but I think it ultimately does a huge disservice to foraging and sustainable living practices in general.
Portrayals like this ultimately set up a completely unrealistic view of foraging — and motherhood, homeschooling, natural living and life in general, to be honest (how many of us give birth while still looking Instagram perfect in the woods?).
Holmgren recommends $65 foraging bags on her blog, has sponsored posts about everything from Tractor Supply Co to Best Buy to travel agents to cameras on her Instagram feed, and is making a very good living by portraying this artificially perfect lifestyle. 
https://www.instagram.com/p/BjQ3Badlimj/
Foraging doesn't have to be a magazine-worthy scene where people sit around in glass greenhouses in the woods enjoying perfect looking plates of exotic wild foods. 
https://www.instagram.com/p/BivlC3cFQln
https://www.instagram.com/p/BkadTg1FRfm
Foraging is simply enjoying the wonderful wild foods that are all around us and learning how to properly identify, process and enjoy them.
If you'd like to know some of my favorite cookbooks (and a few I wasn't so fond of), check out the books section here on our blog.  I particularly enjoyed the new book, The Fruit Forager's Companion (my review is here) and I'm hoping to pick up all of Samuel Thayer's books.  I'll try to compile a list of my other favorites soon.  We own about 20 or 30 foraging guides and cookbooks, and many of my favorites are not at all well known.  Please chime in with your favorite resources too!
** Disclosure:  This post contains some affiliate links.  Purchases made through these links earn us a small commission at no extra charge to you.  We will never recommend a book that we would not enthusiastically purchase ourselves.
Please follow and like us: