Looking for some upcycling inspiration for your yard and garden?  Upcycling Outdoors: 20 Creative Garden Projects Made from Reclaimed Materials, a new book by Max McMurdo, is a fun, inspirational and educational read.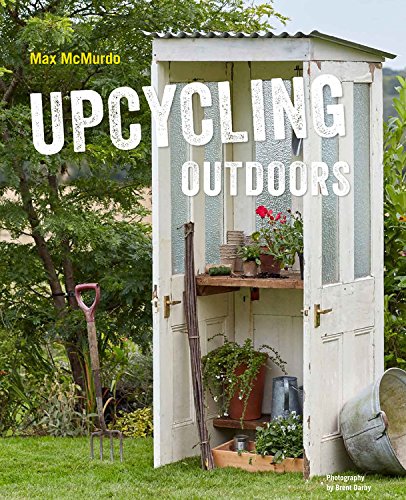 I read a temporary digital ARC of this book through Net Galley. I really enjoyed it, but found it had limited use for me personally.
Pros:
There are really cool projects in here. Some of my favorites were the toolbox barbecue, bicycle picnic set, pallet play tent, three door potting shed, and the giant domino set.
It is FULL of detailed instructions and full color photos.
The author is knowledgeable and really likeable. His voice comes through in the projects and his enthusiasm is contagious.
I love the focus on reusing instead of buying new. Not only does this keep old items out of landfills, but it reduces our need for mass marketed new items that use up resources and saves money (often).
The projects are whimsical and attractive. The three-door potted shed alone is worth the cost of the book if you're handy enough to make one (and he helps you be that handy pretty easily).
Cons:
You'll still need to source the materials, which went against what I was specifically looking for. For instance, he has a hanging gutter garden that's really sweet, but he tells you where to buy the gutters and end caps and then you need to fill it with specific types of plants like succulents. Is it a darling project? Yes. Do I have any of the items needed in my overfilled house or garage? Nope. Do I want to go buy more stuff to repurpose it? No.
A lot of the projects are just too high of a learning curve for me. I love that he teaches you how to do them, but I'm not looking to master that much construction skill personally. I'm looking more for simple inspirations to reuse things with pretty minimal skills (painting, sanding, screwing, tying, nailing, sawing wood but not necessarily copper pipe and such…).
The projects tend to be a fair amount of work. Are they worth it for the end result? Probably for sure. But as a working, homeschooling mom of 5, I don't have that much time to spend making projects even if they're awesome projects. I personally am more interested in much more short, easy projects and information on how to make those items weatherproof for outside.
All that said, it's still a fantastic book. The projects really are brilliant and fun, and the author is a delight.  This would be an especially fun book to use with teens to learn woodworking and other skills together, or for any home carpenter looking for new inspiration and techniques.
(Note that this post contains an affiliate link. Amazon purchases made through our links earn us a small commission at no extra cost to you.  We will always be 100% honest with our reviews, whether or not they contain affiliate links!)
Please follow and like us: