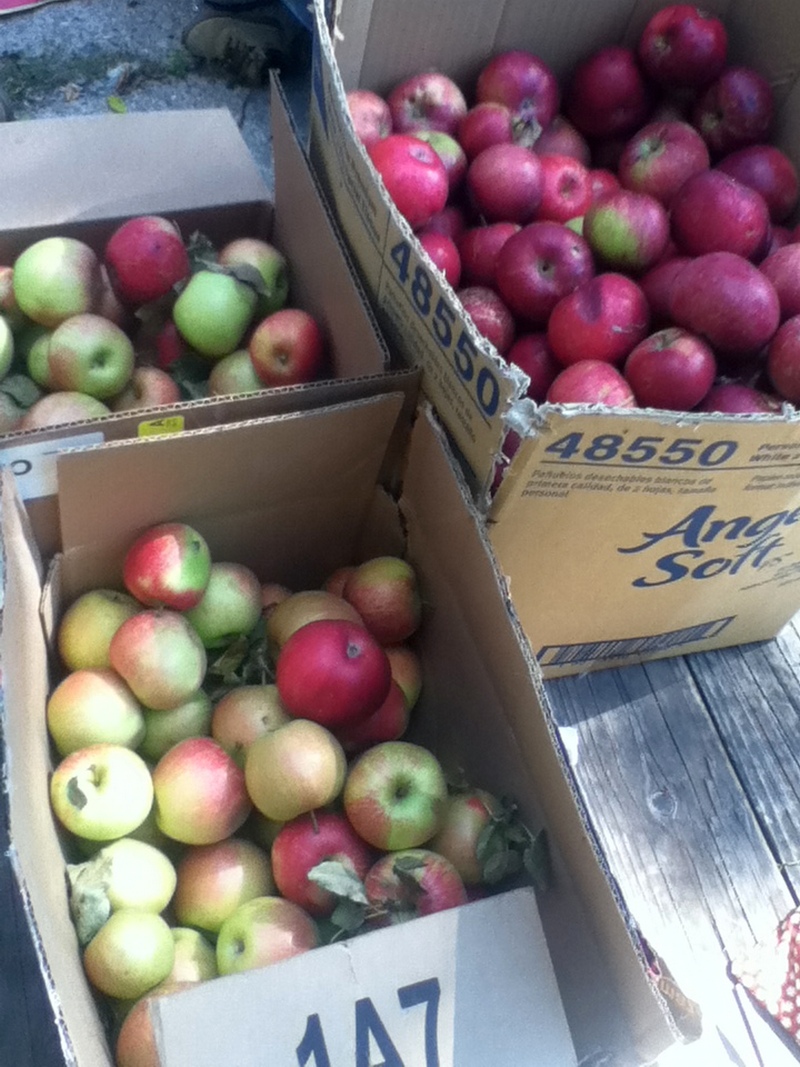 While 2014 wasn't a good year for mulberries or acorns, it was a banner year for apples. We had many more than we could possibly process, and had to leave some trees untouched. We have over 400 pounds of apples (about 8 bushels) either already processed or waiting, with more on the way. They were gathered from friends, farms, and orchards.
Here are the apples we've gotten so far, and how we use them. They are listed in the approximate order of harvest..
Lodi – this is the earliest ripening apple, ready in July, and we have 3 locations to pick from (although we only harvested from one this year). They are medium to large apples, light green, and very soft. They are the perfect sauce apple. After cooking them down and running them through a mill, there is nothing left but the seeds. The skin just melts.
Mrs Bucholz's tree – an unknown variety. They are yellow and red, very soft when fully ripe, and wonderful for applesauce. They ripen in early to mid August.They are prone to spots in the flesh, although this year they were very clean.
Beacon – one of our culled apples from an orchard. This is a University of Minnesota variety which ripens in mid to late August. It is red, soft, and delicious and makes a lovely pink applesauce.
Jeffers farmstead yellow crab apples – unknown variety. Yellow, about 1″ long. Unpleasant flavor. I'm not sure what to do with these.
Jeffers farmstead apples – unknown variety. They are red, medium sized, with a good flavor. They ripen in August to September, and are good for eating and baking.
Red Baron – one of our culled orchard apples, also located on a hospital's grounds. Large yellow and red apples with a waxy, bumpy skin. We use these for eating and baking, and will try cider with it this year. This is another University of Minnesota variety. It ripens in mid-September.
Red crab apples – from the Oaks Lake farm. These are the standard crabs, about 1: long and very tart. There are two trees, both very bountiful. We make crab apple cider from them. They ripen in September.
Haralson – another one of our hospital grounds apples. It ripens in late September, and we use ours for baking, eating, and cider. This is another University of Minnesota variety.
Purple Wave crab apples Originally from British Columbia, Canada. These are small, dark red crab apples with solid purplish-red flesh. They are from the Dundee cemetery, and we haven't really decided what to do with them yet.
Chestnut crab apples – near a Chipotle restaurant. Large yellow/red crabs or small apples, about 2 1/2 inches long. Very tart, yellow flesh, browns quickly. A nice addition to cider. This is another University of Minnesota variety.
McIintosh – delicious apples, literally picked up from the curb. Someone in town has too many has and been setting them by the road in large boxes marked "Free". We've picked up a lot. They are red, sweet, and smell like apples should smell. Wonderful for eating or baking.
Sam's Club apples – possibly McIntosh, but I'm not sure. These are from the median between a Sam's Club and a car dealership. They are medium to large, red/green apples with an okay flavor and firm flesh. We use them for baking and cider.
I really feel bad about all the apples we had to leave behind! A friend has 3 trees we could have picked over, my parents have 2 trees, another friend has crab apples and Haralson apples, I have permission to pick 2 other varieties from a farm, and I keep seeing more trees with fruit just lying all over the ground. We also belong to an organic CSA which provides us with apples from their trees, including Beacon, State Fair, Zestar!, Sweet Sixteen, McIntosh, and Red Baron.
There are just too many apples in the world, and not enough foraging and preserving time! There are trees we haven't been back to pick from even though we love them, and this isn't counting the 6 varieties of pears we've been foraging this year.
May your collecting be as bountiful!
***
This article originally appeared at Examiner.com
Please follow and like us: