It's mulberry season!  Whether you have a mulberry tree in your back yard or local park or you have generous friends or neighbors, these sweet treats are all over right now.
There are so many reasons to gather mulberries.
First of all, they're incredibly healthy.  Mulberries are loaded with nutrients, antioxidants, vitamins and minerals and are also helpful for weight loss. Each cup of raw mulberries contains just 60 calories, but 2.4 grams of dietary fiber and 2.6 milligrams of iron, along with high levels of vitamin C, riboflavin (vitamin B-2) and vitamin K.  In addition, mulberries contain resveratrol, an antioxidant shown to have anti-aging and weight loss effects.
Mulberries are also quite easy to harvest (here's how we harvest mulberries with our kids) and very versatile.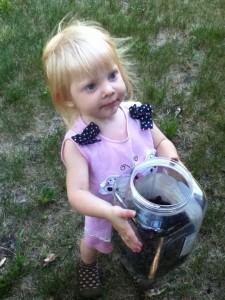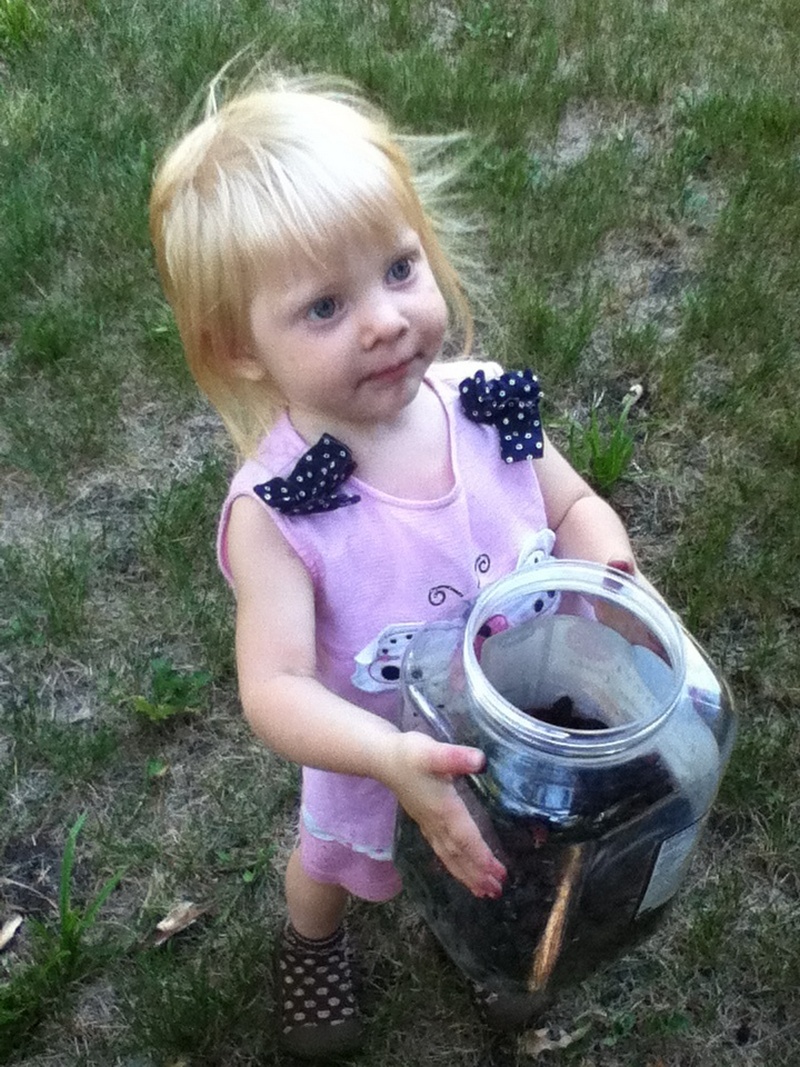 They're also tasty.  Unlike lots of wild fruits that require sweetening or processing to be palatable, ripe mulberries are delicious fresh off the tree.  Our children have grown up with pu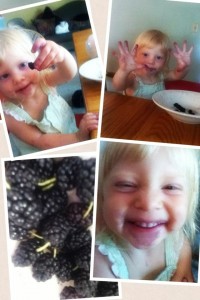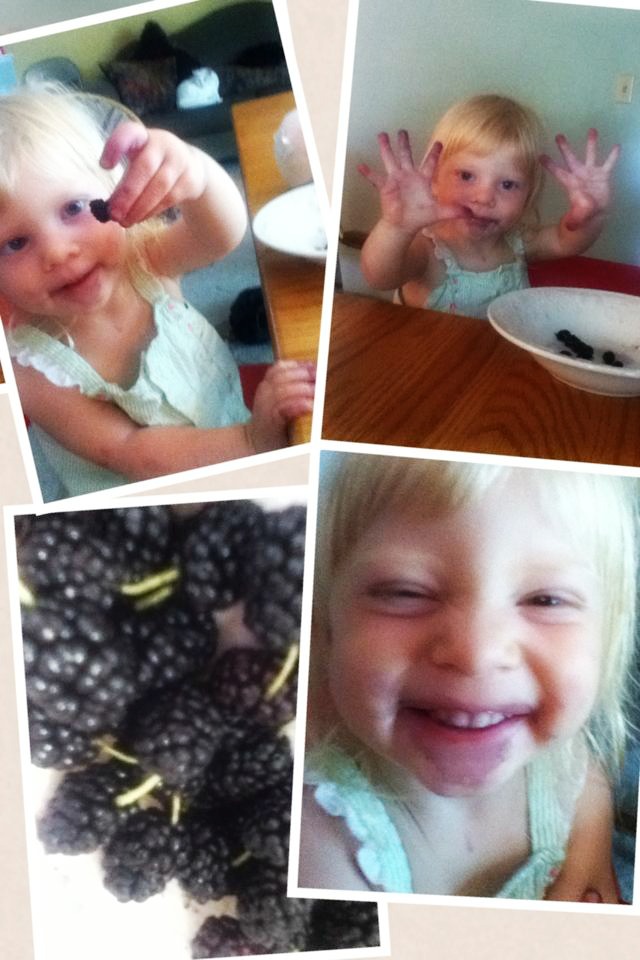 rple stained hands this time of year from munching mulberries. 
Best of all, they're free!  Mulberries are practically falling from the sky this time of year, so there's no good reason not to put them to use.  Our kids enjoy them eaten plain out of hand, but there are also all kinds of wonderful ways to use large bounties of these versatile little berries.  
Do you have a stash of fresh mulberries and are wondering what to do with them? 
There are so many wonderful ways to use these healthy, delicious little fruits.
Here some of the best ways to use mulberries.
Dry them.  Dried white mulberries are sold as a "superfood" and are a common ingredient in healthy smoothie recipes.  You can buy them online but it's so much nicer to gather and dry them for free!  We use our dehydrator (this is the inexpensive dehydrator we have) but you can also dry them in on trays in the sun (here's good information about solar dehydrating), in a hot car or attic, or in a warm oven.  Just spread them on pans and stir them occasionally.  Check them often and remove the mulberries when they're no longer tacky to the touch and make a rattling sound when you shake the pan.  If you keep the temperature below 125, they are considered raw and said to still have their healthy enzymes, so raw food enthusiasts use dried mulberries for a lot of applications, too. Store dried mulberries in sealed containers like glass jars or ziplock bags. For the first week or two, shake the jars or bags daily to redistribute moisture and keep them from molding or clumping.
Ways to use dried mulberries:
Added to smoothies (green smoothies or any other type) for sweetness, flavor and nutrition
Used as a gluten free "cereal" with almond milk or milk or choice
In trail mix
Stirred into muffins and other baked goods
As a topping for yogurt or chia pudding
In homemade granola
As a snack out of hand
Use them in fruit leather.  Mulberries work well in our easy DIY fruit leather, either alone or (or favorite) combined with other fruits.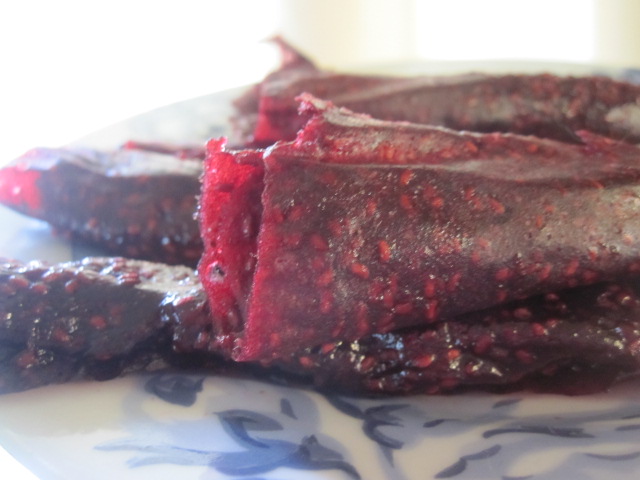 Freeze them.  Flash freeze your mulberries by spreading them in an even layer on cookie sheets and freezing them for a few hours.  Then scoop them into freezer bags and you'll have individually frozen mulberries to use all year.
Ways to use frozen mulberries:
Added to smoothies
Topped with cream or non-dairy milk and a sprinkle of sugar or drizzle of honey as a sweet dessert
Stirred into muffin or pancake batter
Used later in the year for country wine, either with other fruits or on its own
Used for baked goods later in the year
Blended with water, a splash of lemon juice and some sugar or honey for a refreshing mulberry slushee
Blended with vanilla almond milk (or milk of choice) and frozen pineapple for a delicious sorbet
Make ice cream.  This one is next on my list.  Here are some of the recipes I've been ogling.
Drizzle and Drip has a recipe based on a Ben & Jerry's recipe for Mulberry Ripple Ice Cream.  This recipe uses a mulberry syrup made with mulberries and sugar, swirled through a traditional ice cream recipe made with eggs, heavy cream, sugar, milk and vanilla.
Shamecake has a similar recipe, but just folds in the mulberries for their Wild Mulberry Ice Cream.
Hide the Cheese has a recipe for Mulberry Gelato that would be easy to make vegan or dairy free, which calls for mulberries, milk, a vanilla bean, corn starch and a pinch of salt.
Hunter-Angler-Gardener-Cook's Hank Shaw has a simple and delicious sounding vegan Mulberry Sorbet that requires only mulberries, sugar, water and port or elderberry liqueur.  I imagine you could easily convert it to paleo with the use of something like coconut sugar, too.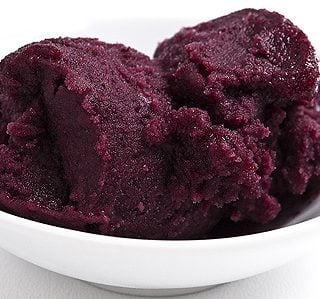 Note that in the early spring, mulberry leaves can also be gathered and used for medicinal teas or salads.  Mulberry leaf tea has been shown to help treat diabetes and inflammation, among other health disorders. The leaves are toxic once they're fully opened though.
What are your favorite ways to use mulberries?  Please add your favorite tips and recipes!
***
This page contains links for your convenience, including affiliate links.  Purchases made through our links may earn us a small commission at no cost to you. 
Please follow and like us: