We recently found ourselves in the possession of over a dozen bags of prunes (dried plums) and found ourselves wondering what to do with that many prunes.  We used some for fresh eating and for homemade granola bars and energy balls, but our favorite way to use them so far is in a spiced prune bundt cake.
Our 15 year-old son, Jack, loves to bake and bakes at least once a week.  He's not allergic to wheat but his little brother is, so Jack always bakes gluten free.  We found this Gluten Free Spiced Prune Cake recipe and adapted it slightly to be dairy free and even easier than the original, with just a little more spice, too.
We were delighted to find that it's really delicious.  Jack topped it with an orange drizzle that suited it perfectly.  Here's the easy recipe. 
Note:  You can substitute 2 1/4 cups of a standard gluten free flour mix for the flours, if desired.  Omit the xanthan gum if your blend already has it.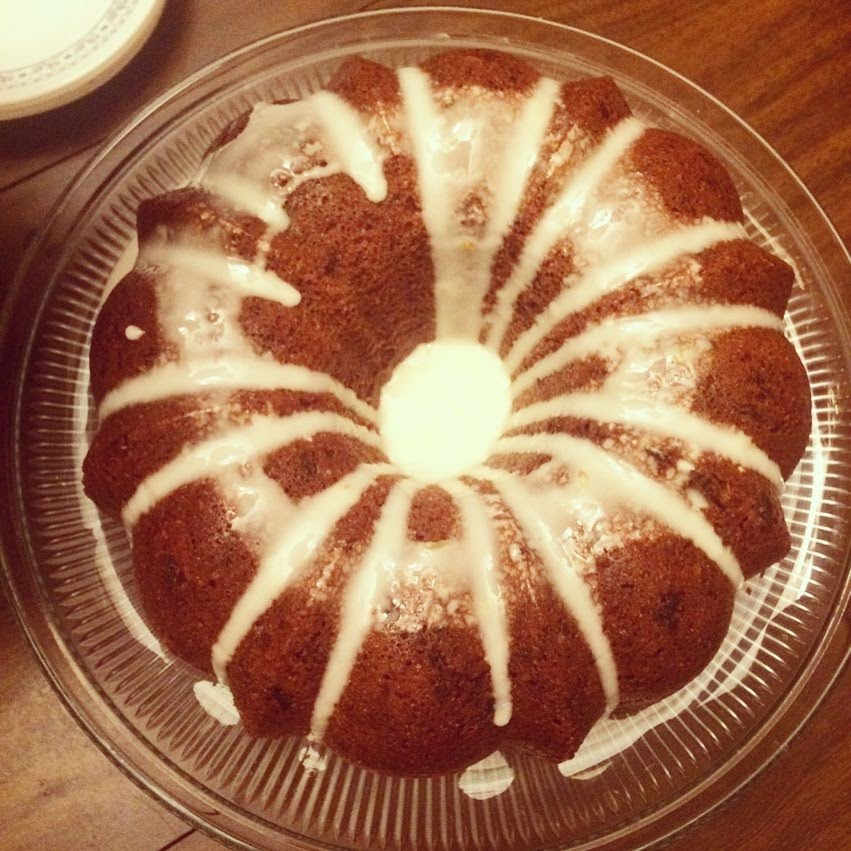 Gluten Free Spiced Prune Cake
1 1/2 cups rice flour
1/2 cup potato starch
1/4 cup tapioca starch
1/2 teaspoon xanthan gum
1 cup pitted prunes
2 cups sugar
1 tablespoon pumpkin pie spice
1 teaspoon salt
1 teaspoon baking soda
1 cup oil
1 cup non-dairy "buttermilk" (1 TBS lemon juice with non-dairy milk added to make one cup)
3 eggs
For the orange drizzle:
zest and juice from one orange (preferably organic, or very well washed)
powdered sugar to make a drizzling consistency, about 2-3 cups
Instructions:
Boil several cups of water and add prunes.  Soak for 15- 20 minutes, drain, and finely chop (you can use scissors, a knife, or a food processor briefly).
Meanwhile, preheat oven to 325 degrees. and grease a bundt pan.
In a mixer bowl, combine all dry ingredients.
Add the oil, buttermilk, and eggs.  Mix until well combined.
Stir in the chopped prunes and pour into prepared pan.
Bake for 70-75  minutes or until cake starts to pull slightly away from the pan (the toothpick test may not work, since the cake is very dense).
Let cake cool in pan for 10 minutes than remove from pan to cool on wire rack.
When fully cooled, transfer to a plate and drizzle with orange drizzle, reserving some for serving.
Orange drizzle:  Zest the orange and juice well.  Add powdered sugar a little at a time, whisking, until it is thick but pourable.
Please follow and like us: