The garden may be put to bed in most of the country, but we don't have to give up all of our marvelous garden herbs. Many of them can be enjoyed
inside year-round
.
Hobby Farms
has made it easy to know how to
grow
herbs indoors, with
free
printable ID cards for 11 garden herbs.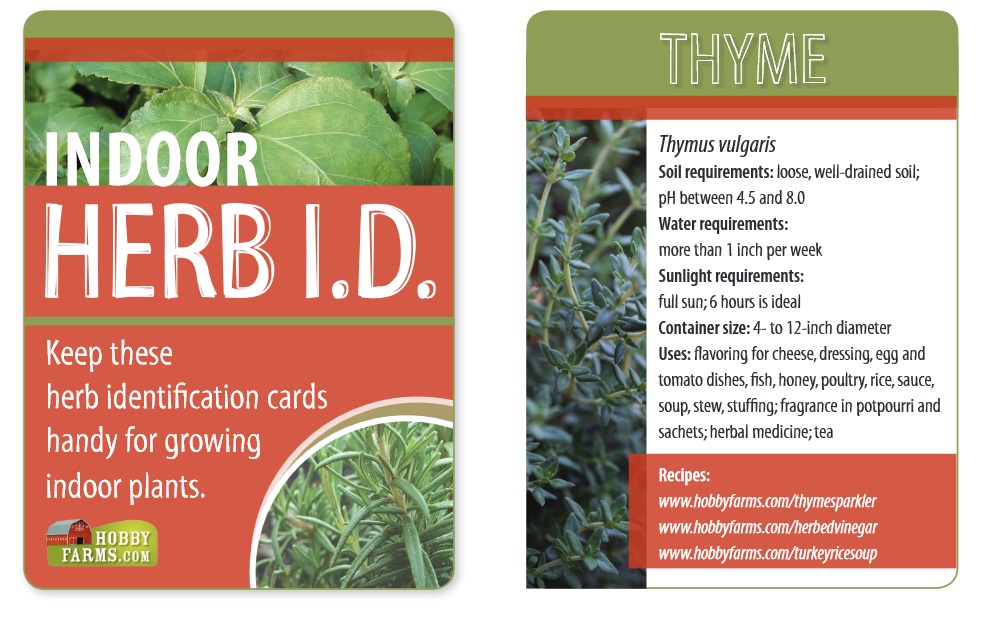 They say:
Wintertime can often mean retiring the garden and relying on dried herbs for your homemade meals. Growing herbs indoors in windowsill containers allows you to extend your gardening activities to the cold months and have fresh ingredients on hand for recipes and crafts—not to mention, these plants make great air fresheners!

The 11 herbs below are a great place start your indoor herb garden, but are not the only plants suited for growing in the house. Position the plants near a sunny window and keep them well-watered. To minimize pests, such as aphids and mealy bugs, infecting these indoor houseplants, prevent stressing the plants by ensuring they receive the adequate amount of sun and water and wash plants every couple of weeks as needed. Also be aware of introducing pests indoors if bringing your potted herbs

inside

from a back patio or purchasing from a nursery. To keep existing houseplants from being affect, sequester the new plants.
The herbs include:
Thyme
Sage
Parsley
Oregano
Winter savory
Mint
Marjoram
Patchouli
Sweet basil
Rosemary
Bay laurel
The link at Hobby Farms is no longer working but the Internet Archive still has them.  You can print the cards here (PDF file).
I have also had good luck with lemon verbena
inside
over the winter. As with most of the other herbs, just give it lots of light.  Also see
20 Herbs you can

grow

in shade
for more candidates for indoor containers.
How to get the herbs?
  In the fall, you can move your garden herbs to pots and bring them inside.  You can also buy some potted herbs in grocery stores, garden centers and big box stores year round.  You can also try rooting herbs from the grocery store.  Put them in water that you change often and see if you can get them to root.  See
Root to Stem Cooking: How to Use Every Part of Your Produce
for more detailed instructions on how to root scraps like herbs.
Enjoy your herbs!
Please follow and like us: