I'm a big fan of square foot gardening and I use it in my own gardens quite a lot so I was excited to read the recently released Square Foot Gardening:  Growing Perfect Vegetables  (affiliate link).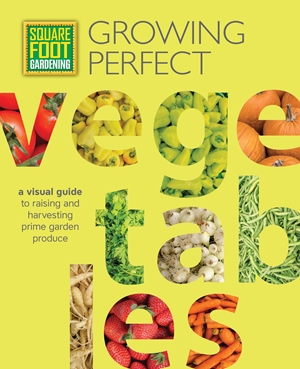 There are lots of things I liked about this book but also some major drawbacks.
PROS:  
The book is full of gorgeous, full-color photographs.
There is a lot of detailed information about how to know when produce is ripe (in the garden and in the stores) and how to keep it freshest.
I learned a few new things, even though I am an experienced gardener (for instance, that pears don't fully ripen on the tree and need time in freezing temps after picking, which I have never heard before).
There are some nifty little charts and round-ups (ten healthiest fruits and veggies, prettiest, which fruits and veggies continue ripening on their own after picking and which never will, etc.)
There are charts to tell when to plant, along with info about whether you can do succession plantings.
CONS:
The title seems misleading.  It's not really about how to grow perfect vegetables but more about how to know when they're ripe and how to pick them and store them.  There is no information about seed starting, soil, fertilizer, pests, watering, diseases, etc.  It's not even just about vegetables, since fruits are featured as much as vegetables (including tree fruits like apples, vine fruits like grapes and exotic fruits like durian and jackfruit).
The book is rather brief — almost more "booklet" material than book other than the many photos, even though some of it is quite helpful.
Even though this is from the Square Foot Gardening series, it really has nothing to do with SFG and does not give any information on how to do that (it even includes fruits and veggies that the authors admit will not work for SFG).
The print price seems a little high.  Amazon currently has the print cost much lower than suggested retail ($17.99), but the retail price is a lot for a book of this length and value.
The Kindle price seems far too high.  I read this book on my computer (through an advanced reader copy) and did so in one sitting (cover to cover).  I would be disappointed if I had paid $10 for an e-book of this length, even a good one.
While it's marketed as a gardening book, half the book has to do with store-bought produce.  Quite a bit of it is about how to pick out properly ripe fruits and veggies in the store, including a section on imported crops like avocados and pineapples.
Planting and harvesting information is ONLY about spring planting and summer harvesting.  I was surprised and disappointed that there's no mention of fall gardening at all.  So many crops can be quite successfully planted in mid- to late-summer for fall harvest (even in cold climates) and I was particularly interested in knowing ripening information for my fall crops.
I did enjoy the book and made a lot of notes for myself, but buyers may be disappointed if they expect the subject matter to be about square foot gardening or how to honestly grow perfect vegetables.  The focus seems mostly on how to know when fruits, vegetables and herbs are ready to harvest and how to pick good produce in stores.
I'd encourage people to check the book out from the library or flip through it yourself in a bookstore before buying.  It is certainly a beautiful and helpful book, but I think the authors could have gone farther with it.
Have you read Square Foot Gardening:  Growing Perfect Vegetables?  What did you think of it?
Save
Please follow and like us: