Mulberries are some of the greatest wild edibles to forage. They're nutritious, delicious and easy to gather. Most kids find them irresistible too.
Mulberry trees can be found in parks, woods and neighborhoods all over the U.S. and the berries and trees are easy to identify. When you find one tree, you'll start seeing them everywhere. At our local county park, we've found 20 trees so far and find a new one every day. 
Once you've seen a mulberry, you'll never mistake it for anything else. The mulberries are oval, about 1/2″ to 1″ long and come in all shades of white, red, and black. They also have tiny green stems that stay on the berries when you pick them. The berries look somewhat similar to raspberries and blackberries but are more oval and grow on trees instead of bushes.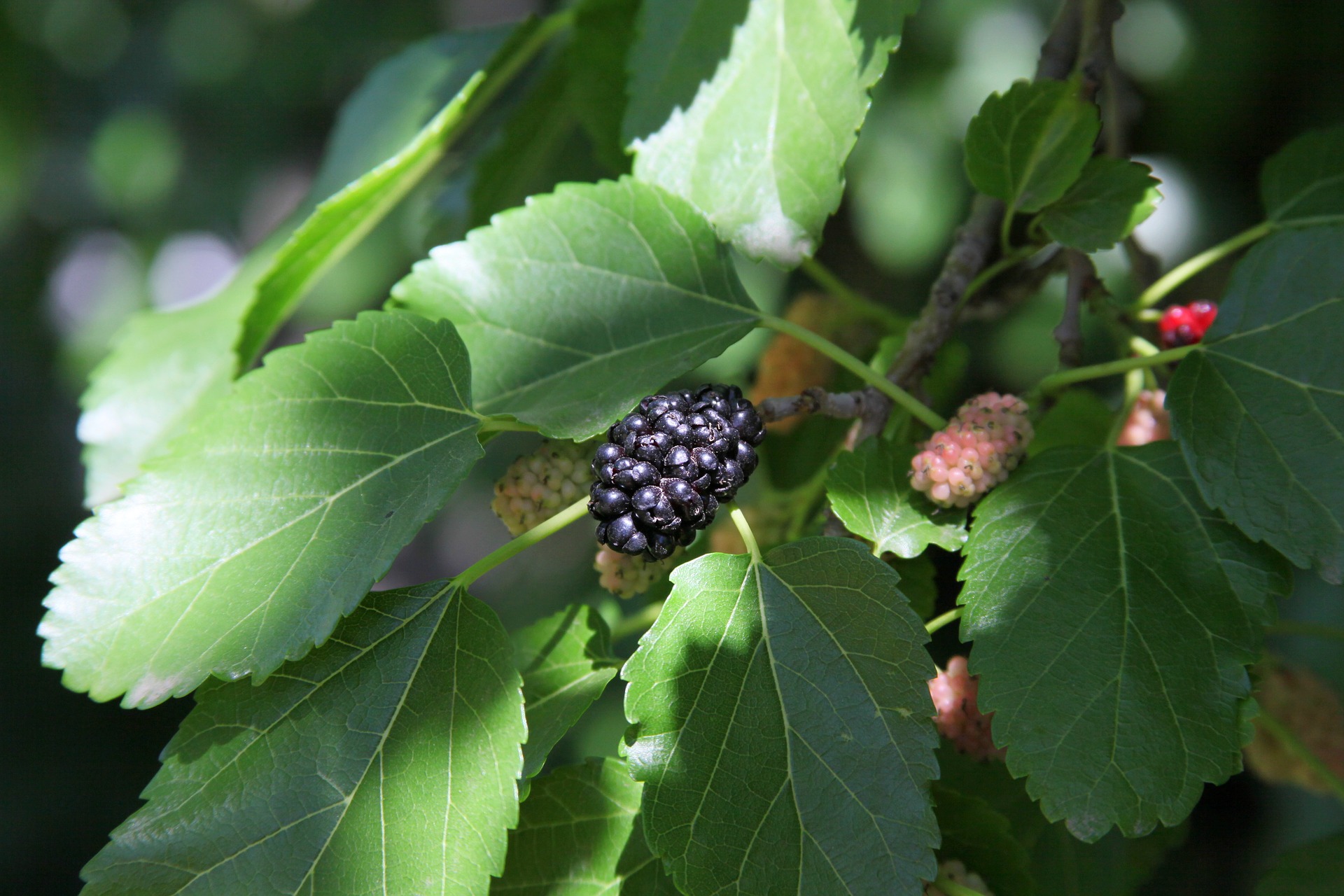 There are actually two kinds of mulberry trees – the native red mulberries and white mulberries, which are originally from Asia and were imported in the early 1800s. In addition, the two species have hybridized over the years so there are pink mulberries as well. No matter what color they are, they are delicious.
The red mulberries are actually black when they're ripe, while the white mulberries turn an off-white. The pink mulberries can be anywhere in between. The way to tell if the berries are ripe is by feel — unripe berries are hard to the touch and are hard to pull off while the ripe ones are softer, tacky to the touch, and will fall off the tree easily.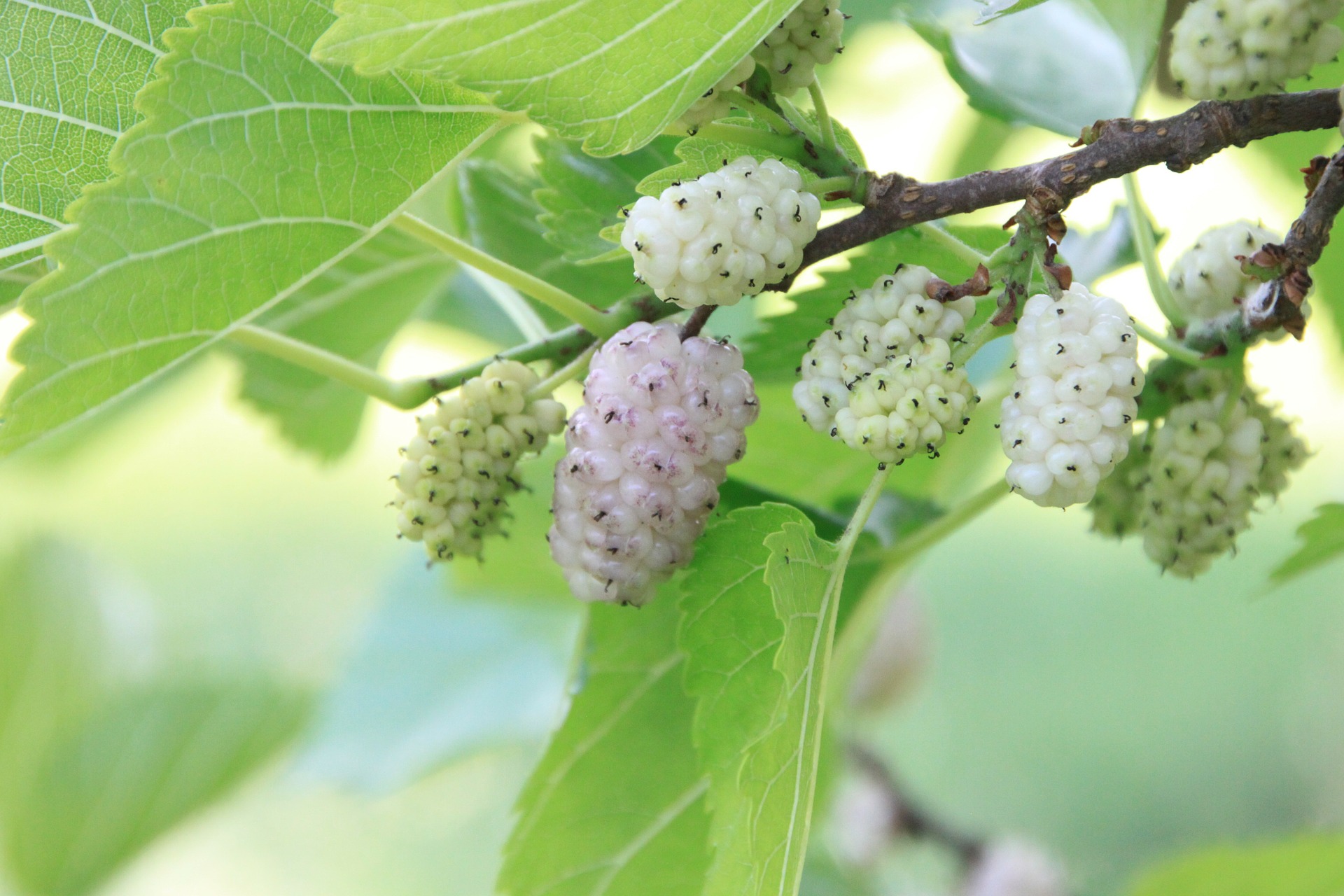 You and your helpers can pick the ripe berries by hand, and while this is the best way to get only the ripe ones, it's also the slowest way (and you can only reach the lower branches). The easiest way to harvest them is to spread an old sheet on the ground and lightly shake the branches. The ripe ones will come down. When you've got one section of the tree fairly clear, look over the sheet and pick out the ripe ones. Put them in a container (we find that recycled plastic containers or iced tea gallon jugs work perfectly), shake out the sheet, and move on to the next section. Repeat.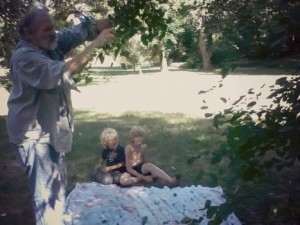 When you have enough berries, bring them home. Spread them out on a cookie sheet and inspect them for any stray berry bugs or debris. Pick out any unripe mulberries too – they're not toxic, but can cause stomach upset. Then put the mulberries in a sink of cool water for a few minutes to clean them off and make sure all the bugs are out. Don't worry about the stems — they remain attached to the berries, but are soft and edible and you don't need to remove them. If you want to remove them, simply pinch off the stems.
Strain the mulberries to let them dry, and they're ready to use. You can either use them right away or flash freeze them for later. To flash freeze them, put them on parchment paper on a cookie sheet and let them freeze for at least 4 hours until the berries are solid, then put them in freezer bags. This way you'll have individually frozen berries when you need them instead of a frozen mass, and you can measure out different amounts.
Mulberries can be enjoyed many ways. Many kids like to just eat them plain (be sure they're wearing clothes you don't mind staining and prepare for stained hands and faces!). They're also delicious with milk or cream and sugar. You can use them in smoothies, in berry pies, for jams and syrups, in fruit leather, and any way you can use other berries. We have lots of ways to enjoy mulberries here on Magical Life too. 
Enjoy!
Please follow and like us: