I brought acorn spice cupcakes to my latest acorn presentation last week, and lots of people have asked for the recipe.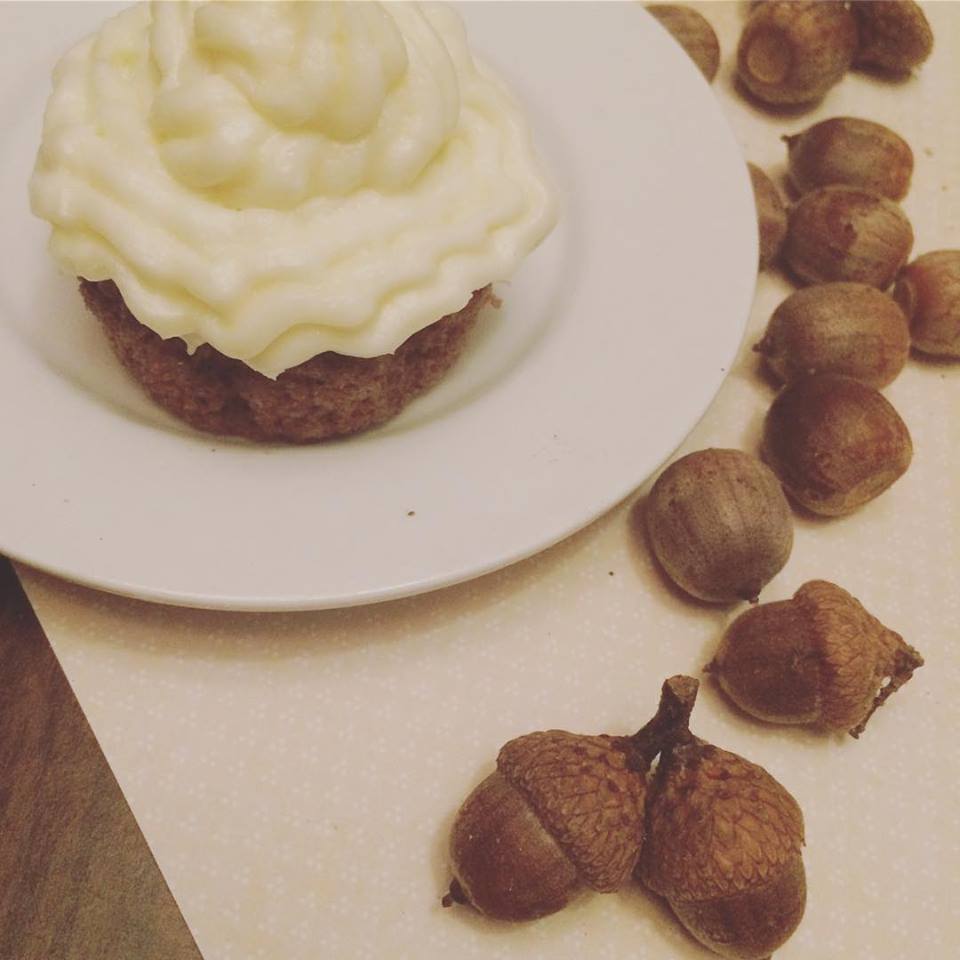 Here it is, excerpted from my acorn foraging book.  This recipe works with either gluten free flour mixes or regular wheat flour.  Most of the recipes in my book are gluten free or have gluten free alternatives, as we're a gluten free family.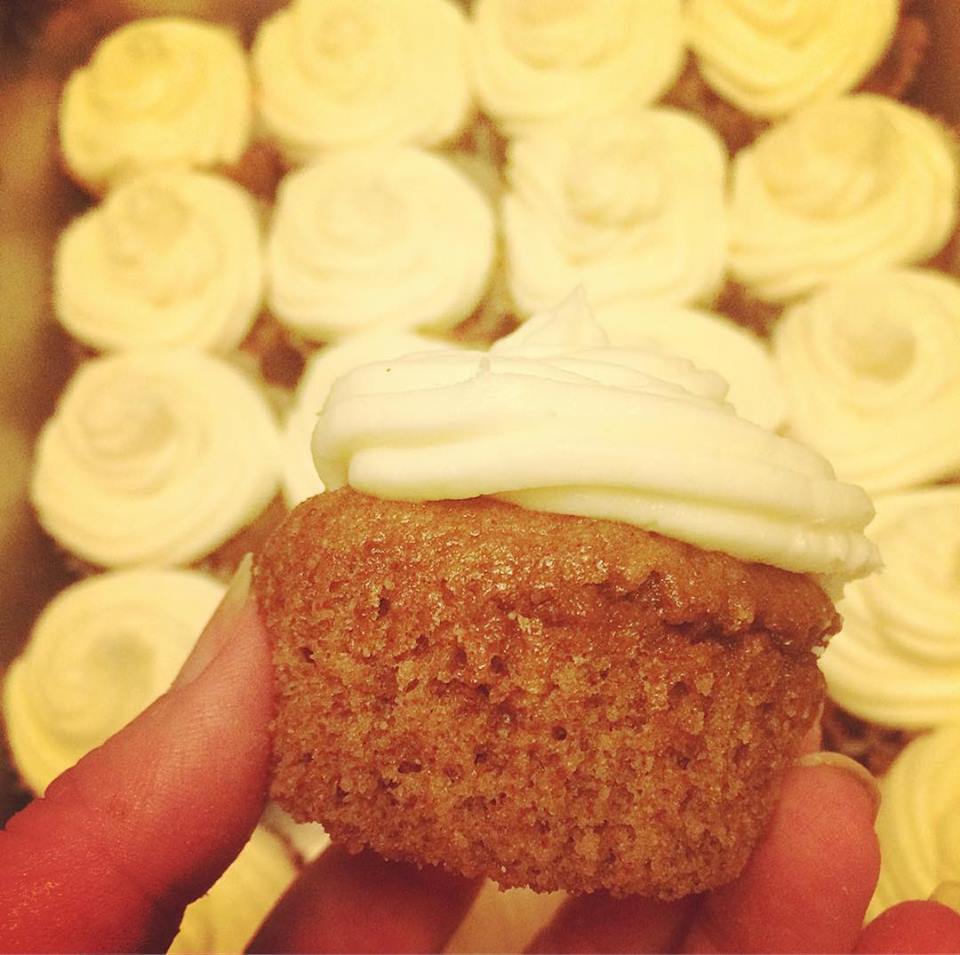 This is an example of a great way to stretch acorn flour, as it only takes 1/2 cup.
** Also note that any time I post recipes for acorn flour it will mean flour made from acorns that have been leached of their bitter tannins, either with repeated changes of boiling water or slow cold water processing, and then dried or roasted and ground into flour.  I go into lots of detail on all of the ways to process acorns in my book and you can also find instructions for various methods online.  Never cook with raw or unprocessed acorns, as they can make you sick and also frankly don't taste good.
Acorn Spice Cupcakes with Cream Cheese Frosting (GF)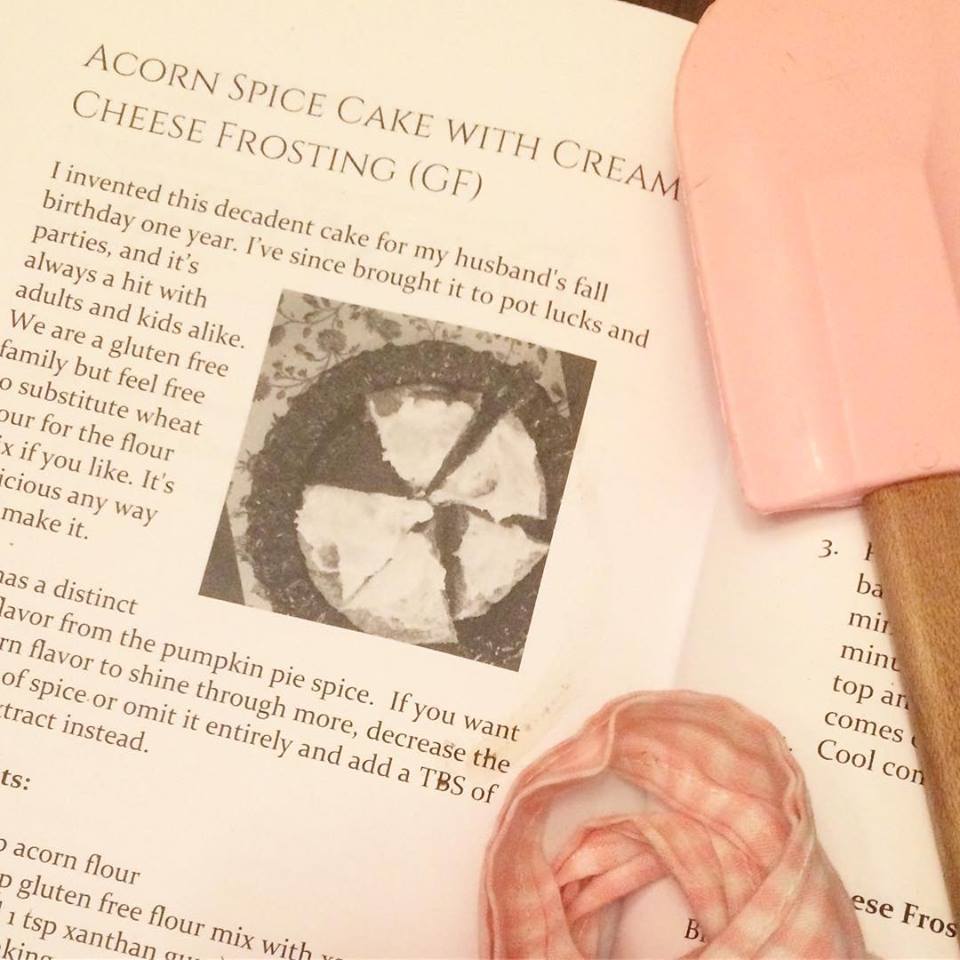 From the book:
I invented this decadent cake for my husband's fall birthday one year. I've since brought it to pot lucks and parties, and it's always a hit with adults and kids alike.  We are a gluten free family but feel free to substitute wheat flour for the flour mix if you like. It's delicious any way you make it.

This has a distinct spice flavor from the pumpkin pie spice.  If you want the acorn flavor to shine through more, decrease the amount of spice or omit it entirely and add a TBS of vanilla or acorn extract instead.
(Note:  You'll notice the paperback is printed in black and white to keep the cost down but the Kindle is in full color.  If you buy the printed book, you receive the Kindle free so you have the best of both worlds.)
Ingredients:
½ cup acorn flour
1 ¾ cup gluten free flour mix with xanthan gum (or add 1 tsp xanthan gum) or all-purpose flour (I use my easy homemade GF cake flour)
1 TBS baking powder
1 tsp salt
1/4 tsp baking soda
4 eggs
1/2 cup vegetable oil
1 cup sugar
1 TBS pumpkin pie spice (optional)
2/3 cup sour cream
Directions:
Preheat the oven to 325 and grease pans (one 9×13 pan, two cake pans or about 24 cupcakes).
Blend all dry ingredients in a mixing bowl on low until well mixed.  Add the rest of the ingredients, blend well on low, then turn to medium and then high and beat 3 minutes.
Pour the batter into your prepared pan(s) and bake about 20 minutes for cupcakes, 30-40 minutes for larger pans (check every few minutes after 30 minutes) or until springy on top and a toothpick inserted in the center comes out clean.
Cool completely before frosting or slicing.
Cream Cheese Frosting
Blend 1 stick of softened butter, one brick of softened cream cheese, 3-4 cups of powdered sugar (depending on how sweet you like it) and one teaspoon of vanilla or acorn extract.  Beat until smooth and spread on cooled cake.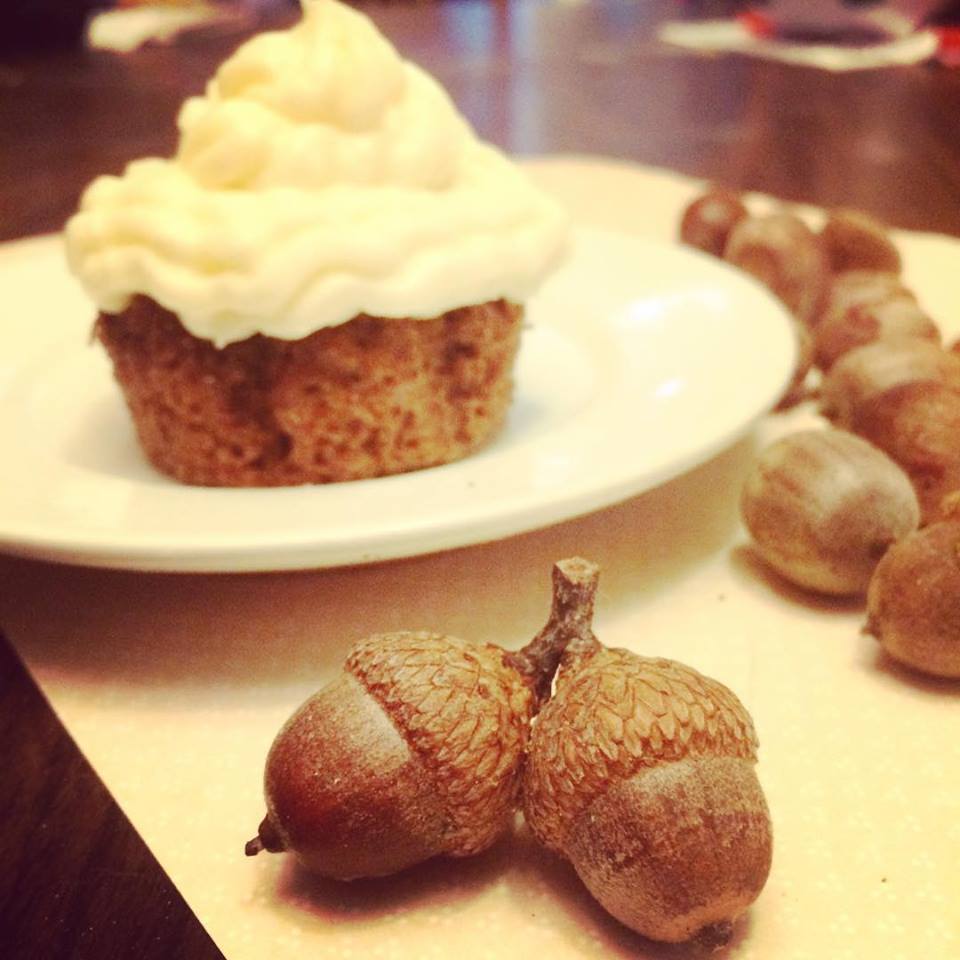 (Note:  This post contains affiliate links.  Purchases made through our links earn us a small commission at no cost to you.  Thanks for supporting our site!)
Please follow and like us: