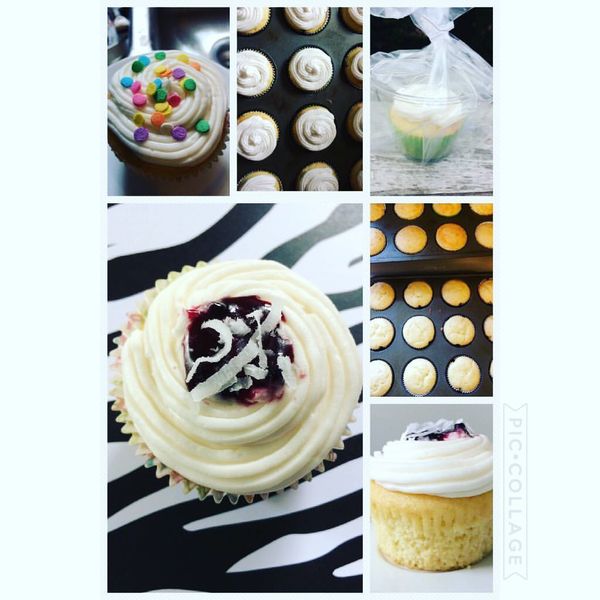 I have been making homemade birthday cakes and cupcakes for my kids for almost 20 years now, and they've been gluten free for the past 6 years.  With five kids, that means that I have baked a lot of birthday cakes and cupcakes!
I tried recipe after recipe, with none of them giving me the perfect light, tasty, soft result I was looking for.  I did manage to come up with a perfect gluten free carrot cake recipe a few years ago (recipe to come if anybody would like it) and then developed the perfect lemon bundt cake, but  the perfect yellow cake took a lot of years to master!
I have finally perfected a recipe that meets all of my requirements and am sharing it here for when I post pictures on Facebook and friends respond with "recipe?".   🙂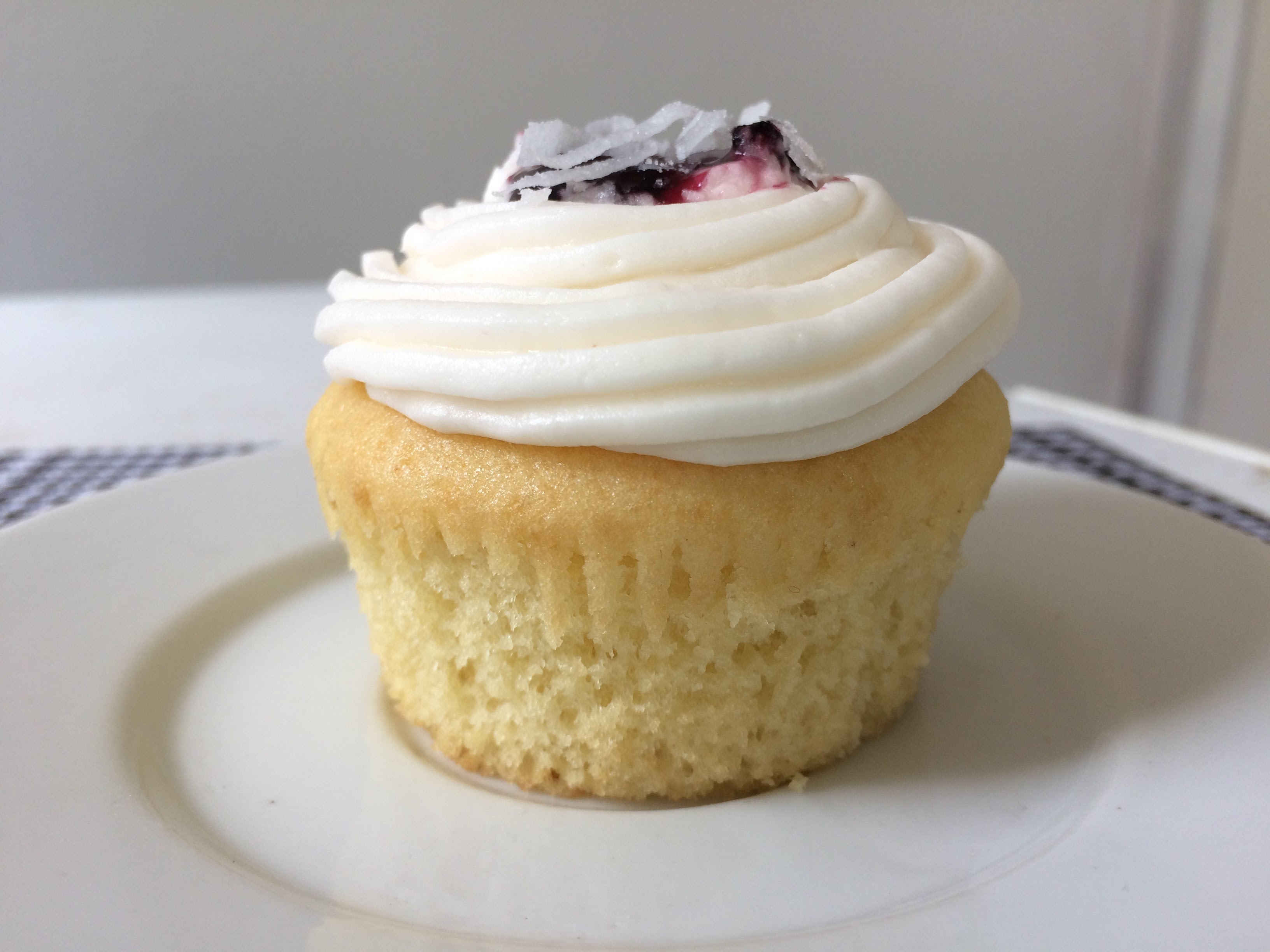 This recipe is a great canvas to adapt to all different variations.  Last week, I used the recipe to make elderberry cupcakes by just stirring a few scoops of homemade elderberry jam into the batter.
This is a crazy-simple recipe. 
I get so tired of "whisk all these things together first, then separate the eggs and beat this with this for exactly this long and then spin in circles 4 times while saying the Pledge of Allegiance" types of recipes.  I always do all of those things when trying recipes the first time, but I have found that you really can just dump all of this in a bowl, beat it and cook it.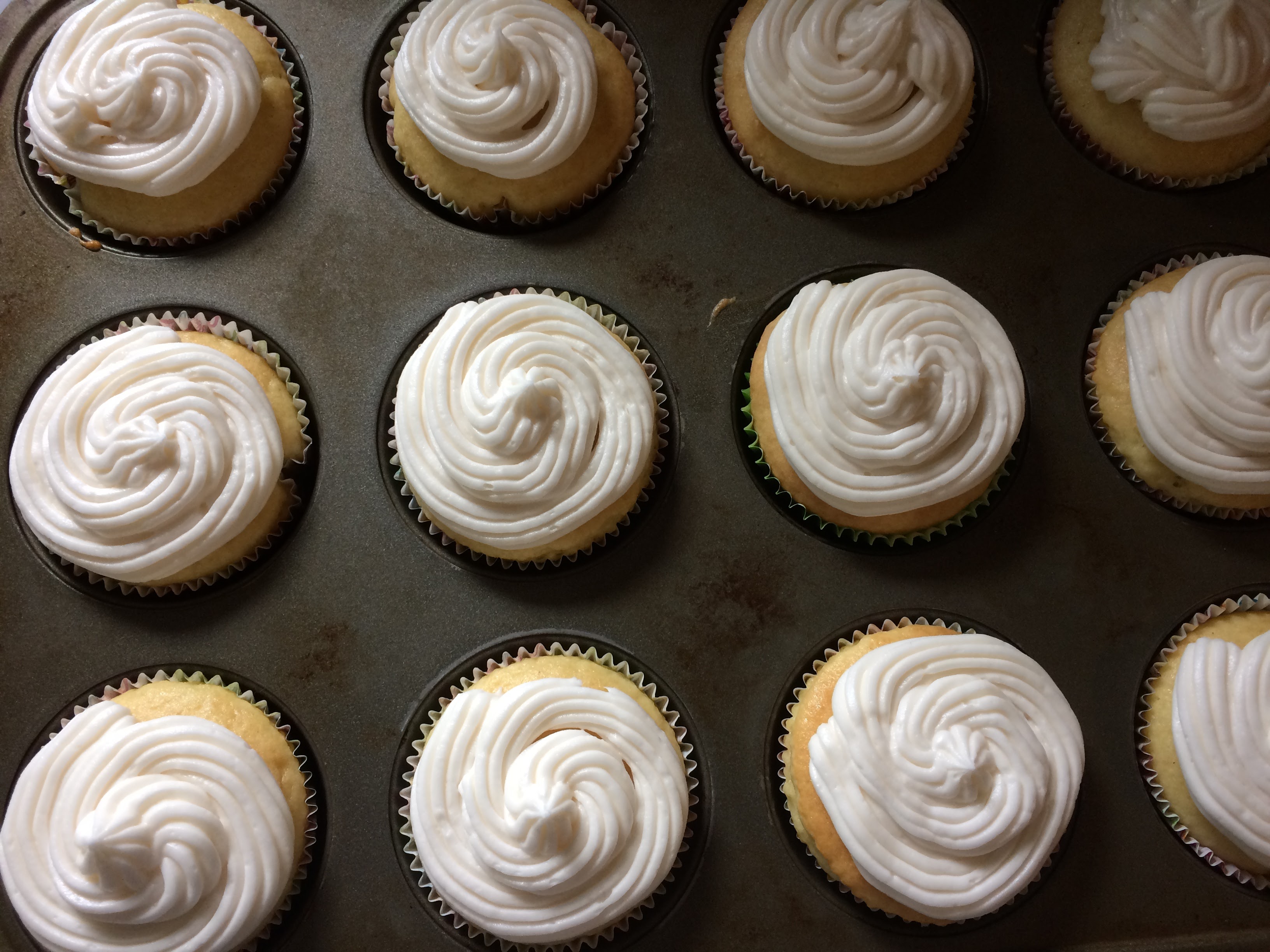 A Magical Life Cake and Cupcakes (Gluten Free, Delicious and Easy!)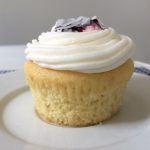 Print Recipe
A Magical Life Cake and Cupcakes (Gluten Free, Delicious and Easy!)
Ingredients
2 1/4

cups

GF cake blend

recipe below

1

tsp

xanthan gum

1

tablespoon

baking powder

1

teaspoon

salt

1/4

teaspoon

baking soda

4

eggs

1/2

cup

vegetable oil

1

cup

sugar

1 1/2

tablespoons

vanilla extract

2/3

cup

sour cream
Instructions
Preheat the oven to 325 degrees and grease pans (one 9×13 pan, two cake pans or about 24 cupcakes).

Blend all dry ingredients in a mixing bowl on low until well mixed. Add the rest of the ingredients, blend well on low, then turn to medium and then high and beat 3 minutes.

Pour the batter into your prepared pan(s) and bake about 20 minutes for cupcakes, 30-40 minutes for larger pans (check every few minutes after 30 minutes) or until springy on top and a toothpick inserted in the center comes out clean.

Cool completely before frosting or slicing.
Notes
Variations:
Feel free to experiment with other flavorings and additions. These two are tested and favorites here so far:
Lemon: Omit the vanilla and add one teaspoon of lemon extract and the zest of one lemon. Frost with lemon frosting.
Elderberry: Stir in 1/4 cup of elderberry jam and blend well. Frost with cream cheese frosting blended with 2 tablespoons elderberry jam.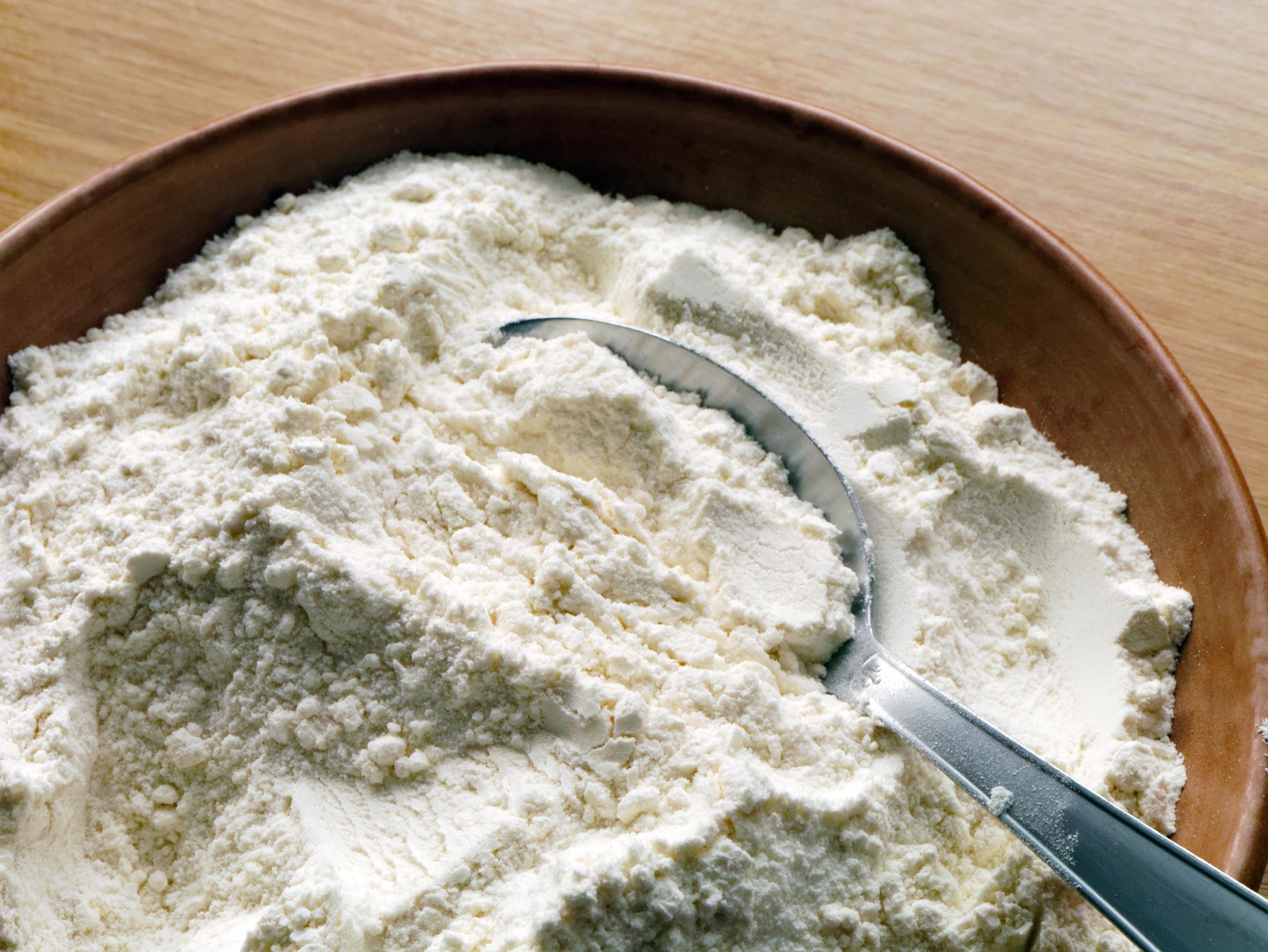 GF cake blend
I make this up in a big jar and use a scale to measure it right into the jar and shake it to mix. I have found that my digital kitchen scale is so handy for this sort of thing and was well worth the small cost. I looked online for conversions into cups for you and found wildly different results, so I'm not sure what this translates to in cups since gluten free flours have such different weights.
Ingredients
400

grams

millet flour

300

grams

sweet rice flour

not regular rice flour, this is also called glutinous rice flour but it contains no gluten

300

grams

potato starch
Why these flours?  Millet flour is a good protein flour that has a mild taste, provides good structure, and is not as gritty as rice flour.  Sweet rice flour gives moistness and helps it stick together (gluten free baked goods can be crumbly otherwise).  Potato starch gives lightness.  All of these flours are also relatively inexpensive, too.  I purchase them in bulk and store them in the freezer, though I grind the millet flour myself  in my Vitamix dry blender (affiliate link).
If you need to substitute, you can use sorghum flour or brown rice flour instead of the millet flour, and tapioca starch or arrowroot starch instead of the potato starch.  There is no good substitute for sweet rice flour but it's quite easy to find, especially in Asian food stores.  I suppose in a pinch you could substitute another starch for the sweet rice flour, too.  Note that this recipe works best with this particular combination of flours though.
This versatile mix works well for pancakes, muffins, cookies and breading things like dandelion fritters and fried morels.  Store it in the fridge to keep it freshest, unless you bake as often as I do.  I make a double batch a week.  🙂
Cream Cheese Frosting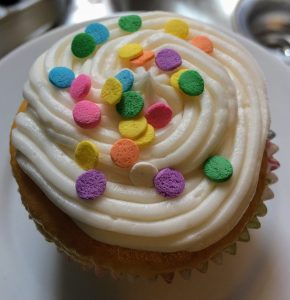 Here is my go-to frosting.  It absolutely delicious.  I have shared this recipe often over the years and it has become a favorite for many of my friends.  I have another frosting recipe I developed for the farmers' market where cream cheese frosting is not allowed, but I used rhubarb-ade for the pilot version (rhubarb juice, water, sugar and a few wild cherries for color) and that's not something that most people are likely to have in their kitchens, so I'll try that one next time with more typical ingredients like lemon juice and post it here once I have the measurements right for that. 
Unless you're selling at the farmers' market, though, I recommend this one anyway!
Blend 1 stick of softened butter, one brick of softened cream cheese, 3-4 cups of powdered sugar (depending on how sweet you like it — I do 4 cups for kids' parties and 3 cups for a more tart frosting for carrot cakes and such) and one teaspoon of vanilla.  Beat until smooth and spread on cooled cake.
Enjoy!
Please follow and like us: