It's acorn season, which means one of the best wild foods out there is abundant and free right now.  Acorn rice patties are delicious ways to make use of acorns and also happen to be vegetarian and gluten free.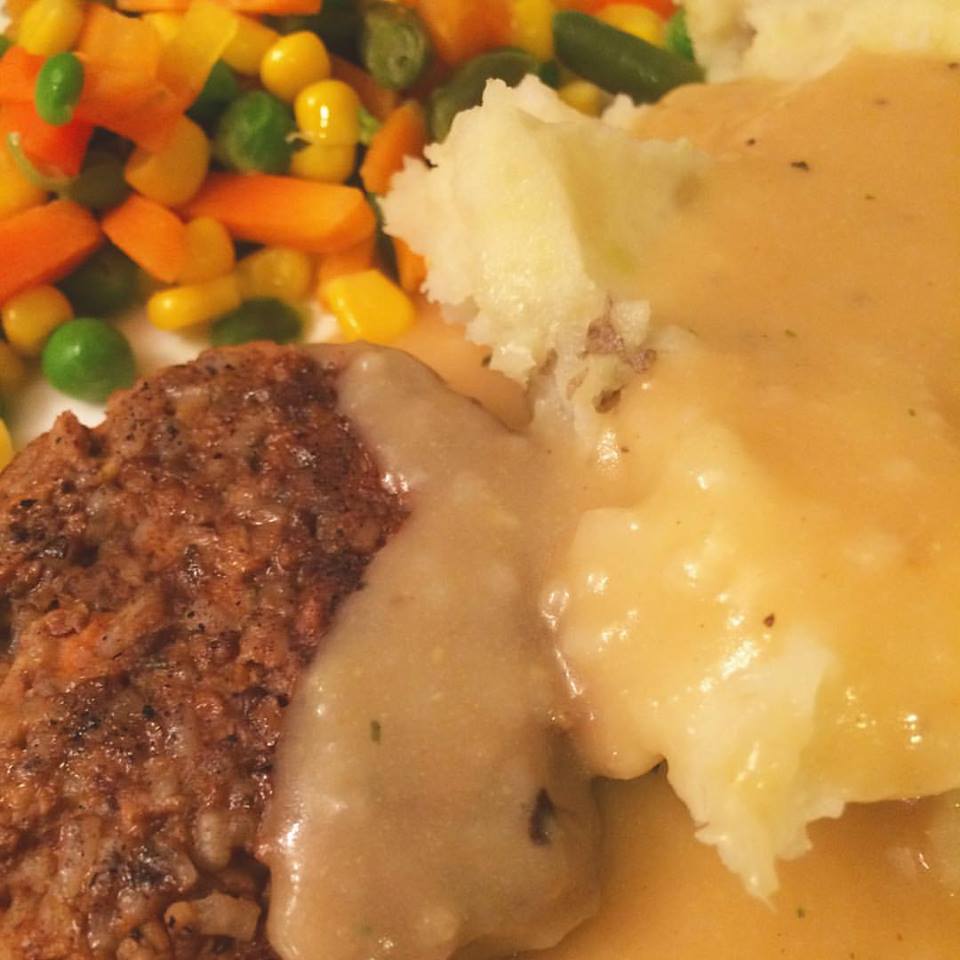 We usually have dried acorns and acorn flour on hand for cooking all year long, but I used all of our acorns up last year cooking up recipes for my acorn foraging book.  There are over 70 recipes in the book for flour, breads, desserts, breakfasts, dips, crackers, savory dishes and more, so we went through a lot of acorns last fall and had nothing to spare for the rest of the year. I was so happy when the acorns finally started dropping and we got to start building up our stash again.
I've shared recipes for acorn drop biscuits and even acorn mini donuts but acorns are also wonderful for any kind of vegetarian main dish, from veggie burgers to vegetarian meatballs.  Their texture and taste create really fantastic entrees.
Here's a recipe for one of our family's favorite ways to enjoy acorns from — acorn rice patties.
Our kids are crazy about these. We usually serve them with mashed potatoes and gravy, but our youngest kids prefer them with ketchup. They are quite "meaty" even though they do not contain meat, and utterly delicious.  Note that this recipe calls for chopped acorns, which can be used in similar ways to garbanzo beans when they're freshly processed or rehydrated.  The acorn flavor makes them taste much better than anything made with garbanzo beans though!
This uses the freshly leached acorns (I use hot water leached acorns for this recipe) or you can rehydrate dried or roasted processed acorns in simmering water and then chop them.  If you do this, be sure to save the tea as it is wonderful with a bit of honey or brown sugar.  You can also use it for a broth in any recipe that calls for vegetable broth or you can use it to make a homemade gravy to serve with the patties (I add some Better Than Bouillon and herbs, then thicken with organic corn starch or a gluten free roux). 
Be sure to only use leached (processed) acorns for this recipe or any recipe.  Processed acorns have had their bitter tannins removed through either cold water leaching (over time) or hot water leaching (with repeated changes of boiling water). 
Vegan note:  This recipe calls for eggs.  I have not tried it without eggs but it should work pretty well with a substitute like flax eggs or chia eggs for a binder. 
Acorn Rice Patties 
Serves 4-6, depending on size
 
Ingredients:
• 1 cup processed acorns (if dried or roasted, soak overnight or boil for a few minutes to soften)
• 1 small onion,
• 2 small carrots
• 1 clove garlic
• 1 cup cooked white rice
• 2 eggs or vegan substitute
• 3 TBS roasted acorn flour
• 1 tsp salt
• 1 tsp herb seasoning
• oil for cooking
Directions:
1. In a food processor, chop onion, carrots and garlic and blend until well minced, scraping down sides as needed. Saute in a bit of olive oil for about 5 minutes, or until cooked and onions are translucent.
2. Meanwhile, blend the acorns in the food processor until finely minced. Add the rice and blend just until rice is chopped.
3. In a large bowl, stir together the blended acorns and rice with the sauteed veggies. Mix in the rest of the ingredients.
4. Form into patties and fry in a small amount of oil on medium to medium-high heat until browned. Flip and fry on the other side. Keep warm in the oven as you cook the rest of the patties and serve with sauces or gravy of choice.
Enjoy!
Note:  This post contains affiliate links.  We earn a small commission on any purchases made through our links.  Thanks for your support!
Please follow and like us: