Life is too short to eat bad gluten-free pizza, and there's no reason you have to. Gluten free pizza dough is easy to make at home (it's even quicker and easier than traditional pizza dough!) and it is honestly delicious.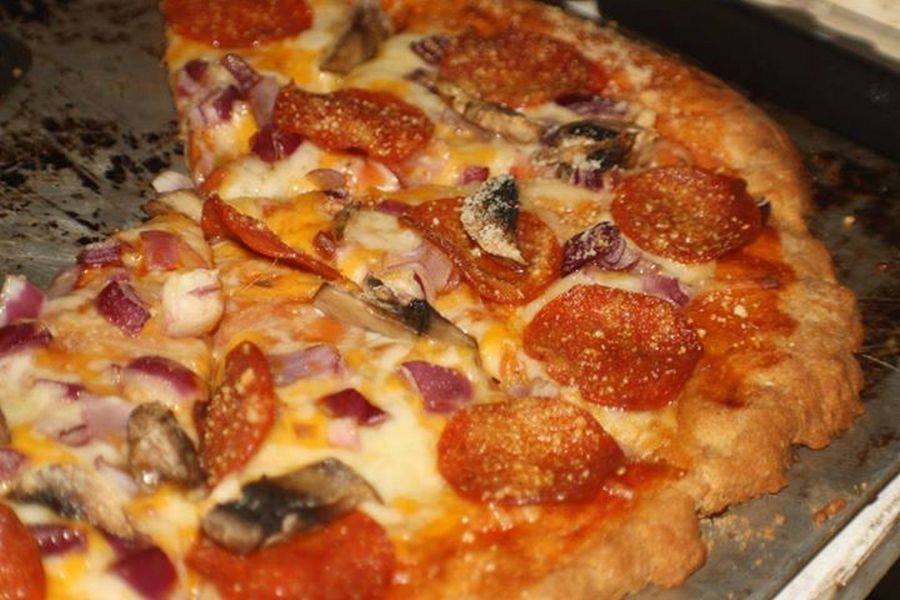 We've been gluten free in our family for over eight years now, and pizza was one of the meals we missed the most. Early on, I experimented with several pizza dough recipes and eventually adapted the best of all of them to make our own easy family recipe.  We've been making this recipe almost every Saturday night for years now, and it's become a favorite recipe of some gluten free family friends, too.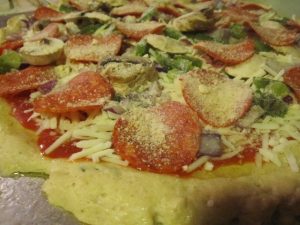 It's even easier to make than traditional pizza crust since there's no gluten and therefore no kneading required.  It's a wetter dough, so you scoop it onto the oiled pan and then use wet hands to simply smooth it into a circle.  After a rise in a warm area (where it will rise into a pretty thick crust), it's ready to pop into the oven for ten minutes and then to top with sauce and your favorite toppings and bake.
It's so good that our gluten-eating 20 year-old daughter says that it's her favorite pizza crust, and she prefers it to gluten crusts from pizza places.
This is also a really affordable way to feed a crowd for very little.  I hate to think what we'd pay for two to four (depending on if the grown kids and their partners are coming over) giant, loaded gluten-free pizzas for our big family every Saturday night if we ordered them ready-made.
I use a blend of gluten free flours and starches for our favorite texture, but in a pinch you can just substitute your favorite gluten free flour mix for the flours (so use 4 cups of GF flour mix instead of the brown rice flour, potato starch, tapioca starch and millet flour, and skip the xanthan gum if your mix has it).  That's what some friends of ours do who don't like to stock lots of flours, and they say they still love it.  Note that all mixes are different so results may vary depending on the mix.  I really love the combination of flours in our blend and we make pizza so often it's worth it to have these flours on hand (our son Jack usually grinds the brown rice and millet into flour for it in the Vitamix, so it's really a from-scratch recipe here!).
Here are the easy steps.  Note that this makes two pizza crusts, but you can easily half the recipe if you only want one.  I think you could also wrap and freeze one of them after the pre-baking, though I haven't tried it.
Gluten-Free Pizza Crust
(makes two 14-16 inch crusts)
2 cups brown rice flour

1 cup potato starch

1/2 cup tapioca starch

1/2 cup millet flour

4 1/2 teaspoons active dry yeast

2 teaspoon baking powder

4 teaspoons xanthan gum or guar gum

1 teaspoon garlic powder (optional)

2 teaspoon fine sea salt

4 tablespoons honey or sugar

2 large eggs (flax eggs work great if you're vegan)

4 tablespoons extra-virgin olive oil + more for oiling the pans

2 teaspoons apple cider vinegar

1 1/2 cup warm water (plus more if needed)
Add all ingredients to a mixing bowl of a heavy duty mixer fitted with paddle attachment.




Start mixer on slowest speed to incorporate ingredients, then increase to medium and mix for 2 minutes. Increase mixer speed to medium-high and mix for another minute. The dough should look like a thick cake batter and should stick to the sides of the mixing bowl (not form a ball like traditional wheat dough).

Oil two pizza pans with 1-2 tablespoons olive oil. Divide the dough in half and scrape into two balls onto the pans.

Fill a bowl with warm water and put it next to your work area. Wet your hands and gently press and spread the dough outward in circular motions towards the outer edges of the pan to form 14 to 16 inch circles (or squares if you like a square pizza), leaving a slightly raised crust along the edge. Wet your hands as needed so that you can keep spreading and smoothing the dough without it sticking to your hands. Don't worry about getting the dough too wet. Patch and press any spots that break through. Go ahead and smooth it fairly thin, as it will rise and get thicker.

When the dough is smoothed onto the pizza pan, drizzle with a bit of olive oil and and gently smooth over the dough. Set uncovered in a warm place.

Let the dough rise for 35-45 minutes. It will puff up somewhat.

Bake in preheated 400 degree oven for 10 minutes.

Remove from oven and add sauce and desired toppings.

Return the topped pizza to oven and bake for approximately 12-16 more minutes until cheese is melted and crust is light golden brown.

Slide onto a wire rack to cool (optional, this helps keep the crust crisp up), slice and serve.
Substitutions: This dough is very forgiving! If you have allergies or just run out of one type of gluten free flour, feel free to substitute a similar flour. For instance, you can substitute arrowroot starch for one of the starches and sorghum flour for some or all of the brown rice flour. We have made this recipe with many combinations of flours and it's always a success. Just make sure to substitute flours of the same type (starches for starches, and whole grains for whole grains) and many different combinations will work.  As mentioned, we have friends who make it by just using a gluten free flour mix for the whole 4 cups of flours and starches, too, but individual mixes may vary in results.
A note about pans:  Pizza crusts will cook up differently on different types of pans.  They may cook very quickly on dark metal pans.  At home, I use cookie sheets that are double layered and light colored and I have good results.  When I cook pizza at my friend Tiffany's house, I have to cook one pizza in a dark pan and another in a light one, and have to keep a closer eye on the one on the dark pan.  Know your pans and adjust times as needed.  You can also use a preheated pizza stone if you prepare the crust on parchment paper and then slide the paper right onto the stone.
This also makes an out of this world dessert pizza (just leave out the garlic powder!).  If you'd like our recipe for that, just holler.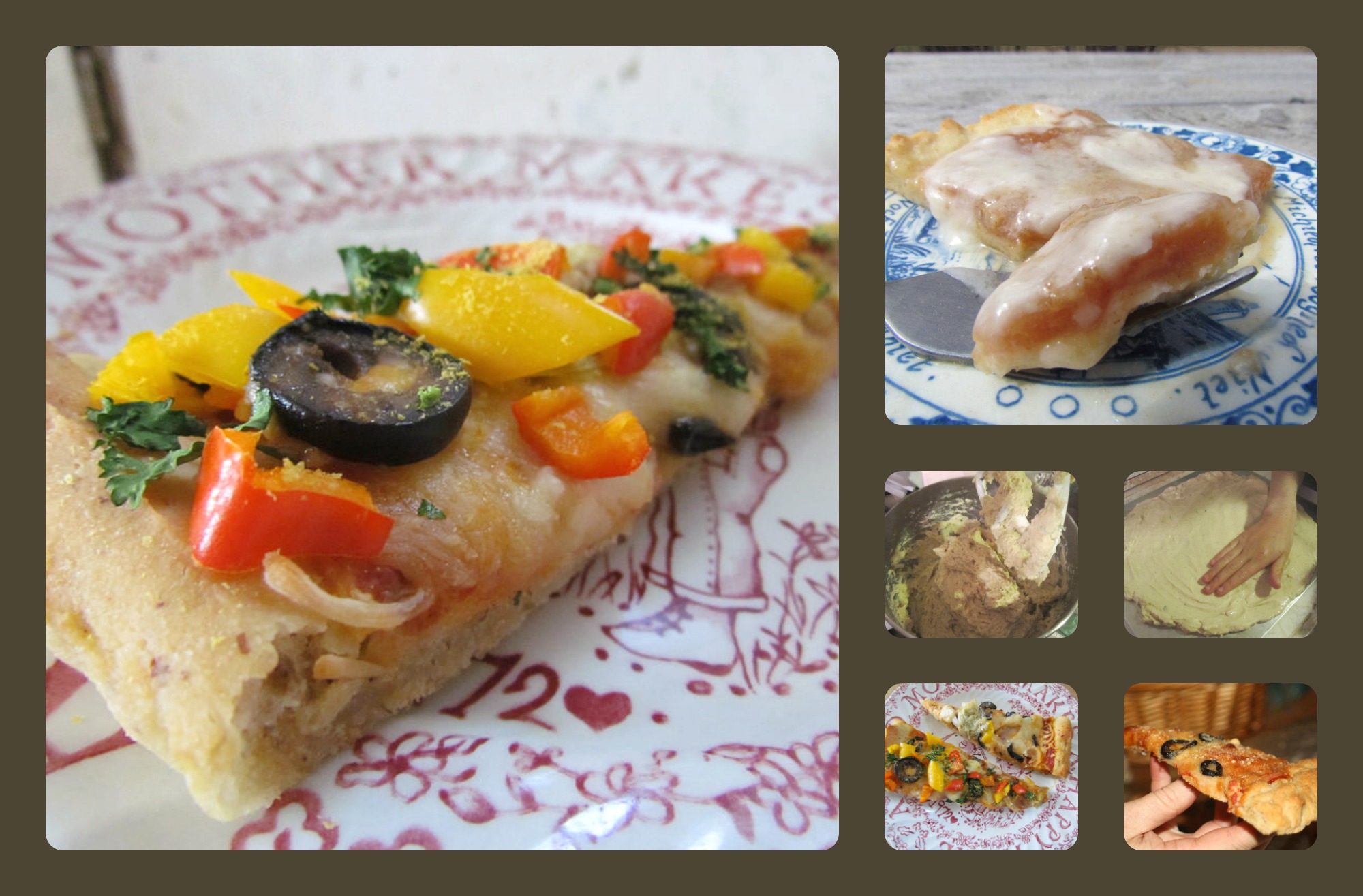 Enjoy!
Please follow and like us: