There's a fantastic new book that focuses on foraging with kids. Family Foraging: A Fun Guide to Gathering and Eating Wild Plants was released last month and it's my new favorite book on foraging with kids.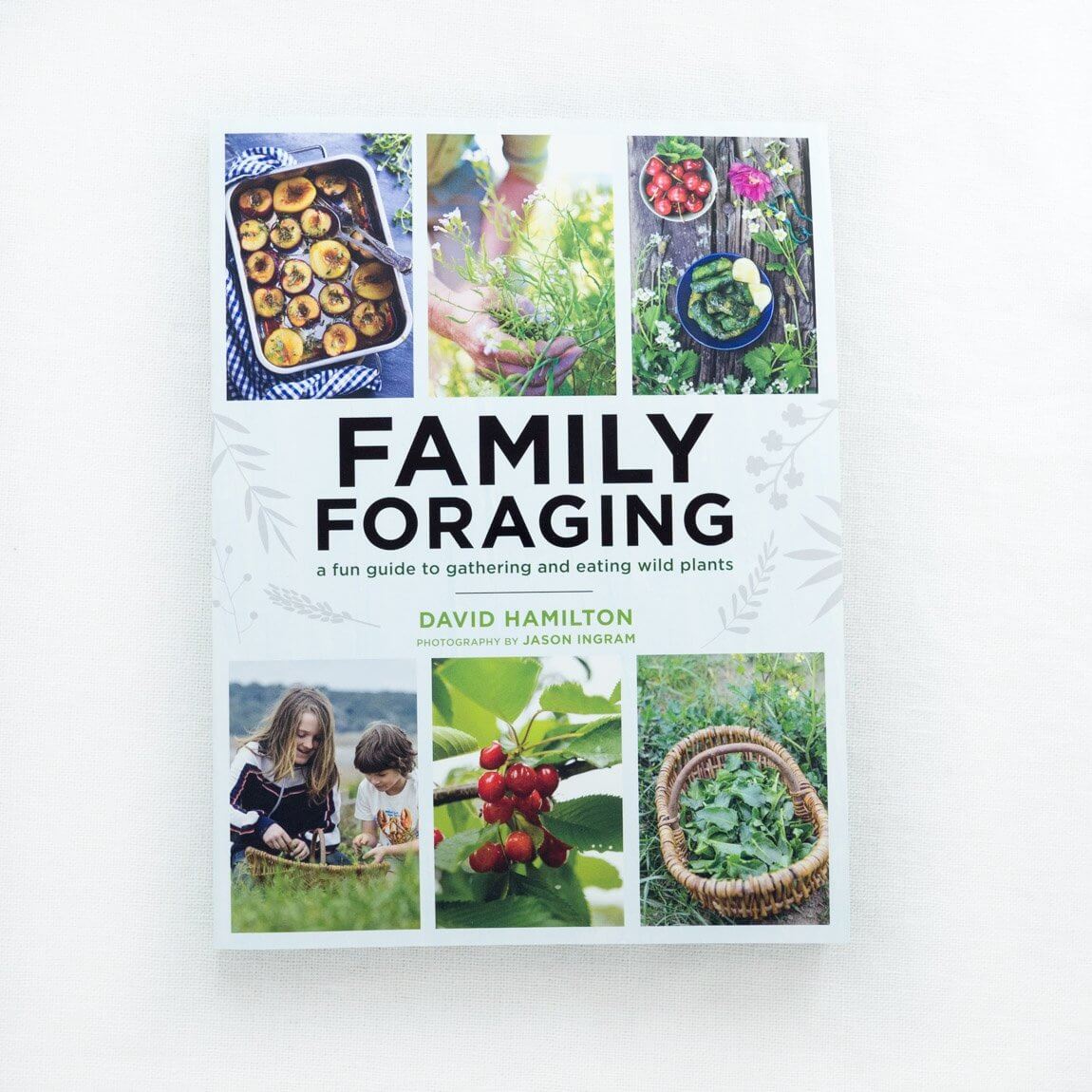 The book, by David Hamilton, features 30 commonly found wild edible plants of North America.  The plants covered in the book are:
Nettles, dandelions, wild garlic, goosefoot (lambsquarters), chickweed, spearmint, garlic mustard, plantain, wild cherry, elder, bilberry, marsh samphire, common sorrel, giant puffball, wild radish, woodland strawberry, wild plum, blackberry, apple, rose, hawthorn, raspberry, beech, sep, hazelnut, sweet chestnut, staghorn sumac, wood sorrel, sea beet, birch.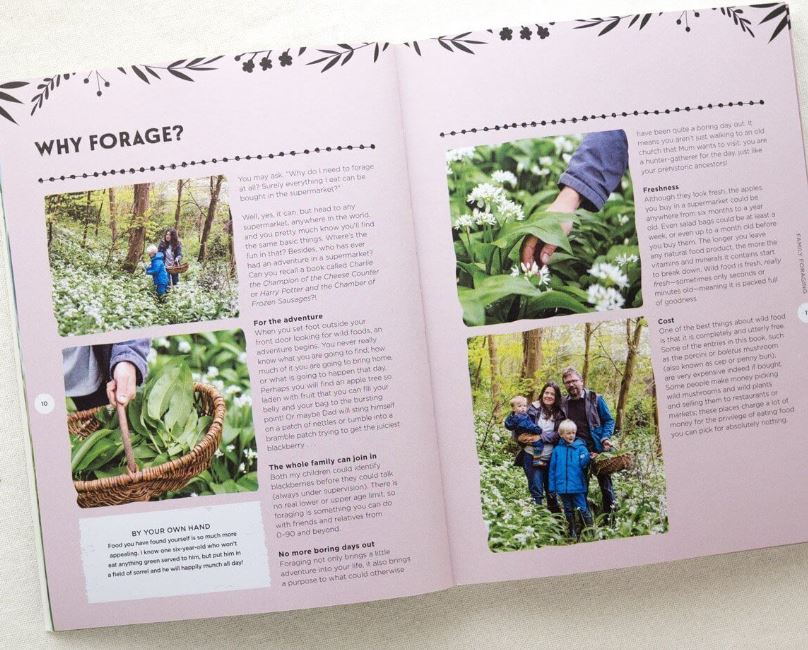 The plants are divided by season — spring, summer, fall and winter (3 plants).
Each plant has multiple pages dedicated to it with a close up photograph (sometimes), a well drawn illustration, description of all the parts of the plant, a picture of what parts of the world it grows wild in, text about what to avoid (plants that might seem similar and how to know it's not your plant), notes about where to find it, info on how to eat it, and a recipe.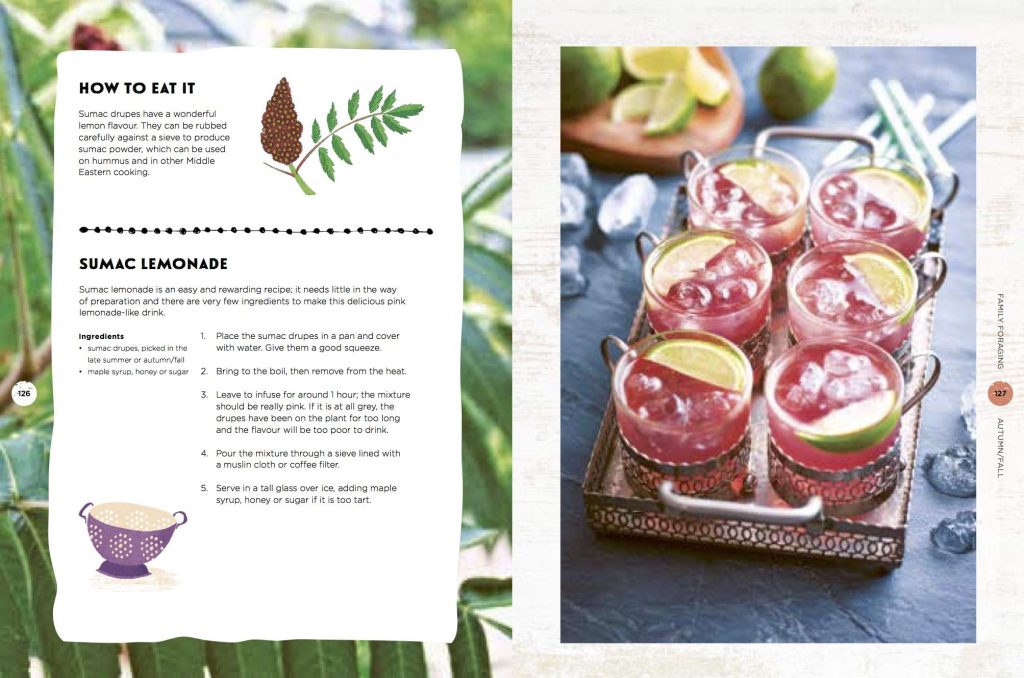 The publisher says:
The ultimate family-friendly guide to foraging with kids.

Children are natural foragers — they love to get outside and search for hidden treasures. And once they get the foraging bug, there's no turning back. Before you know it, they'll be asking where they can find the sweetest summer berries or the best wild apple trees.
 
This fun handbook includes information on finding 30 of the most commonly found wild plants in North America. You can find most of the plants in your nearest forest, park, and sometimes, even in your own backyard.  In addition to identification information, the book includes clear instructions on how to best prepare these delicious wild foods with kid-friendly recipes like Puffball Kebabs, Chocolate Hazelnut Spread, and Wild Raspberry Muffins.
One note:  I noticed that the maps were not always accurate.  For instance, several plants that we regularly forage here in Minnesota were not shown as growing in our area.  The maps are just small images of the world with the countries and parts of countries where they supposedly grow wild shown in one color.  Still, they are helpful and I've never seen world maps for foraging info before (though the USDA North America maps are widely used.)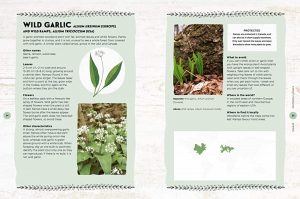 The author is British, but the book is focused on North America.  It appears that there is a similar book with a different cover that is sold in the UK.  I don't know if the plants covered are the same or not.  The book struck me as British as I was reading it (for instance, we tend to say ramps instead of wild garlic and lambs quarters instead of goosefoot, and we don't tend to use terms like hedgerows).  I'm not sure how much experience the author has actually foraging here in the states, though he seems quite experienced foraging in the UK.  That said, as someone who does forage here in the U.S., the book seemed quite accurate to me.
The book is very reasonably priced and I plan to buy a copy for our home foraging library.  It's well suited for beginning foragers and also for families who already do a lot of foraging but are looking for some new plants to discover together.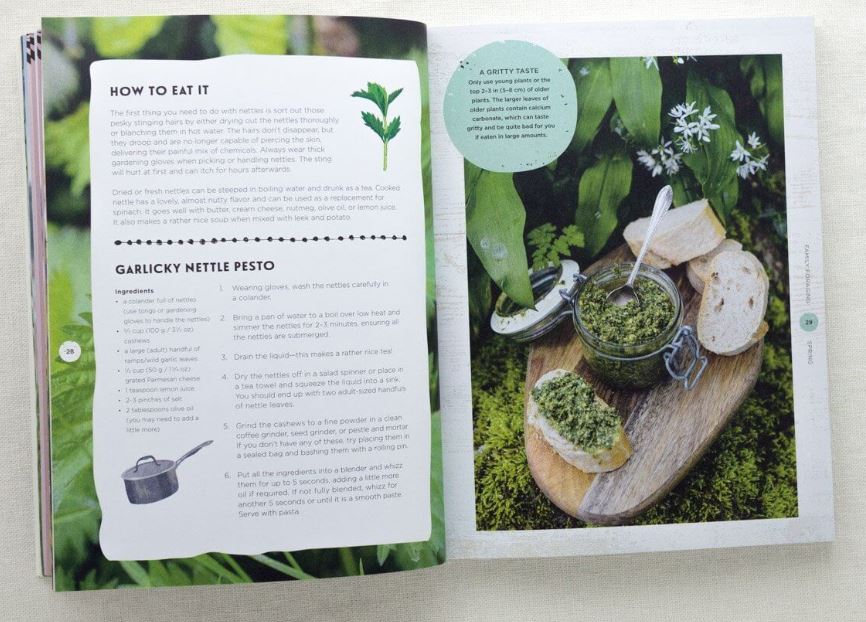 You can find the book on Amazon here: Family Foraging: A Fun Guide to Gathering and Eating Wild Plants and it should also be available at your local bookstore and through the library.

Highly recommended.
***
Note:  This post contains affiliate links.  Purchases made through our links earn us a small commission at no extra cost to you.  We will never recommend a book or product that we wouldn't purchase ourselves. 
Please follow and like us: