Lots of fruits and vegetables are in season in February, and it's still also possible to eat local foods with a little bit of creativity.
Why eat foods that are

in

season

?


It pays to eat foods that are

in

season

— to help save money, to help the environment, to get the freshest foods, and for the best nutritional bang for your buck.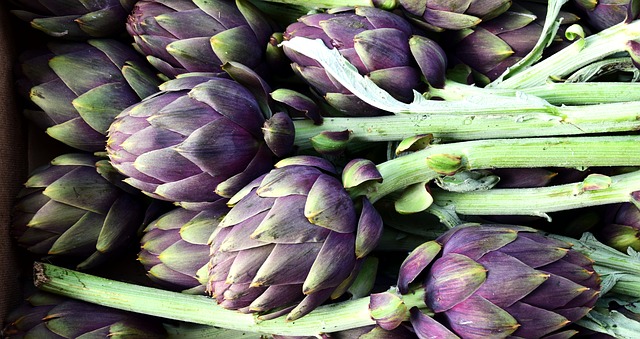 Seasonal fruits and vegetables will be cheaper and more likely to be on sale at steep discounts this time of year. They also require much less transport and are fresher, tastier and more nutritious.
Obviously, it's very hard to eat local

in

northern states like Minnesota this time of year. These foods are

in

season

in

grocery stores in the United States and Canada right now.  See the tips at the end of the list to focus on eating local

in

the North

in

February

.
Here's

what's

in

season

in

U.S. stores

in

February

:


Lemons

Limes

Grapefruit

Tangerines

Fennel

Collards

Anjou pears

Shallots

Rutabega

Brussels sprouts

Green onions

Oranges

Mustard greens

Cauliflower

Artichokes

Turnips

Carrots

Broccoli

Cabbage

Leeks

Potatoes

Sweet potatoes

Mushrooms

Celery

Avocado

Kiwi

Rutabagas

Asparagus (early)

Garlic

Kale

Pumpkins

Lettuce

Onions

Winter squash

Spinach

Walnuts

Swiss Chard

Sprouts
To eat more local foods

in

Northern states like Minnesota: Since next to nothing is fresh and local for those of us

in

cold climates

in

February

, this is still the time to rely on the root cellar and pantry. Canned, dried, frozen and root cellar foods can all be staples for winter cooking.
These foods are also well suited for cold weather cooking,

in

the form of soups, stews, crock pot recipes and casseroles.
Here are some good local foods to cook with

in

February

:


Fresh fish from ice fishing

Maple syrup

Wild rice

Home grown sprouts

Dried beans

Dried peas

Flours

Honey

Nuts, nut flour/meal and nut butters

Winter squash and pumpkins

Turnips, carrots, onions and other storage items from the root cellar

Garlic

Dried herbs

Home canned green beans, salsa, relish, pumpkin, pears and apples

Juices and jellies made from home canned grape juice

Frozen sweet corn, chard and other vegetables from summer gardens

Frozen rhubarb, strawberries, apples and other fruits picked last summer and fall

Dried fruits

Popcorn, Corn meal/flour and Glad Corn

Acorn meal (since acorns are high

in

fats, make sure they are stored

in

the freezer or they go rancid)

Dried and frozen meats and wild game

Homemade wine and beer

Home canned grape juice, tomato juice and apple cider
For the healthiest, most sustainable (and least expensive)

February

menus: Focus on cooking mostly with these long-storage items from your own freezer and pantry and use fresh seasonal fruits and vegetables from elsewhere to punctuate your meals.
If you don't have a winter bounty from putting up foods last year, there's still lots of time to do some research and make some plans for next year!
Please follow and like us: