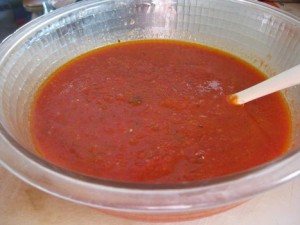 Nothing smells better on a fall day than roasted tomato sauce. With back yards and farmers' markets brimming with fresh tomatoes right now, this is the perfect time to make up a batch.  Once you try, you'll never want make tomato sauce any other way!
If you've never made roasted tomato sauce, you don't know what you're missing. This pasta sauce tastes better than anything from a jar, and is surprisingly easy to make.
 This recipe is naturally gluten free, dairy free, vegan and accommodating of almost any food allergies or dietary needs. It's also all-natural and packed with nutrition from the fresh vegetables, garlic and herbs.
 Best of all, it just takes amazing. Here's the simple recipe.
Roasted Tomato Sauce
Ingredients:
4 lbs tomatoes, trimmed and chopped or quartered
1 medium onion, peeled and sliced or chopped
1 green pepper, trimmed and sliced or chopped
3 cloves garlic, peeled and crushed
1/4 cup olive or canola oil
2 TBS herbs (fresh or dried – basil, oregano, marjoram, etc.) or more, to taste
1 tsp salt or more, to taste
1 tsp pepper
1 tsp sugar
Steps:
Preheat the oven to 375.
Fill a 9×13 pan with the tomatoes, green pepper, onion and garlic.
Drizzle the oil over the vegetables. Sprinkle the herbs and seasonings over the top.
Cook for 1 1/2 – 2 hours (until the tomatoes are nicely roasted), stirring occasionally.
Remove from the oven and process in a food mill or blend in the blender.
Adjust seasonings if necessary and serve over pasta or in your favorite recipe.
Keep in mind that this recipe is very adaptable, so you can feel free to work with the ingredients that are in your fridge or garden. We don't really measure any of the ingredients and just approximate them at this point.
 You can adjust the cooking time and temperature if needed. For a shorter cooking time, roast at 425 for approximately 45 minutes.
This makes approximately 3 cups of sauce.
 Enjoy!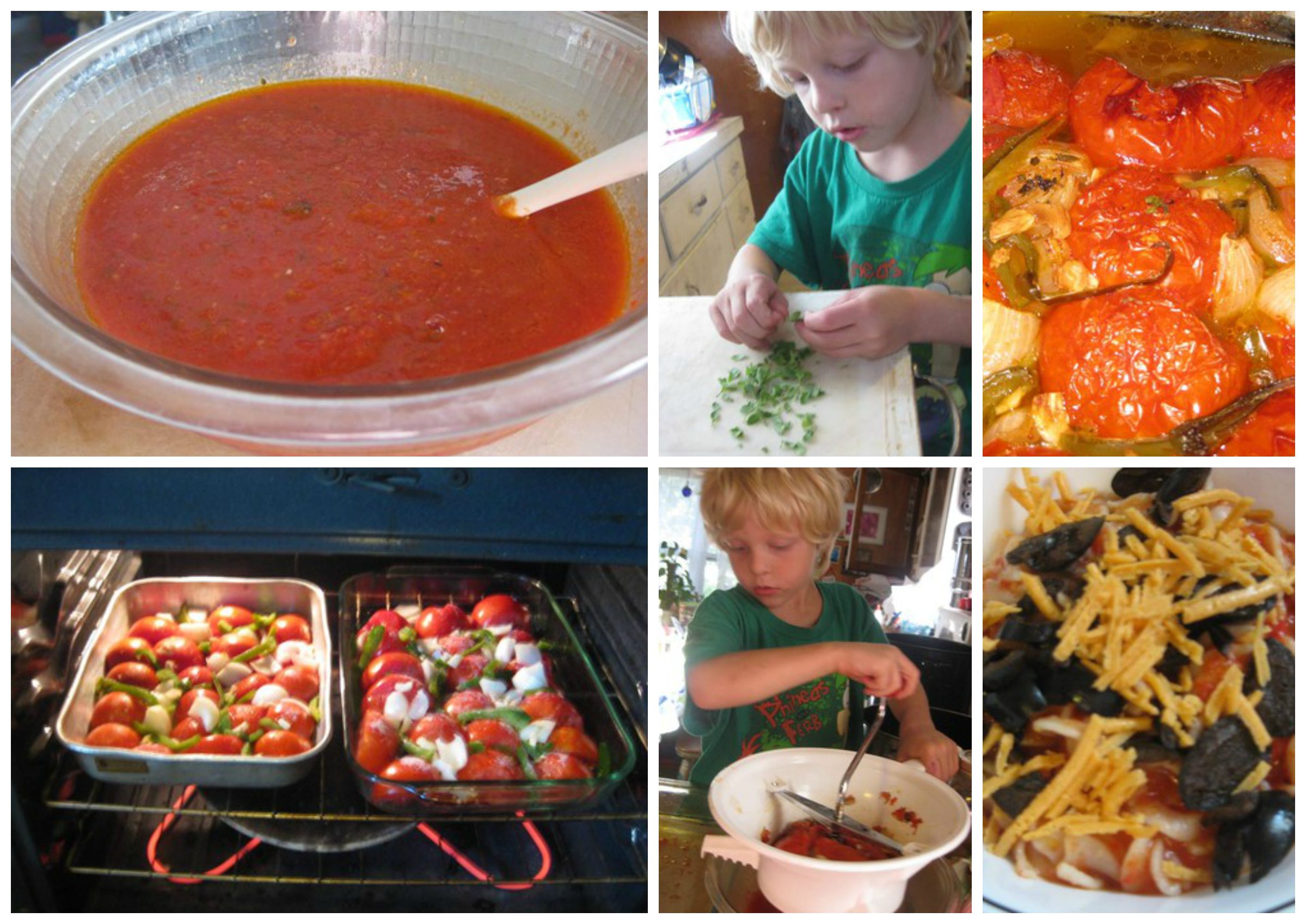 Please follow and like us: