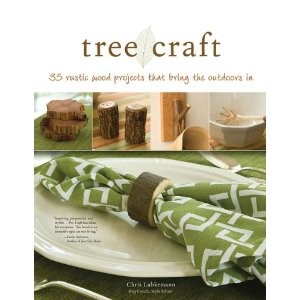 I have a new favorite craft book. I just got Tree Craft in the mail yesterday and already I've read it cover to cover and am planning projects to do with my kids.
Tree Craft, by Chris Lubkemann, offers "35 rustic wood projects that bring the outdoors in." From salt and pepper shakers to coat racks to a giant checkerboard made of a tree stump and stained slices of branches, every project is as clever as it is beautiful.
There are so many things I love about this book, but here are a few:
Most of the projects are simple enough for any skill level.
Most projects require very few tools other than a saw of some type and often a drill.
The book is brimming with full color, step by step photographs throughout.
The projects are the epitome of green crafting — generally using wood that's gathered from downed trees or other found wood and requiring little else in terms of materials other than perhaps a stain of your choice.
The projects are beautiful.
The book could serve as an excellent introduction to woodworking for children.
The author has a delightful, down to earth style of writing.
The projects are generally as useful as they are gorgeous.
I can't wait until spring comes and I can start trimming my trees and bushes, because there are so many projects I would love to make from this book! I also am hoping to find some suitable driftwood on an upcoming trip to the coast, because of others I can't wait to try.
I highly recommend this book, and hope to use it often.
Tree Craft is published by Fox Chapel Publishing and retails at $19.95, though it is currently $16.42 on Amazon with used copies also available.
***  Note that this post contains affiliate links.  If you purchase products (these or any others) through these links, we receive a small commission at no cost to you.  I would never recommend a product on Amazon here that I wouldn't recommend to a friend.  If you do decide to purchase on Amazon and go through our links, it's a nice way to support our site. Thanks! 
Please follow and like us: