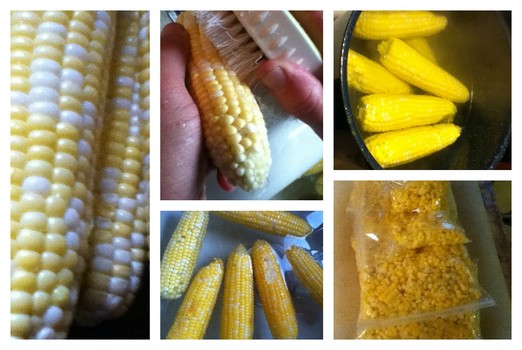 It's August, and farmer's markets and roadside stands are full of fresh sweet corn. It's delicious, of course, but it also can be very expensive if you want enough to put some away in the freezer.
Fortunately there's a simple solution.
Ask.
Quite often, the corn they have for sale there is the freshest corn they have. But the fields have much more than they can possibly sell right away, so they will frequently have "freezing" grade corn available for a very reasonable price.
At our local family farm, normal sweet corn is $4 a dozen. The freezing corn? $7 for a box full (usually about 6 dozen ears). It's not as fresh as the other corn (it may have been sitting for a week or so), but it's probably as fresh as you'll find in the market, tastes great if you DO want to eat it on the cob, and is very easy to prepare for the winter months.
We also found out that different fields are planted with different varieties of corn, so it ripens at different times, prolonging the fresh corn season. Right now the fields they are picking are non-GMO corn, which is something we hold out for each summer. If it is as important to you, simply ask them if the corn is non-GMO or not.
Freezing corn is so simple I always feel like we're missing a step. This year we've gotten one box of freezing corn so far, had 2 dozen ears on the cob with supper, and ended up with 18 bags of corn in the freezer in handy 2-cup serving sizes, perfect for adding to a soup, hot dish, or chowder.
Happy eating!
Please follow and like us: