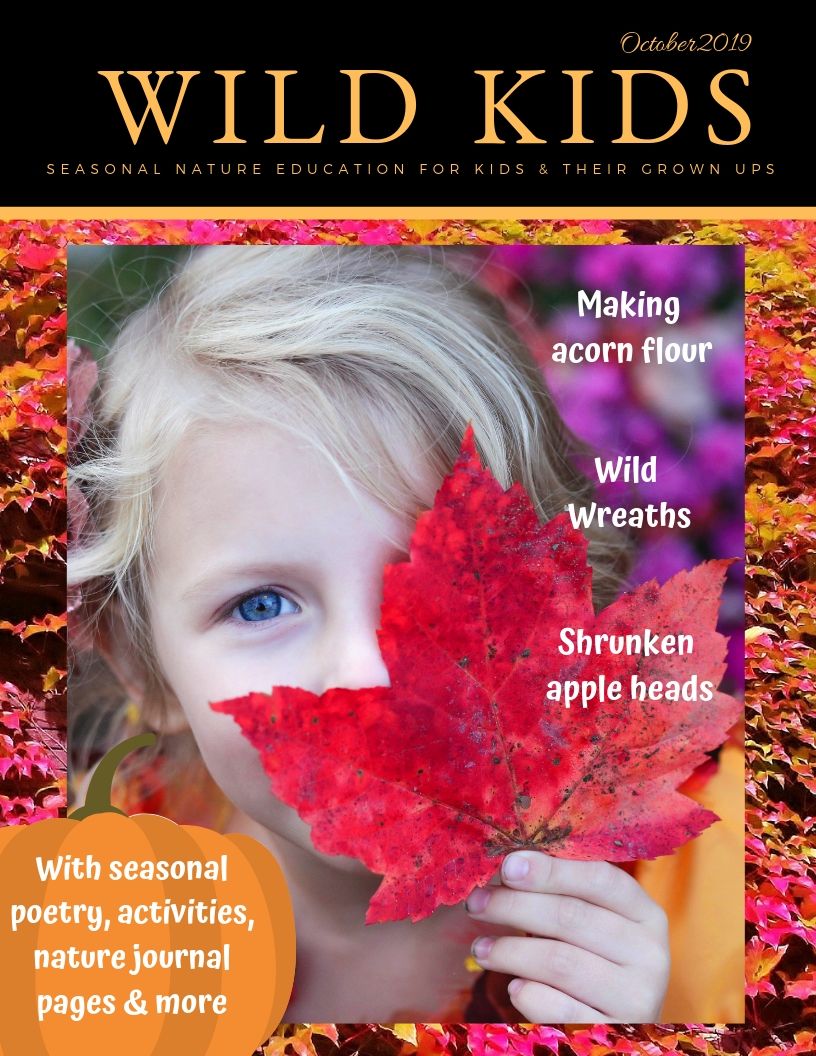 Wild Kids Magazine for October
Happy October!
Here is this month's issue of Wild Kids Magazine, which you can read online or print out.
As always, it's in PDF form and is absolutely free.
In this month's Wild Kids Magazine we have information on foraging acorns for acorn flour, making a wild wreath from vines and wildflowers, making shrunken heads with apples, and more. As always, there are also free printable foraging record keeping pages, nature journal pages, botanical wild plant coloring pages, seasonal poems and more, too.
Here are some links to help you explore this month's themes.
Harvesting Walnuts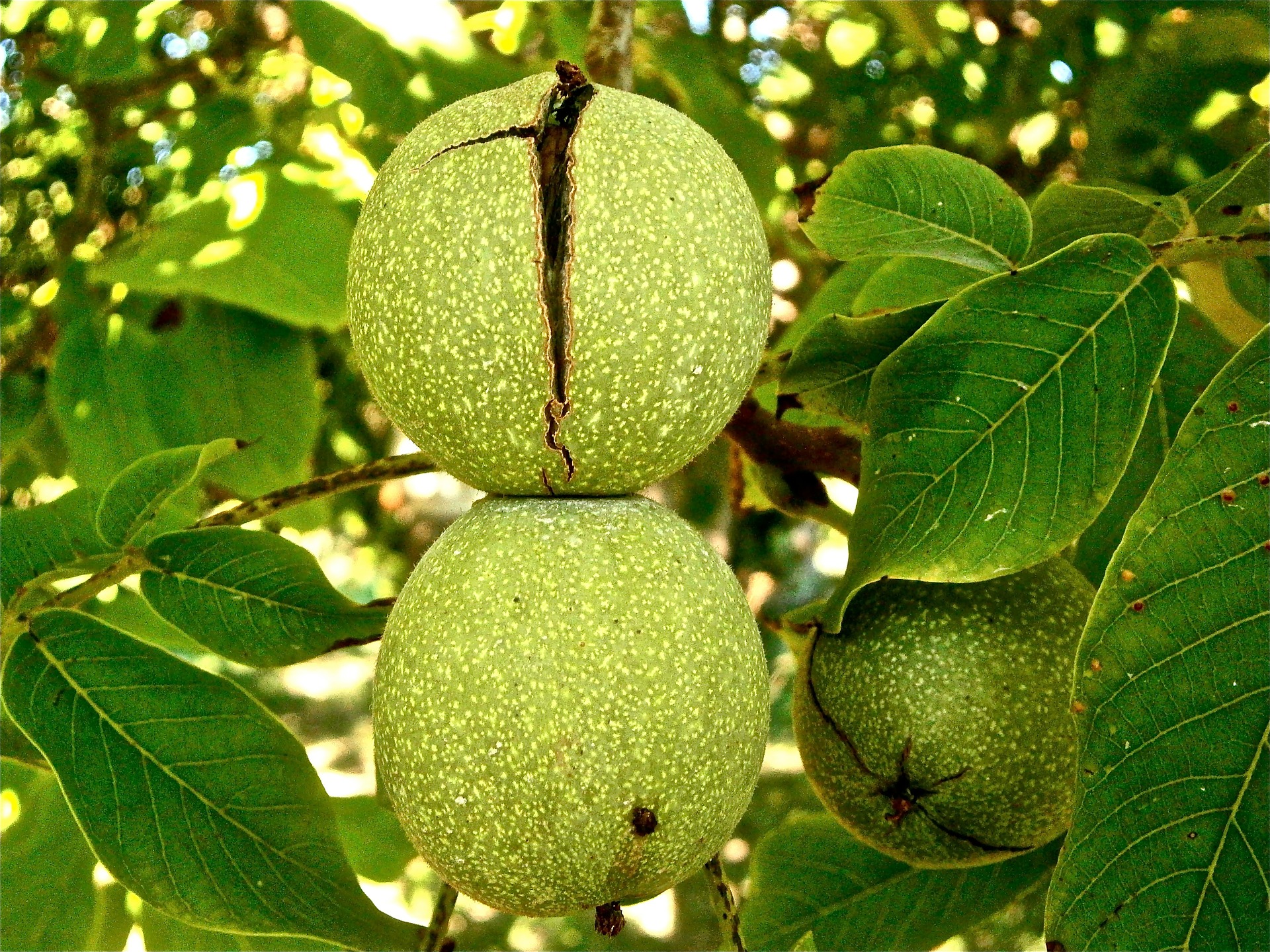 My husband has posted lots of posts about how to forage and use walnuts on our family blog over the years, including these:
Acorn Foraging
Acorns were some of the first wild foods our family ever foraged, and are among our favorites.  Acorn foraging has become one of our favorite fall activities, partly because acorns are so delicious — and also because almost nobody knows what they taste like anymore so it's almost like belonging to some sort of wonderful secret club!
Foraging acorns is a little time consuming but it's not hard.  We actually consider it harder to harvest walnuts than acorns.  It's very important that you process out the bitter tannins before eating acorns, though.
There are two main ways that people process the tannins out of acorns — boiling water processing and cold water processing.  With boiling water processing, you boil the acorns in repeated changes of water until it's mostly clear and they taste mild.  With cold water processing, you soak the whole or ground acorns in cold water over a longer time, pouring off the water and the tannins as they are leached out.
Here's a handy little infographic I made for the Kindle version of my acorn foraging book to help you decide whether to do hot water or cold water processing of acorns. (The Kindle version of the book is in full color, while the paperback is in black and white to keep the cost lower. I have it set on Amazon that if you order the printed one you get the Kindle version free, so you get the best of both worlds.)
I have very simple instructions on how to do boiling water leaching on our family foraging blog, from a few years ago.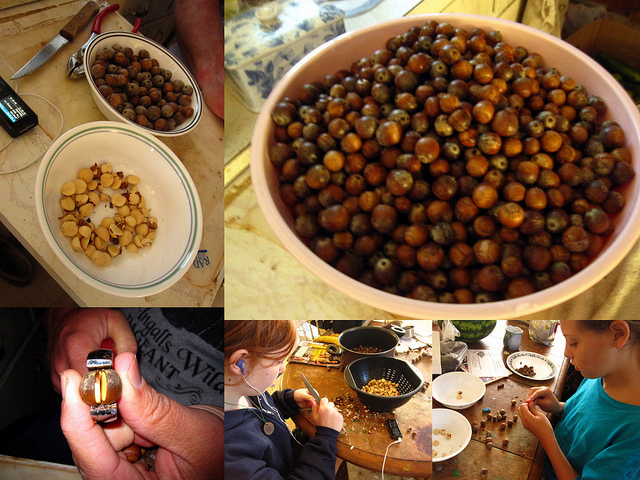 I also have some recipes to use your acorn flour at my author blog and at our family foraging blog.
Here's my recipe for acorn flour mini-donuts (regular or gluten free).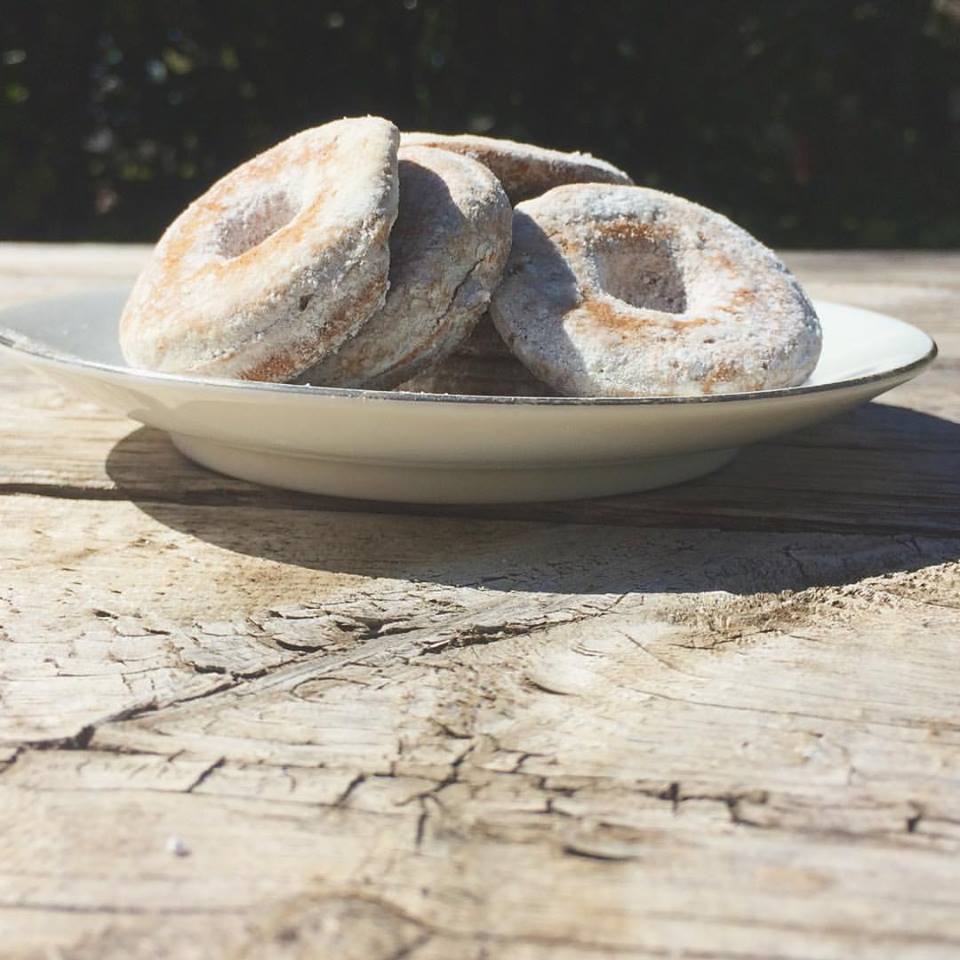 Here's my recipe for Acorn Spice Cupcakes with Cream Cheese Frosting (regular or gluten free)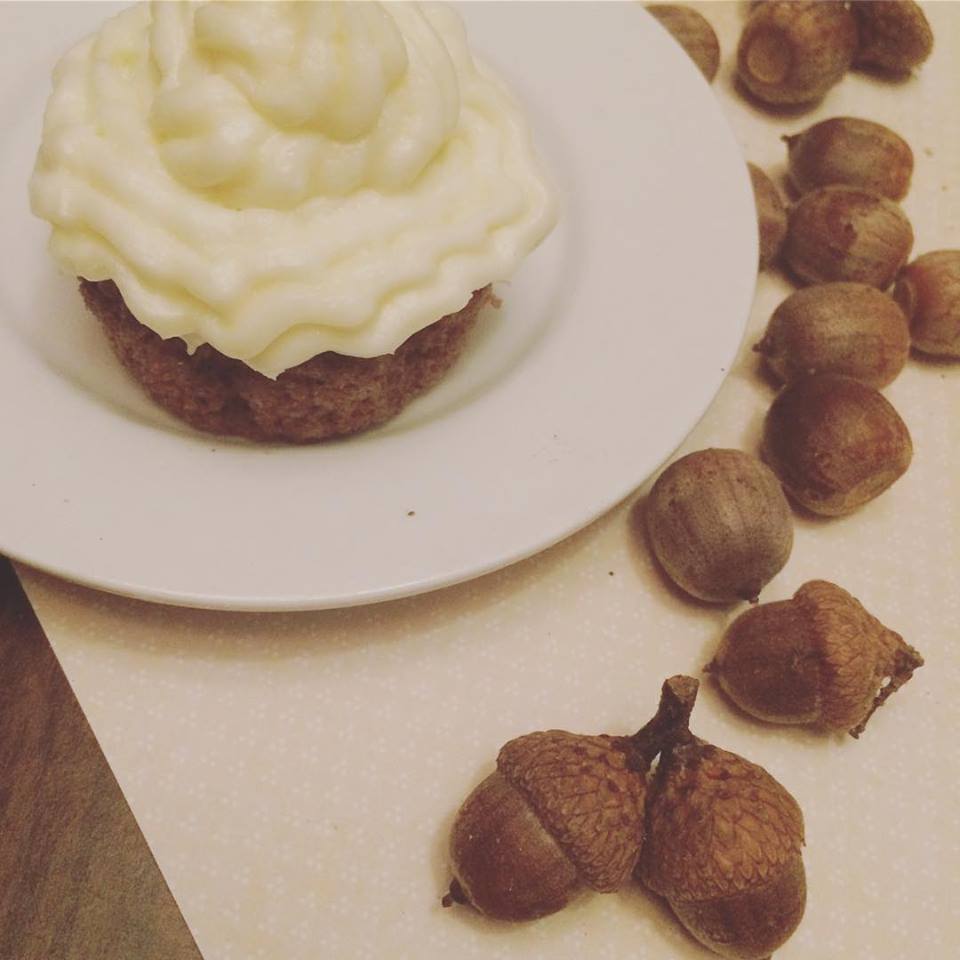 Here's my recipe for Acorn Maple Ice Cream (Paleo & Vegan)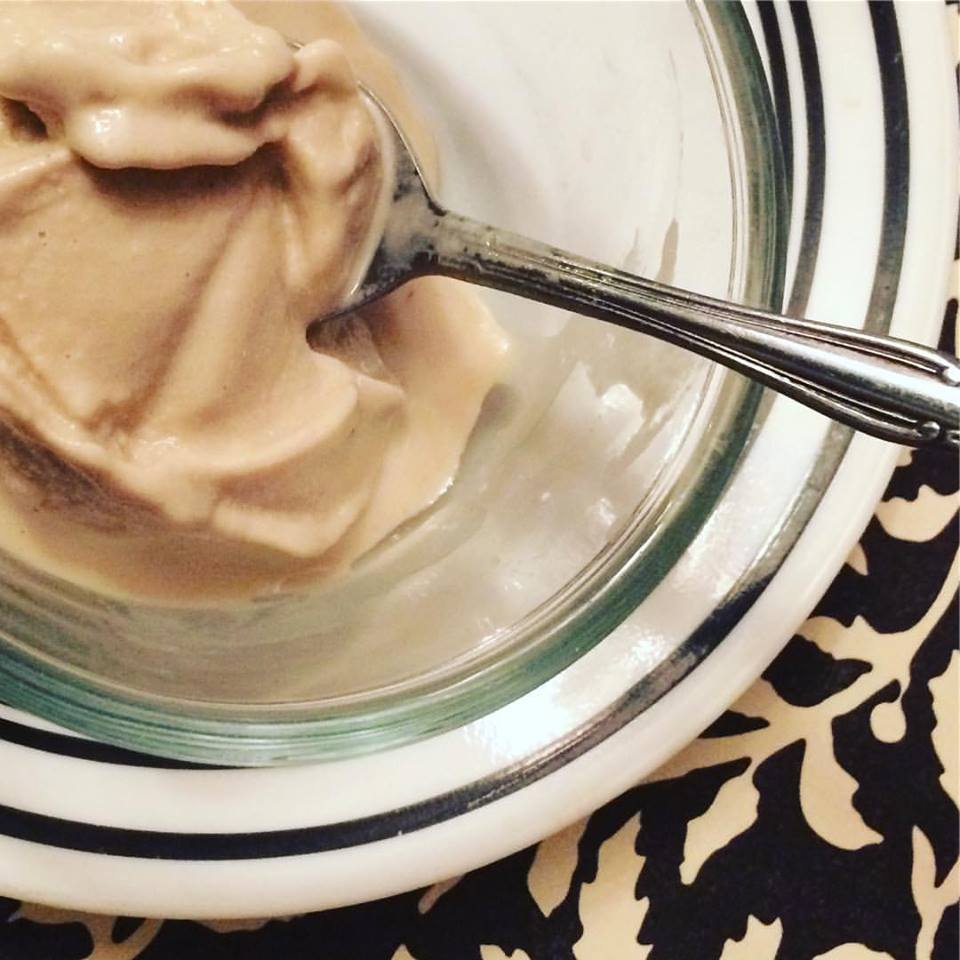 Here's my recipe for Acorn Rice Patties (vegetarian and gluten free).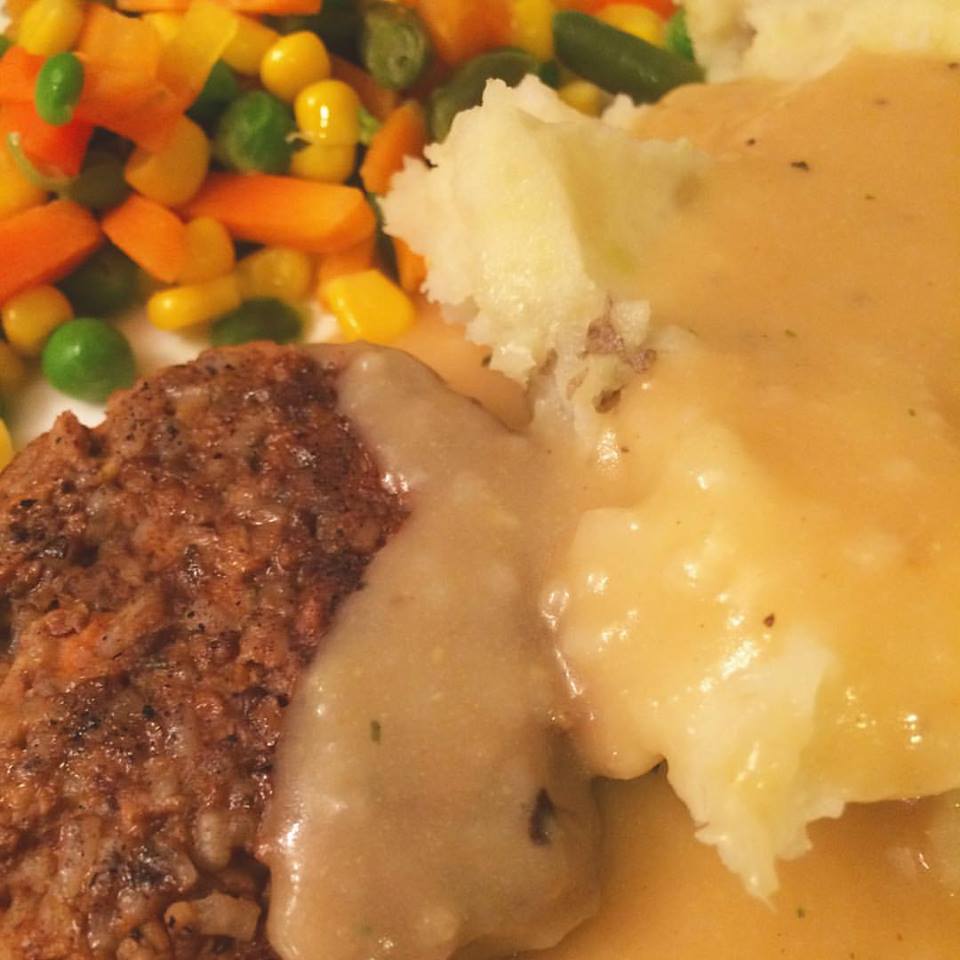 Here's my recipe for simple acorn flour drop biscuits (regular or gluten free, and vegan).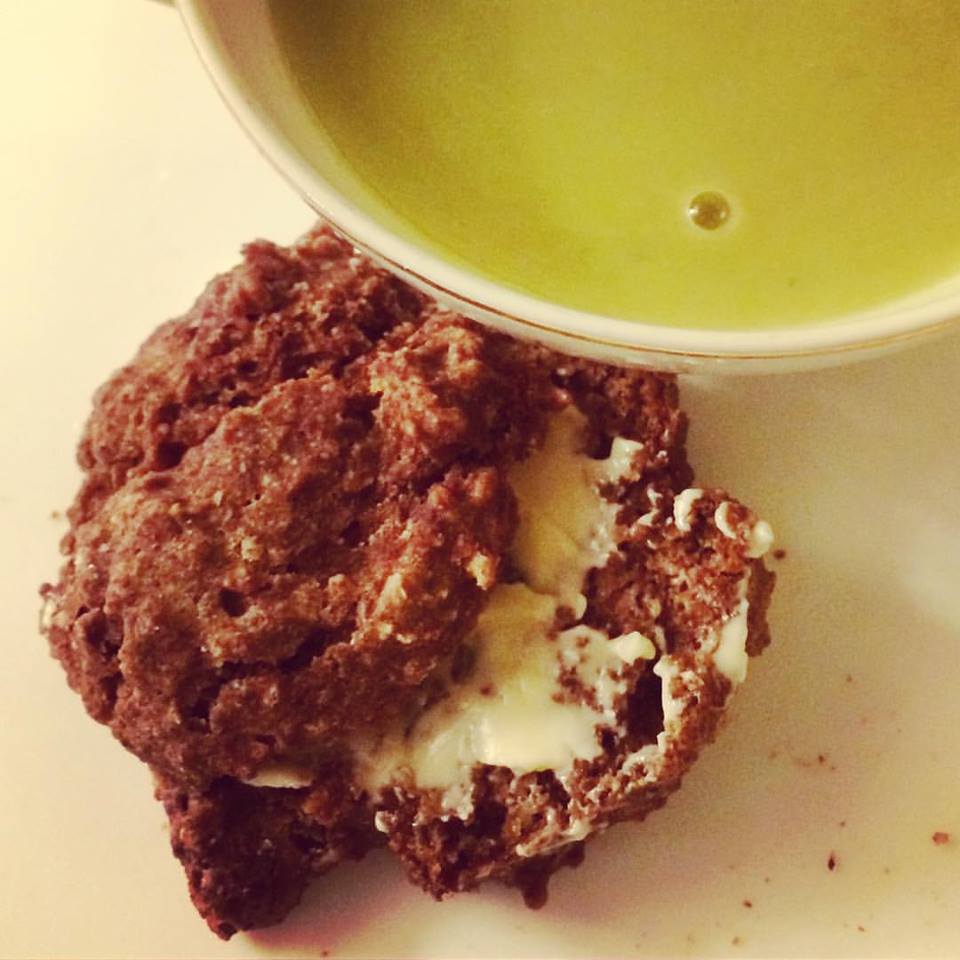 Below is my recipe for 3-minute microwave acorn bread (scroll through the slides for the recipe and variations).  Note that this recipe works with any flour, so the lighter pictured breads pictured are ones our youngest son, Alex, made with other grains like sorghum flour when we ran out of acorn flour.  He loves to make this recipe because he's gluten free and it's a super quick way to make his own bread or cheater pancakes.  🙂
https://www.instagram.com/p/Bnrw98ZHuG8/
I have far more detailed information on how to forage acorns and process out the bitter tannins in my acorn foraging book, along with over 90 recipes.  Here's a closer look at the book.  Note that some libraries carry it but not many.  You can help me out by asking your local library to carry it!
Wild Wreaths
Here are some wild vines that make really good wreaths.  These are good to know if you're a forager because they often grow around wild grapes and you don't want to accidentally pick poisonous Virginia Creeper berries when you think you're picking grapes.
Remember that foragers need to know not just what to eat but what not to eat.  And you can forage for plants for more than food.  Foragers use wild plants to make baskets, ink, rope and lots more.
Virginia creeper has characteristic 5-petal leaves.  It likes to grow on fences, buildings and up trees.  It will sometimes climb right around grapes, so look for it when harvesting grapes.
In the fall, its leaves turn a beautiful red and orange.  This is a good reminder that no plant is without its virtues, as it's a great way to cover up ugly fences and buildings, and it makes things look lovely in the fall.
Notice the red vines of its poisonous berries.  Don't confuse these with wild grapes, which don't have red stems (among other differences).  Also notice that the old stems of Virginia creeper will be brown.
Here are some grapes in comparison.
Make a note that wild grape vines also make great wreaths!  This time of year the grapes will be gone, but their vines can still be used in other ways.  You can also use kudzu and smilex vines.
You can make your wild wreaths with just the vines or you can leave the colorful leaves on them.  Just remember that they will not last as long if they have leaves or flowers on them.
Make sure you avoid poison ivy!  Here's what that looks like.  Notice the three leaves ("leaves of three, let them be").
Here's another example of a wild wreath.  This one was made with some decorative pyracantha berries.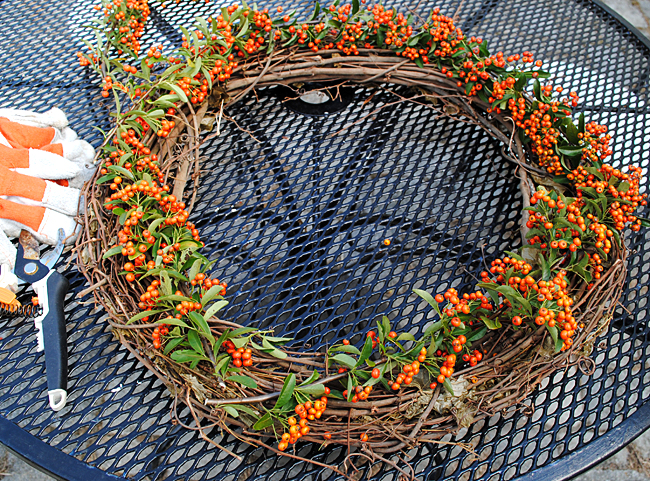 You can also make crowns, the way we did in the March (I think!) issue.
And with that, I need to hit the publish button and get this out into the world to you.
Have a wonderful, wild month!
~ Alicia
Please follow and like us: