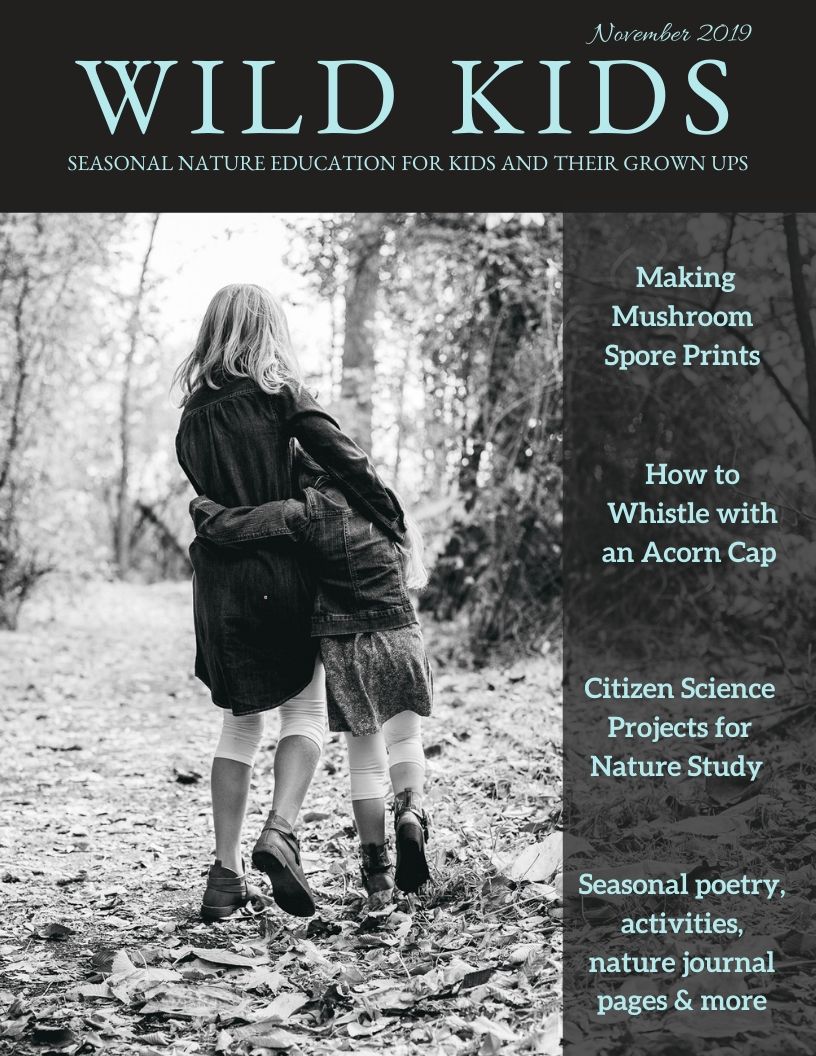 Wild Kids Magazine for November
Happy November!  Here is the November issue of Wild Kids Magazine.  It's 16 pages (PDF) and can be read online or printed out.  As always, it is 100% ad-free and free of charge.
This month we have information on how to whistle with an acorn cap, how to make mushroom spore prints, and how to do citizen science to help scientists — either at home or in the field.  As always, there are also free printable foraging record keeping pages, nature journal pages, botanical wild plant coloring pages, seasonal poems and more, too.
Here are some resources to learn more about this month's topics.
Spore Prints
Here's a wonderful free printable PDF poster on making spore prints.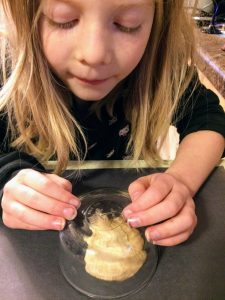 The Chicago Botanical Garden has more good information on spore prints, as does Freshcap Mushrooms.  My favorite page of information about spore prints is at Foraged Foodie.
Be sure to teach kids to follow safety guidelines when doing spore prints, including washing their hands and anything that touched the spores after handling them.  For younger kids, I recommend doing spore prints of supermarket mushrooms.
Want to learn more about mushrooms?
Free Kids Books has a free full-color printable book (PDF) to learn all about fungi.
Acorn Cap Whistles
If you're still having trouble whistling with an acorn cap after reading our instructions, here are a few more pages with tips.
How to Whistle on an Acorn Cap (Acorn Pies)
How to Whistle Using an Acorn Cap (Wiki How)
Hawthorn Berries
We have a botanical coloring page for hawthorn this month.  Hawthorn berries can persist on trees into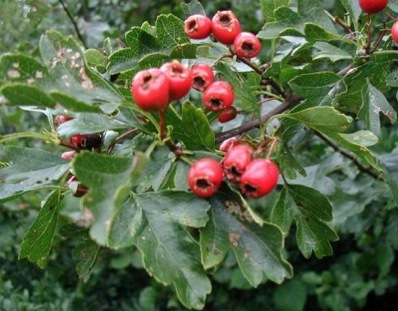 the winter and are often used for syrups, jellies, medicinal teas and more.  They were used for hundreds of years to treat heart conditions, including heartache, in the old days. It's important not to eat the seeds, because like many fruit seeds and pits they contain cyanide. It is safe to use their juice or syrup. If you'd like to learn more about how to safely identify and use hawthorn berries, Eat the Weeds has a great page with lots of information and great recipes.
Keep in mind that hawthorn shrubs are like apple trees and crab apple trees in that there are endless varieties and each one tastes different so their tastes, size and colors will vary dramatically from shrub to shrub.
Hazelnuts
We also have a botanical coloring page for hazelnuts (also known as filberts).  If you want to learn more about identifying and harvesting hazelnuts, see these great pages.
Our One Acre Farm has great information on identifying American and beaked hazelnuts.
The UK's Woodland Trust has information about gathering hazelnuts on that side of the pond.
Sacred Earth also has information and a variety of recipes.
Wishing you and your family a wonderful, wild month!
~Alicia
Please follow and like us: