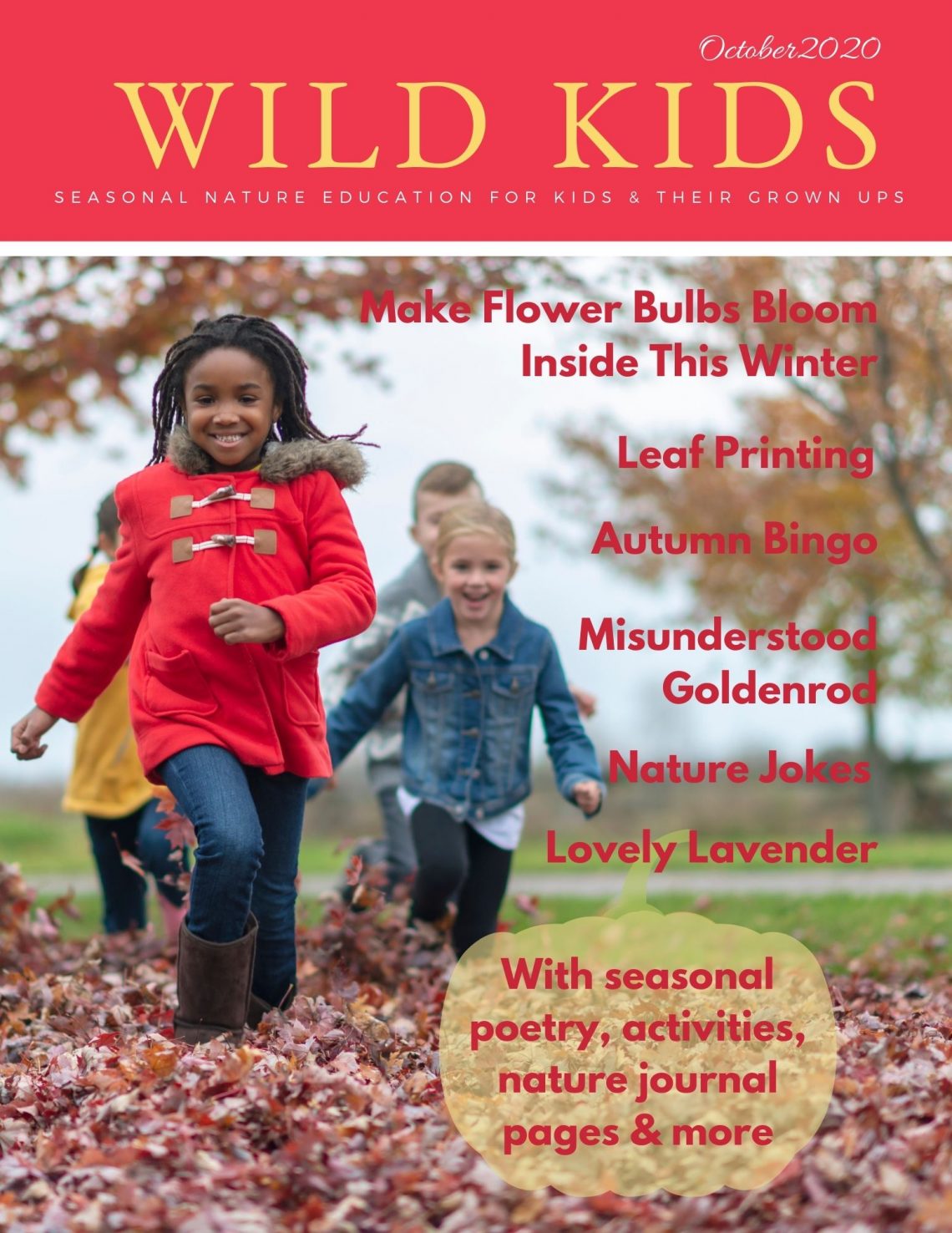 Wild Kids Magazine for October 2020
Happy October!
Here is this month's edition of Wild Kids Magazine.  As always, it's ad-free and 100% free to read online or print out.  It's 18 pages this month.
October 2020 Wild Kids Magazine
In this month's issue, we have information on how to force spring bulbs to bloom inside in the winter, leaf printing, an autumn bingo page (and a blank one to make your own), nature jokes, the benefits of misunderstood goldenrod, lavender and more, plus all the usual nature study pages, seasonal poetry, foraging pages and more.
Here's a bit of information about the plants featured in this month's botanical coloring pages.
Goldenrod
Medium has a nice simple write-up on how to easily use and identify goldenrod, with links to learn more.
As always, Foraging Texas (one of my favorite foraging ID sites) has really thorough photos and ID information with maps and lots more to help you safely find and use goldenrod.
The Chestnut School of Herbal Medicine has a great bunch of information about goldenrod, including recipes for everything from tinctures to cornbread, links to learn how to dye with it, and links to learn more about medicinal uses.
Remember, goldenrod is an important plant for the bees, as it's the last flowering plant of the season for them to collect pollen from.  Make sure to leave plenty of flowers for the bees, and do your best to protect goldenrod from confused folks who think it's allergy-causing ragweed and try to kill it.
Lavender
Herbs at Home has some good information on lavender and instructions on growing it inside.
The Nerdy Farm Wife has lots of wonderful recipes to make lavender body butter, hand cream, tincture, bath salts, vinegar and more.
I hope you have a wonderful, wild month.  I'll see you in November!
Please follow and like us: