I was able to read a digital copy of The Berkeley Bowl Cookbook: Recipes Inspired by the Extraordinary Produce of California's Most Iconic Market this week through Net Galley.  I was excited to read it, not because I have access to an elaborate produce market like the famous Berkeley Bowl, but because some of the foods it spotlights are wild foods that we forage as a family.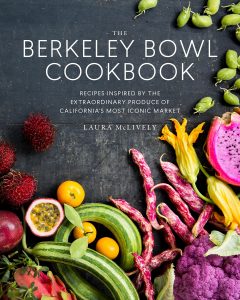 That said, it isn't a book that I'll probably go out and buy, now that I've read it. That's not through any fault of the author or the book, but because it isn't a very good fit for my needs as a frugal whole foods cook who relies largely on wild foods and affordable, accessible ingredients to cook healthy, mostly organic meals for a large family on very little money.
I was drawn to The Berkeley Bowl Cookbook because some of the foods highlighted in it are foods you can forage, such as gooseberries, nettles, sorrel, purslane, fiddleheads, ramps and morels. As an avid forager, I'm always looking for new ways to cook up these delicious wild foods. On the other hand, most of the other foods featured are not ones I can find wild and I can't find them in any grocery store near me in rural Minnesota either (though I do plan to grow some of them in my garden this year and they're certainly an option for avid gardeners).
I also like the fact that the recipes are vegetarian, as I cook vegetarian and get discouraged by how many cookbooks for wild foods (or any foods) tend to add ingredients like bacon and chicken stock to just about every recipe.  It's also easy to be gluten free with this cookbook. 
I also really love the full color photos, and that there are a lot of them. I wish there were color photos for every dish, though. Printing a book in color costs the same amount (a lot) whether you use one photo or 100, so I never understand cookbooks that spend the money to have color photos and then don't have one for every recipe. Speaking of cost, that leads to another reason this book isn't going on my wish list. It retails at about $35, which is a lot of money for a cookbook I wouldn't use often. Even the Kindle version is $17.
The recipes themselves are fairly easy but definitely of the gourmet variety. These aren't the simple, easy ways to cook these ingredients that may be unusual to many of us in the states but are standard foods for many people around the world. If I cook purple cauliflower, for instance, I'll generally just roast it with a bit of olive oil, sea salt and an herb or two. That showcases it beautifully and simply. This cookbook tells you how to make "Purple Cauliflower Quesadillas with Curry Crema."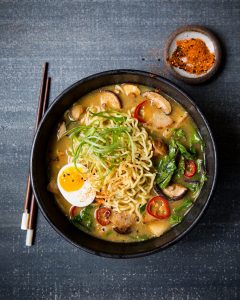 If you'd like to sample one of the recipes from the book, the author has the recipe for her Kohlrabi Ramen (pictured on the right) on her blog here.  If you'd like to peek inside and take a look at the recipes and foods featured, you can do so here (affiliate link).
In short, The Berkeley Bowl Cookbook is a fun book to read from the library and is full of very vividly colored food porn, but it's not likely to be a go-to cookbook for most kitchens.  That said, those who enjoy cooking with whole, fresh foods and are looking for new ways to use those strange fruits and veggies in the CSA box or at the farmers' market are likely to find some fun new recipes and inspiration.
Please follow and like us: