James Beard Award winning Southern chef Sean Brock released a new cookbook this week that I was lucky enough to preview.  It was a fantastic read with stunning photography and mouth-watering, authentic recipes from all regions of the South — with a few caveats for some home cooks.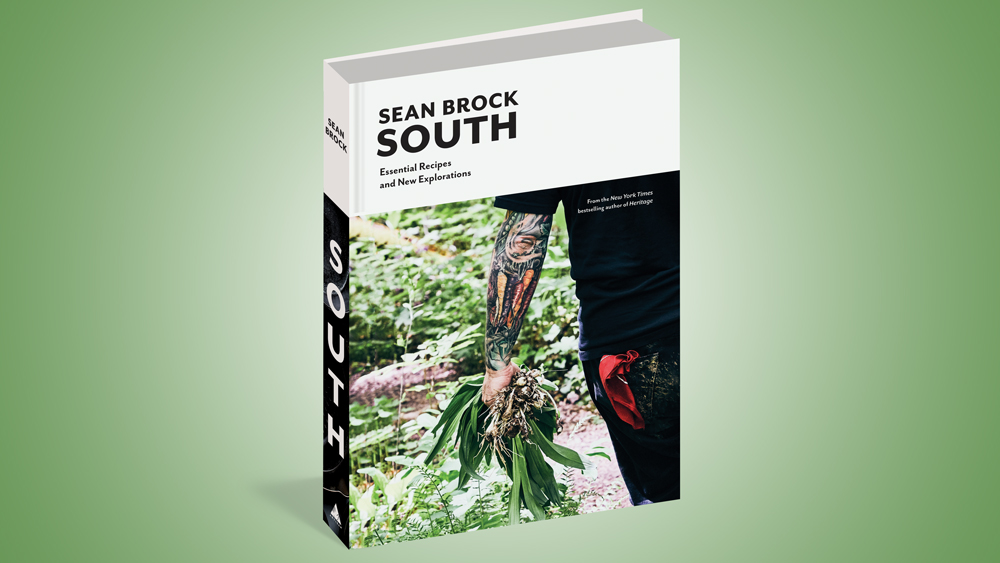 This is a gorgeous, wonderfully written book that is sure to be the textbook for a lot of southern cooks, especially those in the restaurant business or who want to recreate gourmet Southern recipes at home. Brock is passionate about southern cooking and has done his research, cooking with some of the region's best chefs and also drawing on great southern cooks in every region and his own Southern roots. It's refreshing not seeing southern food depicted as just battering and frying everything and tossing in lots of cream and butter, and the photos are stunning.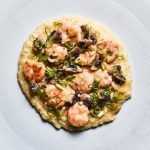 Brock doesn't just teach you how to make perfect grits, for example, but he provides an assortment of ways to make them, paying homage to the variations in the way different regions cook.  He even gives you a chart comparing the traditional flavors and additions of grits according to Appalachia, Lowcountry and the Gulf Coast. 
I am looking forward to making so many of these recipes, such as…
Fried Green Tomatoes
Cream of Morel Soup
Watermelon Molasses
Potato and Ramp Puree
Fried Okra (with a novel way of breading it that I'm curious to try)
Hominy and Pokeweed Griddle Cakes
Sour Cornbread (fermented like sourdough bread)
Pepper Mash (where hot peppers are charred and then lacto-fermented)
Alabama White Sauce
Pimento Cheese
Ramp Leaf Oil
Salt-Roasted Beets (encased in a salt crust that you crack like a dinosaur egg)
Elderberry Dumplings with Grapefruit Creme Anglaise
Magnolia Vinegar and Brown Butter Pie
Sweet Potato Pie
Pawpaw and Banana Pudding
Hickory-Smoked Ice Cream
All that said, here are some considerations to decide if it's a book that will be a good fit for you:
~ Brock believes in specific ingredients, and often specific brands of those ingredients. Many of the recipes call for at least one specific brand of something. A resource list in the back tells you where to buy these, but it's likely to be very frustrating for home cooks who don't want to have to special order a pantry full of ingredients.
~ Many of the recipes are pretty complicated and will take quite a long time. These are dishes to make to impress company, not necessarily to feed your family on a weekday evening.
~ Many of the recipes will also be fairly expensive to recreate, especially since Brock uses so many specialty ingredients. Even basic ingredients like rice, grits and paprika are supposed to be his preferred specialty brands since he says modern staples are junk (which is generally true). He also calls for lots of really expensive cheeses, seafood, etc., especially for those who aren't local.  There are quite a few recipes I'm just not going to try because of the expense of purchasing some of the ingredients he calls for, such as dried rice koji for his hot sauce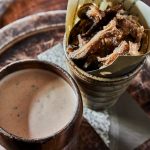 ~ For the most part, these are recipes for chefs more than home cooks. You really get to create what feels like a restaurant's secret dish, but be prepared for all the expense and work that goes into it. For instance, his pimiento ranch dressing that accompanies the crispy pig's ears calls for a lot of ingredients (three of which are homemade) and two kinds of powdered cheeses. I much prefer a simple (but delicious) dressing you can whip up from basics in the cupboard.
~ Likewise, while he sometimes uses foraged foods (yay!), he assumes you're buying them from some regional distributor and does not give any information about finding, IDing or gathering them.  I'm thrilled with the variety of wild foods he uses, such as morels, elderberries, elderflowers, poke leaves, ramps and pawpaws.  His copious use of ramps with their bulbs will likely annoy the ramp police (yes, it's a thing in the foraging community) since ramps are quite endangered in some places and it's important to be informed about the ethics of purchasing and foraging ramps responsibly.
~ While it's full of beautiful photography, there are not photos of all the dishes. For cooks who want a photo of each recipe, this may be a disappointment.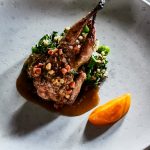 ~ This is not a book suitable for vegetarians or especially vegans without heavy adaptations. This is one of the main reasons I won't be personally purchasing this book, since I cook predominantly vegetarian. Animal products are used in almost everything and in multiple ways. Expect to use lots of lard, heavy cream, etc. This is a shame, as some of the best chefs embrace the challenge of also cooking wonderful food for their vegetarian and vegan customers, and there are also some wonderful Southern vegan chefs (check out Vegan Soul Kitchen for good Southern vegan inspiration).  That said, those who eat meat and seafood will love the enormous amount of animal-based recipes.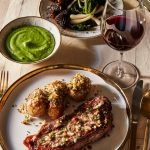 ~ This is probably not a good book for those who need to eat lighter. While fresh, whole foods are used, most of the dishes are higher in calories and fat, and there is not an emphasis on healthy foods, nutrients, fiber, vitamins and such. No dietary information is provided. Paleo folks are likely to find a lot of recipes that they can use, though he uses lots of grains and uses oils like canola. Substitutions are not provided for folks who are gluten free or have other allergies.
~ You need special equipment for some recipes like a steam juicer, an electric pressure cooker or smoker and some recipes must be cooked over coals or fire.  The majority of recipes don't require these, though.
All that said, I loved the variety of recipes and how much information he packed into this book. This really is a primer on making all kinds of wonderful foods (including delicious staples) and for understanding Southern cooking.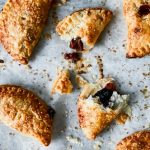 I do plan on ordering some of his recommended products and am looking forward to trying many of his recipes, while adapting them to my Minnesota kitchen.
Sean Brock's South was released on October 15, 2019 and is available on Amazon in Kindle and hardcover editions and at local booksellers.
Thanks to Artisan Books and NetGalley for providing me with a temporary digital ARC for the purpose of review.
Note:  This post contains affiliate links.  Purchases made through our links earn us a small commission at no extra cost to you. Thanks for supporting our site!
Please follow and like us: