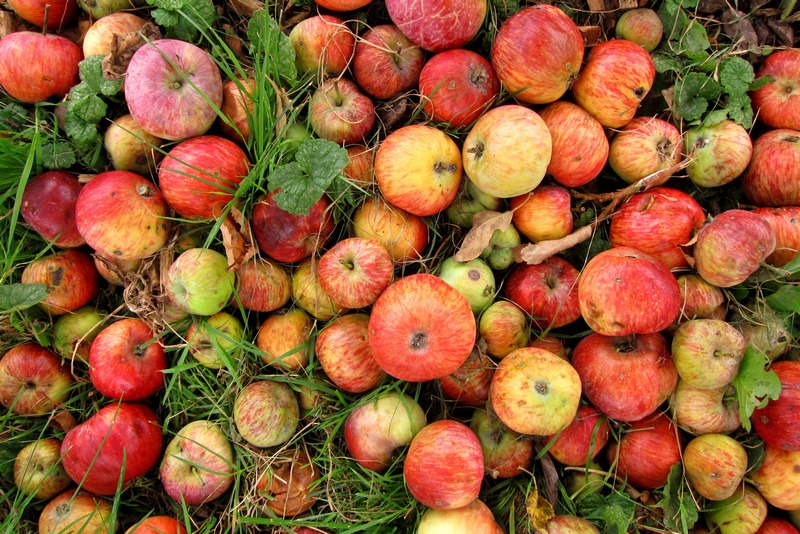 We've been acquiring a lot of apples lately, and some of them are just plain mysteries. They're either from old properties, gifts, or sometimes it's just from "that tree in the yard".
A local man sells apples in his driveway, and one of his varieties is called "Tree #2" because when he bought the house 60 years ago, it was the second tree to bear fruit. Other apples we pick are "that tart one at Chipotle's", "Mrs. Bucholz's apples", "that tree by Jeffers", and "those early green ones". We just picked up a box of free apples from the end of someone's driveway. The apples are sweet, red, and delicious. But what are they?
It's not just idle curiosity — unless you know what they are, you don't really know what they're suited for. Identifying them lets you use them properly and lets you know how to store them.
Here are the best ways I've found for identifying unknown apples.
First, there's no real substitute for asking an expert. If there's a orchard nearby, take your mystery apples along and ask them if they can help you. This is where developing friendships pays off.
There's an orchard owner I always buy "culls" from, which are the "not-so-pretty" apples. You get a lot of apples for a great price, and in the past he's let us pick over the trees when he was done harvesting. I bought more from him this week (Beacons and Red Barons) and mentioned we had some mystery apples, and he asked if I had them along. I did (the kids like eating them in the car) and he looked at them, tasted them, and identified them. One of our "hospital apples", it turns out, is actually a Red Baron (although smaller than his). The "free box" apples are actually Macintosh.
We also get apples through our CSA (community supported agriculture). I had a different apple along that day, and the owner checked it out and identified our "other hospital apple" as a Haralson.
Applesearch.org says the best way to identify apples is to "show them to an elderly neighbor and ask them, 'Do you know what type apple this is?'" Applesearch is an organization that locates "lost" heritage apples and has discovered over 1,000 varieties since 1999. This can be very effective, especially if they remember when the tree was first planted.
If you don't have an orchard owner (or elderly neighbor) to ask, you can try identifying them yourself. There are some good online sites you can use.
You might not be able to identify all of your apples, but there are a couple of loose guidelines. According to Foodsubs, "Softer apples are best for applesauce, while firmer apples are best for baking and making pies." This is my experience as well. Harder apples do not make good sauce — the apples never break down. And you can't really bake with the softer apples — they just kind of disintegrate. I still don't know what "Mrs. Bucholz's apples" are, but they are soft apples and make wonderful applesauce. It's the same for the Lodi apples. The "tree by Jeffers" apples are harder and make a delicious apple crisp, as do the Red Baron. Feel free to experiment, though. Most recipes are improved by mixing different varieties of apples.
Happy picking, and may all your apples be identified!
***
This article originally appeared at Examiner.com
Please follow and like us: