Looking for some fun ways to sneak in some geography this week? Here are all kinds of ways to help kids (and you!) learn about countries, maps and regions.
Note: Affiliate links to Amazon are provided when helpful. Purchases from our links earn us a small commission to help keep the lights on here. I always encourage you to shop locally and check thrift stores first!
1. Print out country and world maps of all sizes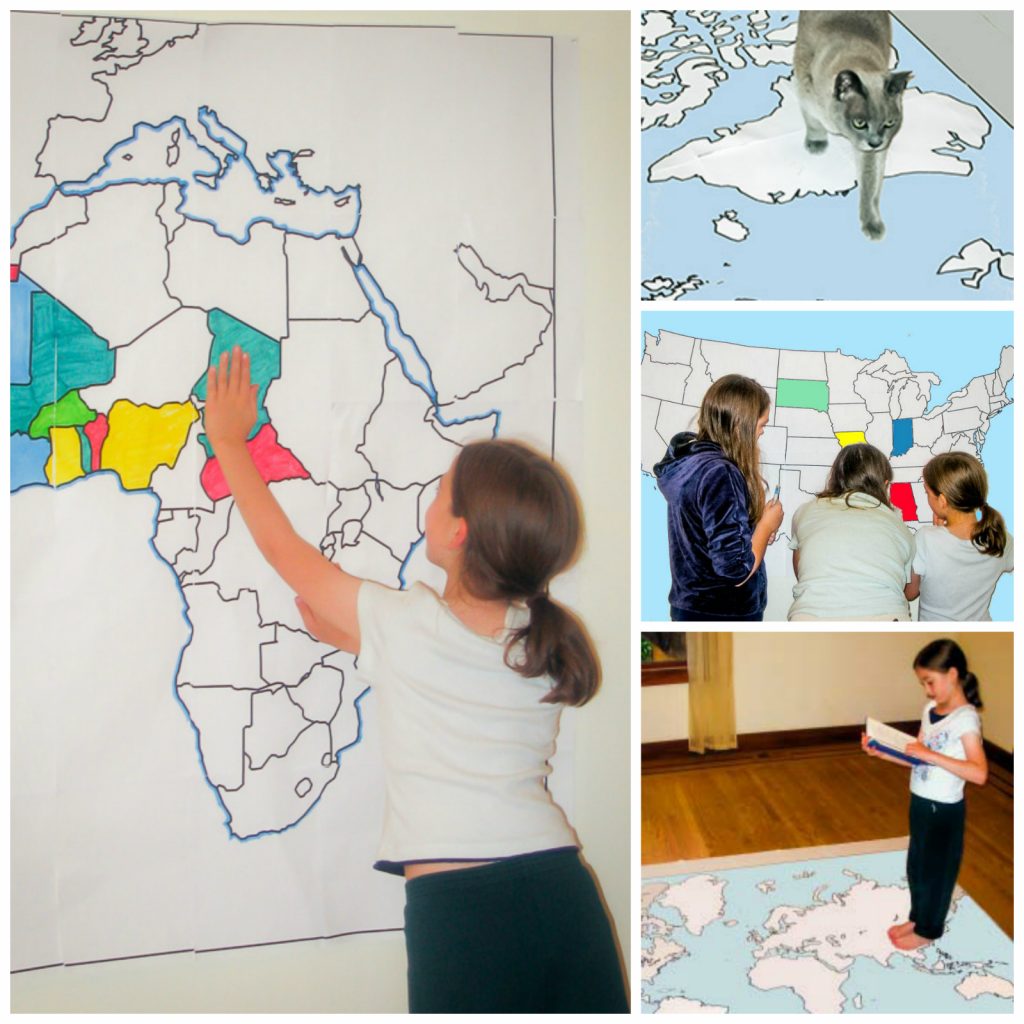 Owl and Mouse offers a huge assortment of free printable maps of all sizes — some over six feet across! For large ones, you just print out each section and tape them together.
Some of the ways you can use them are:
Print out various countries and put them on the floor, then call out country names and have kids hop to that country.
Print out a multi-page map of the US or the world, and have the kids assemble it together like a puzzle.
Put a large world map on the wall and have the kids color and label it with country names.
Play "pin the tag on the country" — blindfold kids and spin them around with a post-it note in their hands, and have them stick it somewhere on the map. When they remove the blindfold, they look to see where they placed the post-it and ID that area. They get a point if they can name the country.
Print out single-page countries to use in lapbooks and homeschool notebooks.
2. Spin the Globe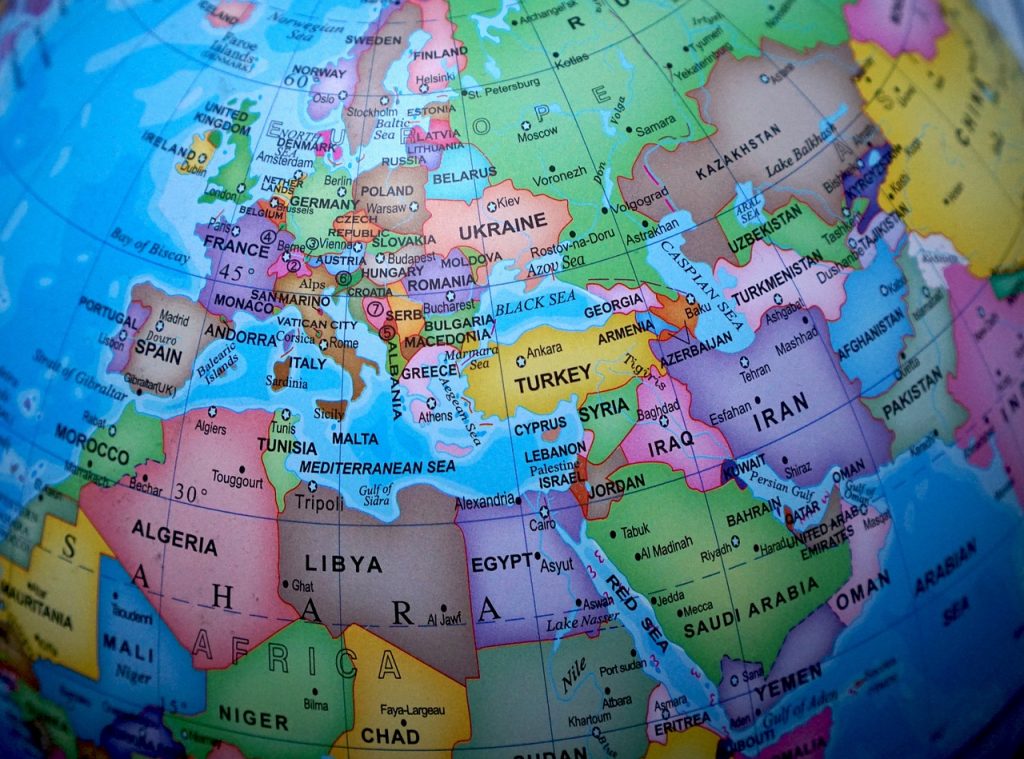 This is a great way to get acquainted with places around the world. Grab a globe (you can often find them at thrift stores or on Amazon — even a blow up globe beach ball works!).
Have the kids spin it and then put a finger anywhere on it. Read the country and name the continent it's on.
For an extension, you can spin the globe as a family and then look up 3 fun facts about the place it lands on or try to find a recipe to cook from that region for dinner that night.
3. Play the Around the Horn Game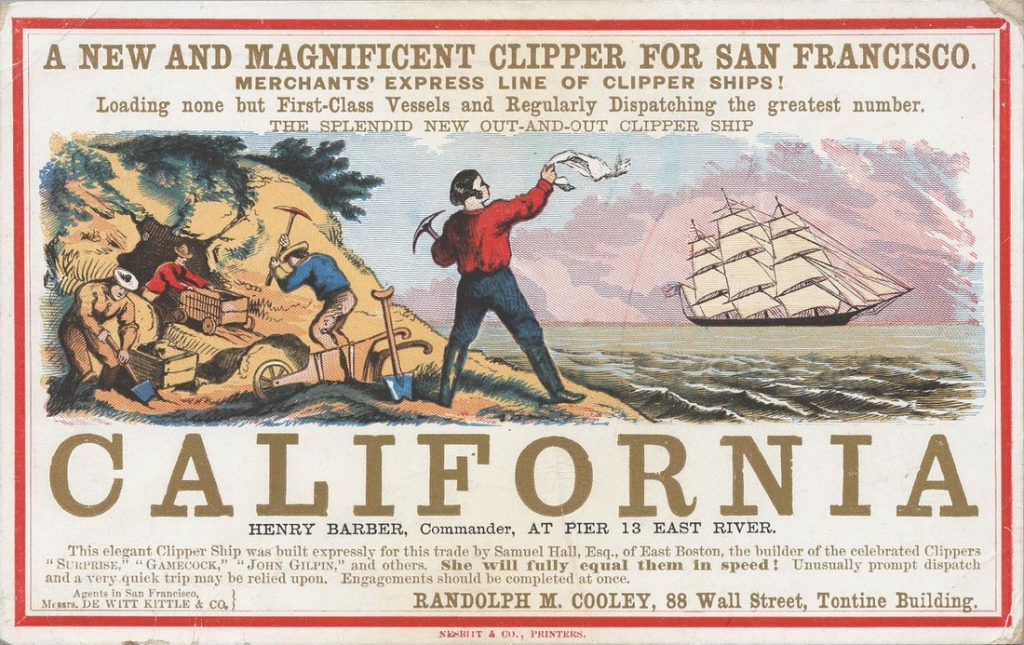 My hubby made this game up for our kids years ago to teach them about the Gold Rush and some geography. It's a little known fact that during the 1848 Gold Rush, a lot of people chose to sail to California by sailing all the way down the East Coast of the United States and around the horn of South America and back up the west coast, rather than travel across the U.S.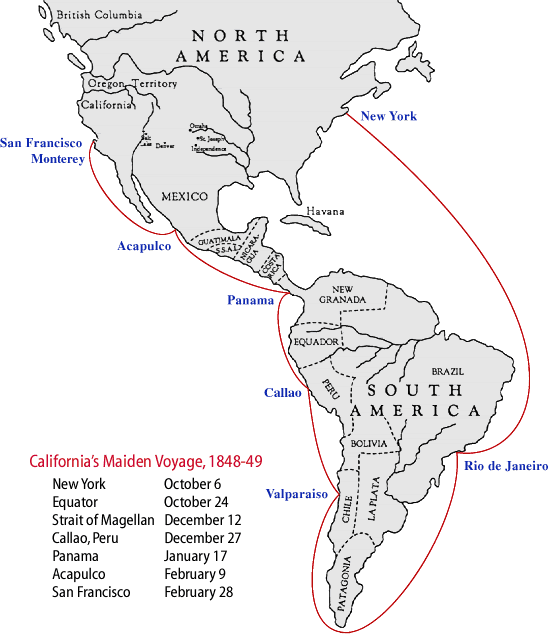 In the printable game, kids play that they're on the ship "California" and make three stops at ports along the way. Game cards tell them what happens to them and how it affects them. For instance, the type of winds determine if they move forward one, two or three spaces. If the crew gets scurvy, they lose a turn, as they do if they hit the Doldrums or get a broken mast. Hit a severe severe gale and they go back three spaces.
You can get the rules and print the game out here.
4. Do Lizard Point World Geography Quizzes and Activities
Lizard Point Quizzes offers free interactive geography games that teach everything from countries in Africa to Canadian provinces to geophysical regions of the United States with fun games. In addition, they also provide features like merit stamps and give teachers the ability to track their students' progress.
5. Color in Car Maps of License Plates Spotted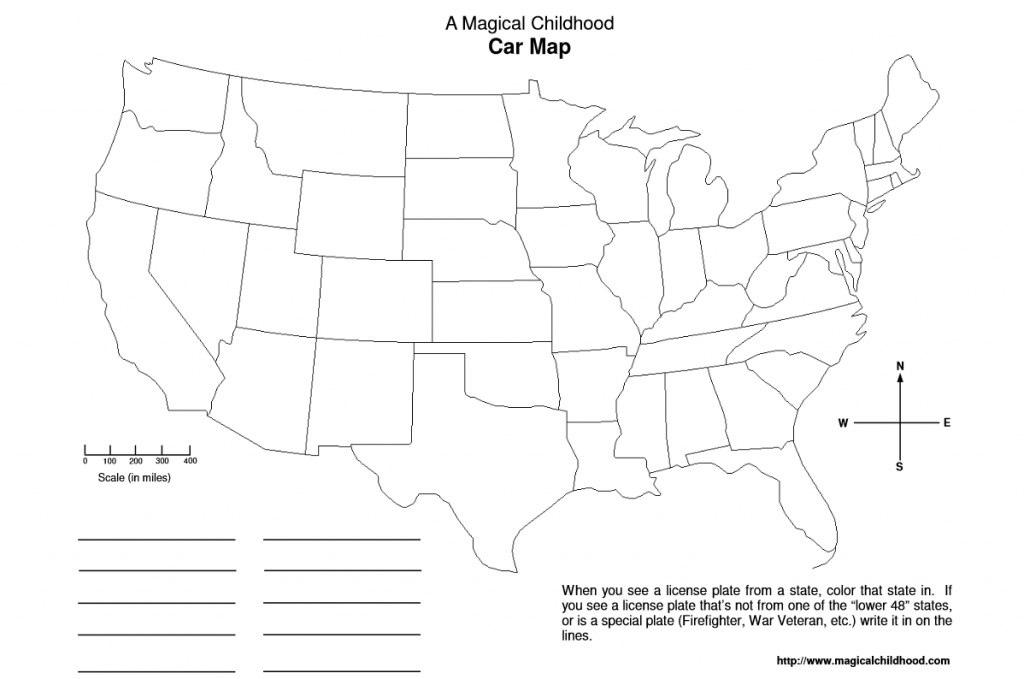 This is always a fun way to help kids pass the time on road trips and learn their states at the same time. Print out free car maps and have them color in the states as they spot cars with those state license plates.
You can print out either labeled on unlabeled maps on A Magical Childhood.  My hubby made them up for our own kids many years ago to use on our own road trips.  It's much trickier coloring in the unlabeled ones, as even I don't always remember which state is which on the blank map!
6. Play the Battle of the States Game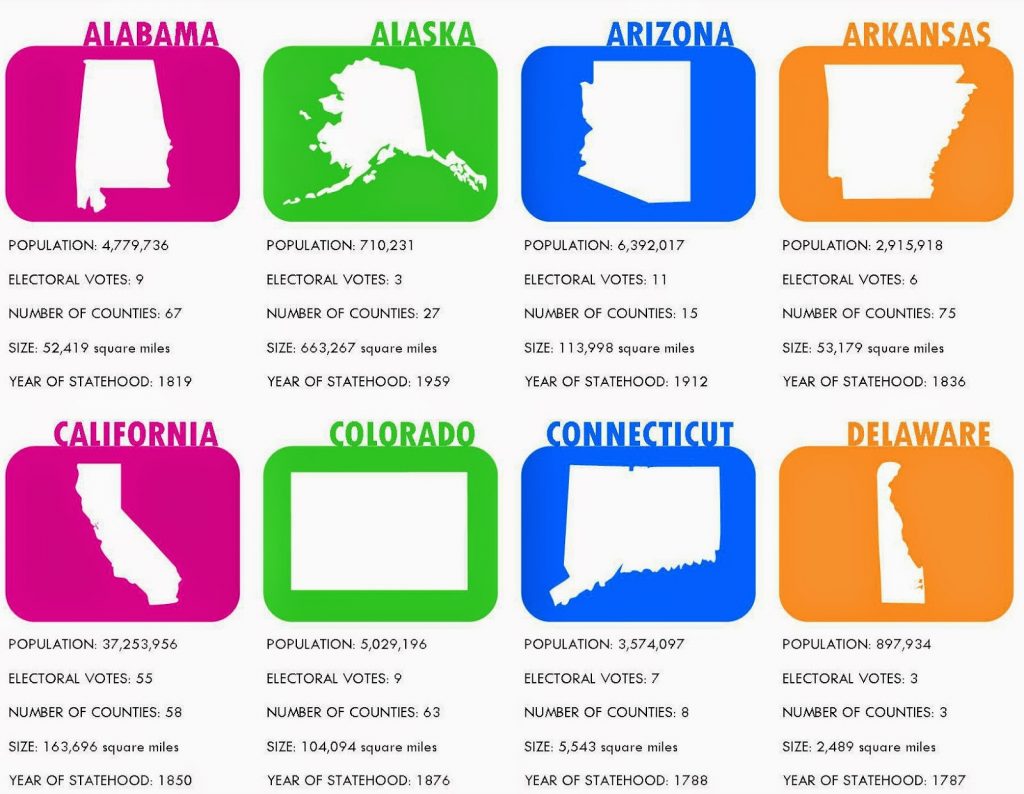 Here's another fun free game. Battle of the States Relentlessly Fun, Deceptively Educational created this wonderful free printable card game that helps kids learn all about the geography and history of the states.
Battle of the States is played a little bit like "War" but by comparing numbers and dates related to the states such as population, number of counties, electoral votes and year of statehood.
7. Make Matching Games with Plastic Eggs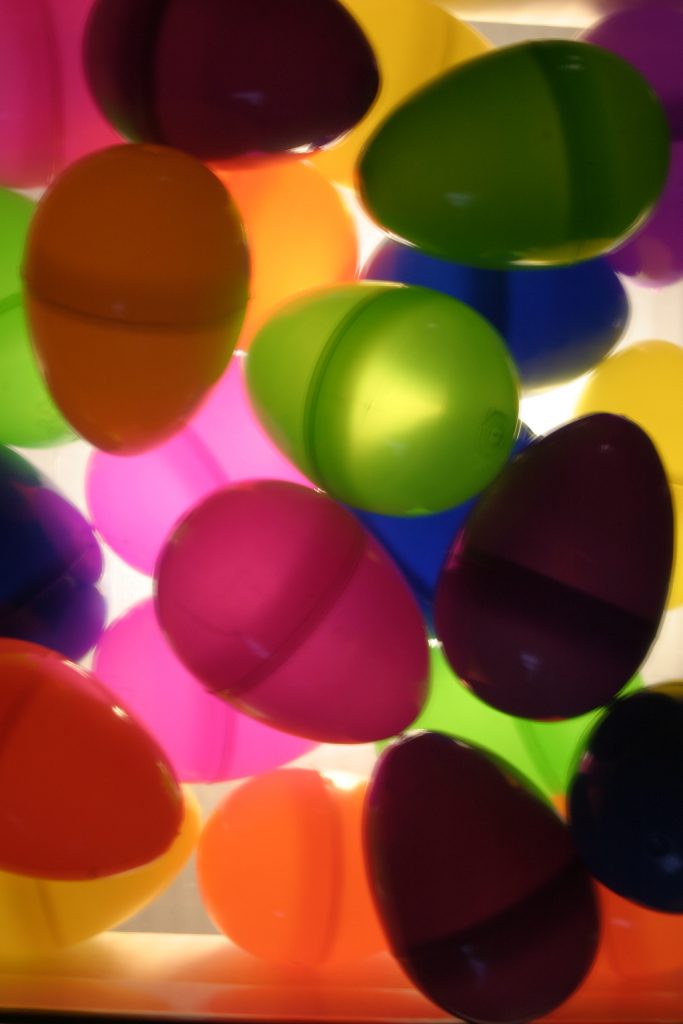 We love using plastic Easter eggs for all kinds of homemade learning games, from multiplication facts to synonyms. Just pop them apart and use a permanent marker to write one thing on one half and another on another half (let the kids know that the colors won't necessarily match!). Challenge the kids to match up all the eggs and put them together.
You can use them for geography in all kinds of fun ways like:
Match country to its capital
Match capital city to its state or province
Match state name to its abbreviation
8. Play the How Many States Can You Name Game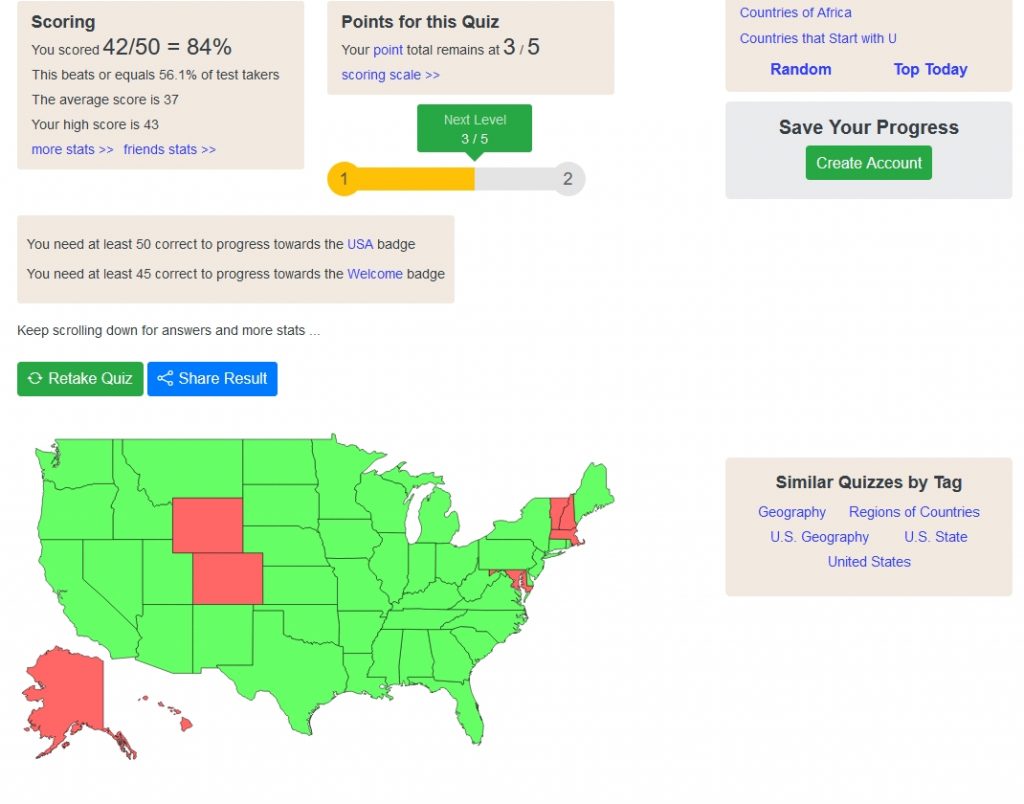 This is harder than it seems! This easy little online quiz shows you a map and challenges you to type in all the states you can think of in 3 minutes. It shades them in on the map as you type them, so you can see where they are and which ones are left. How many can you and the kids get before the clock runs out? Can they beat their previous times or previous counts?
Be sure to check out other quizzes on the site to learn countries and more!
9. Use Free Geography Curricula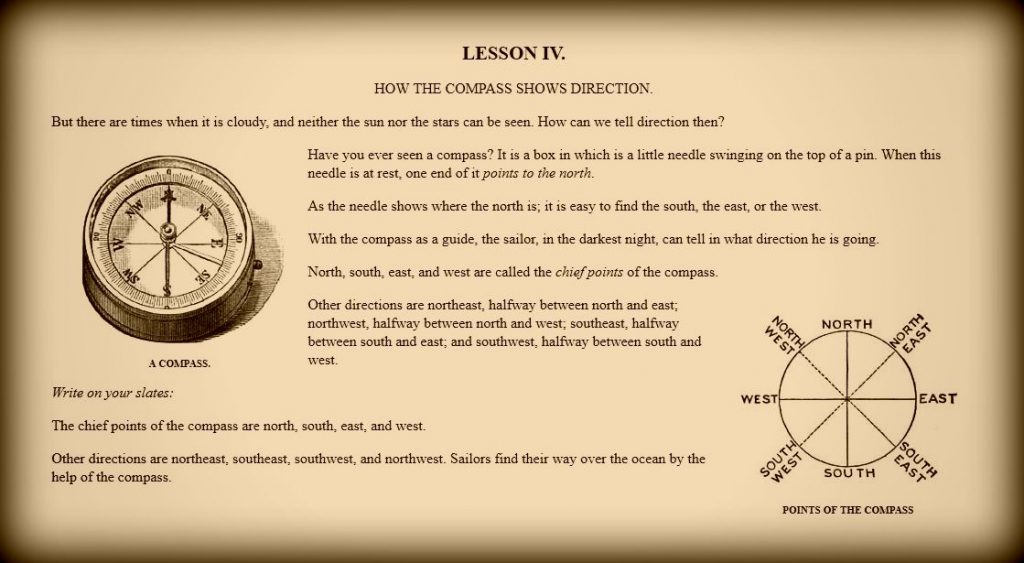 There are all kinds of wonderful geography curricula for kids that are free online. Here are some of my favorites:
Early Childhood Geography is published by the Department of Education and has all kinds of play-based ideas to teach geography concepts to toddlers and preschoolers.
Ellen McHenry's Basement Workshop has an assortment of free geography games and activities you can print out like a Viking trade route game and a China map project.
Globalmania offers Master World Geography in 7 Months or Less for kids of all ages to learn through fun interactive games, quizzes and activities.
Free Charlotte Mason geography books. There are a couple of great Charlotte Mason style historic geography books for kids that are available in the public domain. They teach children about maps, directions, countries etc. and also incorporate things like poetry.
10. Watch Short Videos About Every Country on Geography Now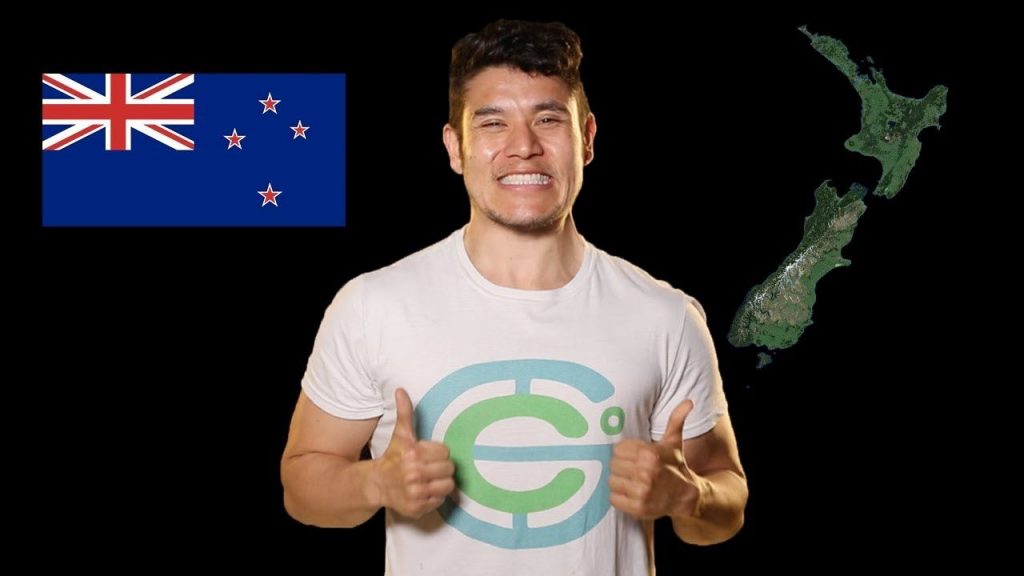 These are great, very short videos on every UN recognized country in the world. The host, Paul Barbato, talks very fast in order to summarize important things about the country in such short periods of time (typically about ten minutes). The channel was started in 2014 and has since gained over 3.21 million subscribers.
Younger kids (or even older ones and us adults) may also appreciate the Animaniacs countries of the world song, which has been newly updated (you can watch the original, slightly outdated cartoon version here).
There are so many more fun ways to play with geography!
What are your kiddos' favorites? Please add them in the comments!