We are a family of seven in rural Minnesota who have been homeschooling for nearly 20 years now.  Our oldest daughter started preschool at home and recently graduated, while our youngest child will start kindergarten next year. 
Homeschooling has been a wonderful adventure for our family.  Our main focus has always been maintaining our children's love of learning and keeping it as fun as possible — not just for the kids but for us parents.   🙂  We borrow from many different educational philosophies, including Montessori, Waldorf, Charlotte Mason, unschooling and more. 
We do lots of hands-on learning and learning through tools like games, travel, "living books," nature study, lapbooking, educational videos, crafts, unit studies and real-world experience. 
For the past six years, I have been writing a homeschooling column for examiner as the Mankato Homeschooling Examiner.  The revenue from that column allowed me to stay home with my kids and share my love of homeschooling with others.  That site is ceasing operations so I have moved my articles to this site in the hopes that they will still be helpful to homeschooling families.  You'll find many of my original articles already up on the site, and I will be adding more all the time.
While it is scary to be without the paycheck that I relied on for many years, I am looking at this as a blessing.  There were many parts of the examiner site that my readers had to put up with that I had no control over.  Here, I can help other homeschooling families without them having to put up with annoying pop-up ads or disturbing stories on the sidebar.  If you'd like to help support our site, you can click through any of our Amazon links and we'll earn a small commission off any purchases you make (at no additional cost to you).  If not, enjoy anyway!  I hope you find something useful in our pages.
Homeschooling has been a fantastic experience for our family.  It's not always easy, but it has been so worth it.  I have found that it helps so much to have a community of other homeschoolers to share wisdom, resources and support, and I hope you'll find some of that here.
Please feel free to drop me a note if you're looking for anything in particular or just want to say hi.
Enjoy the journey!
~Alicia
(with Daryl, Victoria, Rhiannon, Jack, Alex and Fiona)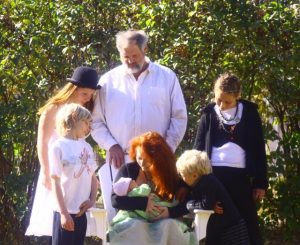 Want to support our site?
You deserve it, and it will help us out.
It's a win-win!   😉 
This site is an affiliate for Amazon.com.  Purchases made through this link will earn us a small commission, at no extra charge to you.