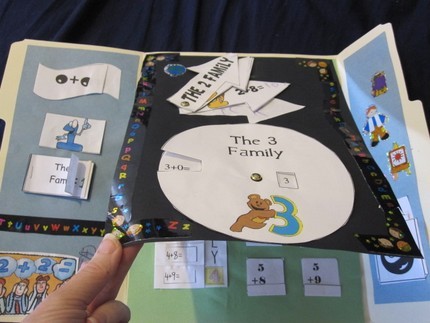 There are many great sites where you can find a variety of pre-made lapbooks, or lapbooking kits. These generally include templates, printouts, shape books, links to find information on the subject, clip art and instructions on how to assemble the lapbook. There is often a photo of what the finished lapbook will look like, as well.
Some of the main sites where you can find these lapbook kits include:
Homeschool Helper offers a variety of free lapbook kits on many subjects like holidays, history, science and animals.
Here is an example of a Homeschool Helper lapbook.  This one is about astronauts and is geared towards K-2nd grade kids.  It includes a library list, nine coloring pages and thirteen activities related to the subject with many templates.
Homeschool Share, a source of free lapbook kits contributed by other homeschooling parents. Many of these are based on children's books.
Here is an example lapbook from Homeschool Share, based on the picture book "How to Make a Cherry Pie and See the USA." It includes twelve templates to print out and over 25 assignments in social studies, math, art, vocabulary and more that can be included in the lapbook.
CurrClick offers a multitude of lapbook kits for all ages (preschool through high school) in virtually any subject you can think of. These kits generally cost between $10 and $20 (there are frequently kits that are offered free for a limited time) and they are very thorough.
Here is an example lapbook from CurrClick, on kangaroos. It costs $10.99 and is a PDF file 41 pages long, with a 7-page Research Guide and 11 hands-on activities covering diet, habitat, types of kangaroos and more.
Hands of a Child is another for-pay site that specializes in lapbooks. With over 300 different lapbook kits, you can find nearly any subject you need.  These lapbooks are generally very thorough and usually cost between $10 and $20.  HOAC also offers periodic free lapbook kits.
Here is an example lapbook from HOAC, on Vikings.  This one costs $20 and is over a hundred pages long.  Included in this unit is an 18-page Research Guide that covers the language, religion, weapons, family life, and more about the Viking culture. Corresponding to the guide are 26 hands-on activities that include writing a saga and mapping out Viking communities.
You can also generally do a google search for "subject" and lapbook to find lapbook kits or examples online.
There are many advantages and disadvantages to using pre-made lapbooks.
Advantages:
Everything is gathered for you.
It's less intimidating to start.
There are often lots of cute mini books and shapes.
They take less research and planning time on your part.
Disadvantages:
They can be an overwhelming number of pages and activities.
They often involve lots of cutting and dull construction work that can bore children and take up a lot of the parent's time.
They're not individualized to child's level or interests.
You are confined to what someone else's research found (which may not agree with your values or beliefs, plus may not be as current or comprehensive as you'd like).
They offer the least creative control of all for kids.
They can be "cookie cutter."
They can require a long time commitment.
They can easily burn out parents and kids.
Lapbook kits offer quite a lot for parents and kids.  If you are new to lapbooking, pre-made lapbooks can be a great way to get your feet wet.  Keep the pros and cons in mind, though, and start small.
Remember, just because a lapbook kit offers a hundred pages of material does not mean you need to use it all!  Just as you don't have to take some of every food at a buffet, you don't need to incorporate everything offered in a lapbook kit.
If your child does not seem interested, don't discount lapbooking completely.  You may just need to be more selective in what you assemble, or let your child have more creative control.