Welcome to week one of our 12-week free art lessons for kids course here at A Magical Homeschool!
This week the kids will be learning about the art of Wayne Thiebaud (pronounced TEE-bo) and following along with five days of fun and easy art projects using a variety of media.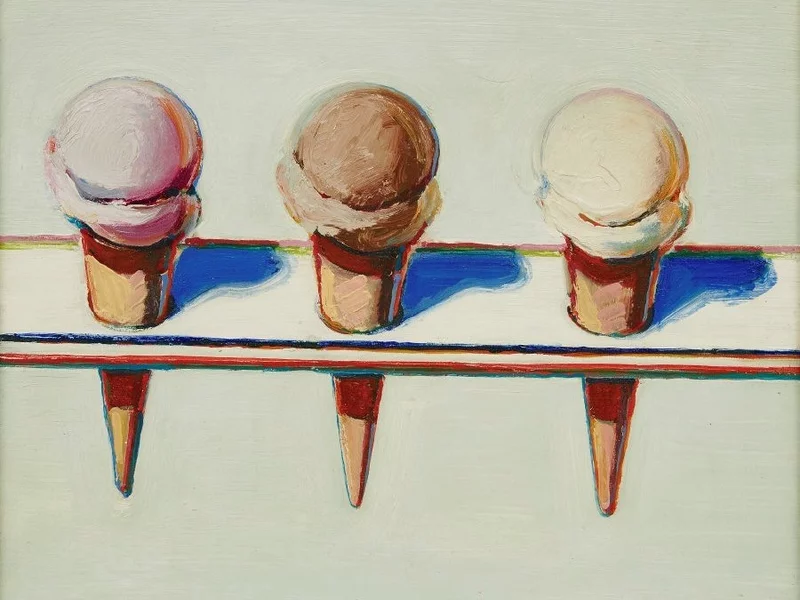 Who was Wayne Thiebaud? Wikipedia says:
Morton Wayne Thiebaud was an American painter known for his colorful works depicting commonplace objects—pies, lipsticks, paint cans, ice cream cones, pastries, and hot dogs—as well as for his landscapes and figure paintings. Thiebaud is associated with the pop art movement because of his interest in objects of mass culture, although his early works, executed during the fifties and sixties, slightly predate the works of the classic pop artists. Thiebaud used heavy pigment and exaggerated colors to depict his subjects, and the well-defined shadows characteristic of advertisements are almost always included in his work.
Even though people like to call Thiebaud a pop artist, he didn't consider his art to be pop art. He didn't even like pop art! He described himself as "just an artist."
(What is pop art? Pop art was an art movement in the second half of the 1900's that used a lot of things from popular or mass culture and used new techniques and bright, unrealistic colors instead of looking like traditional artwork. Andy Warhol was one famous pop artist. Warhol did artwork featuring things like soup cans and Marilyn Monroe.)
Thiebaud lived to be 101 years old, and died in 2021. Even when he was over a hundred years old, he continued to paint twice a day and to play tennis. Shortly before he died, he told an interviewer that he still spent most of his time in his art studio because he was driven by "this almost neurotic fixation of trying to learn to paint."
See — even famous artists sometimes doubt their abilities. 🙂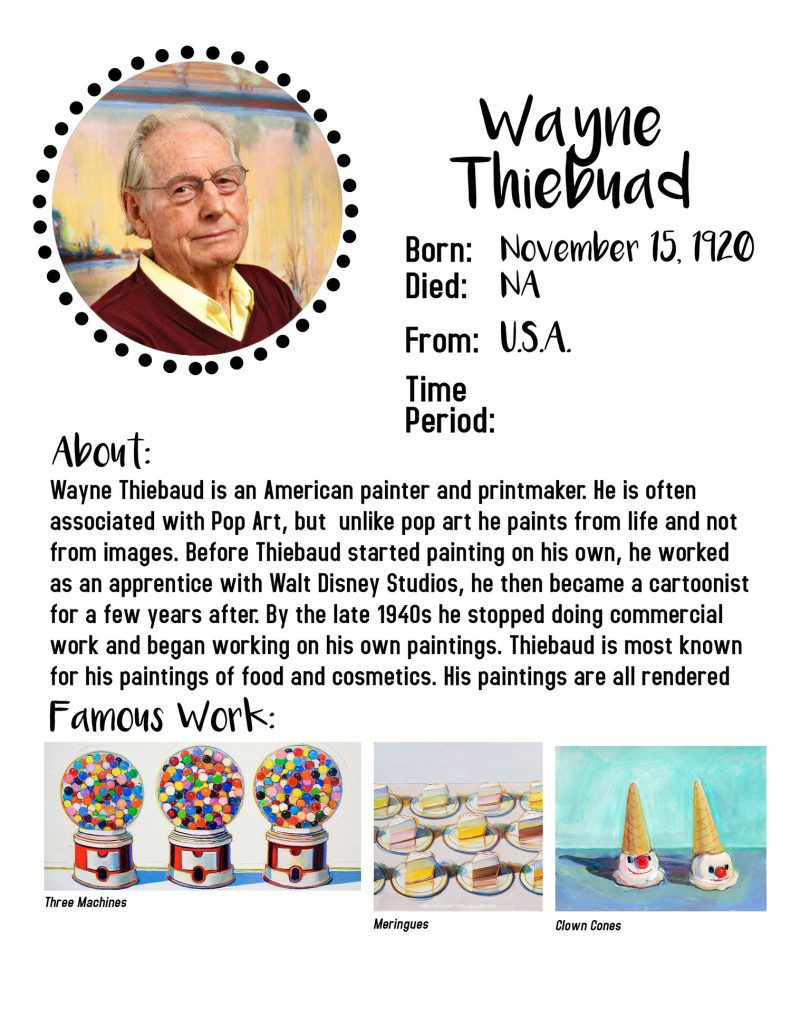 Here are the projects!
Monday
First look at some photos of Wayne Thiebaud's work with the kids.
Here are some good sites to see a variety of his pieces:
Thiebaud was most famous for his paintings of sweets like ice cream cones and candy, but you can see that painted lots of things, from portraits to landscapes to lipsticks.
Talk with the kids about what they think of Thiebaud's paintings. How do they feel when they look at his art? Which ones do they like best? What do they like about his work?
Talk about why they think Thiebaud chose the subjects he chose, and how he might have wanted people to feel when they looked at his art.
Now it's time to do some Thiebaud inspired art!
Draw and color some donuts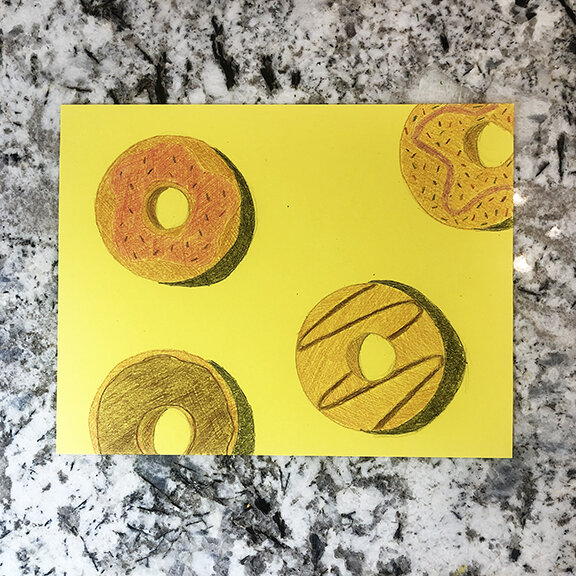 Kaydee Runkel has this great project and two others on her wonderful blog. Head to her site for instructions on how to draw these colorful donuts.
Materials used: colored pencils, colored or white paper (can use crayons or oil pastels instead of colored pencils)
Tuesday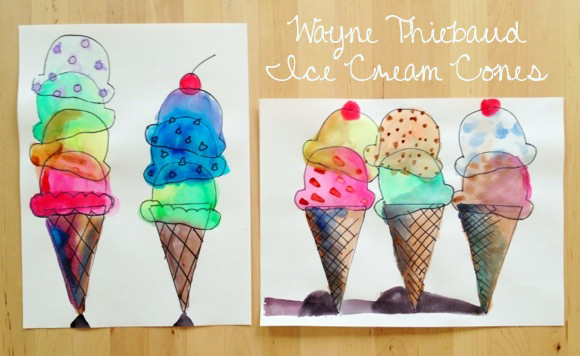 Draw and paint ice cream cones
Here's a fun project for all ages! The kids will draw or trace the ice cream scoops on top of triangular ice cream cones. Then they'll add details and color them in with watercolor paints.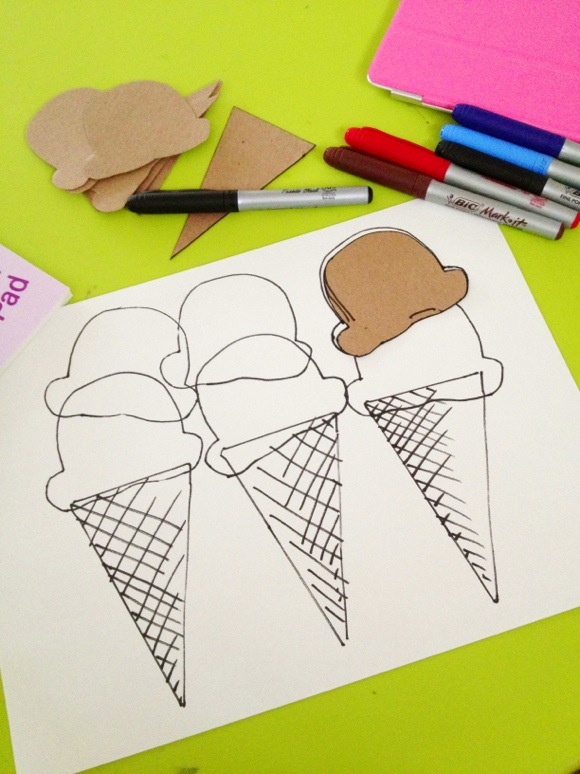 The Sweeter Side of Mommyhood has all the instructions.
Materials used: markers, watercolor paints, paper (watercolor paper, sulfite paper or typing paper)
Wednesday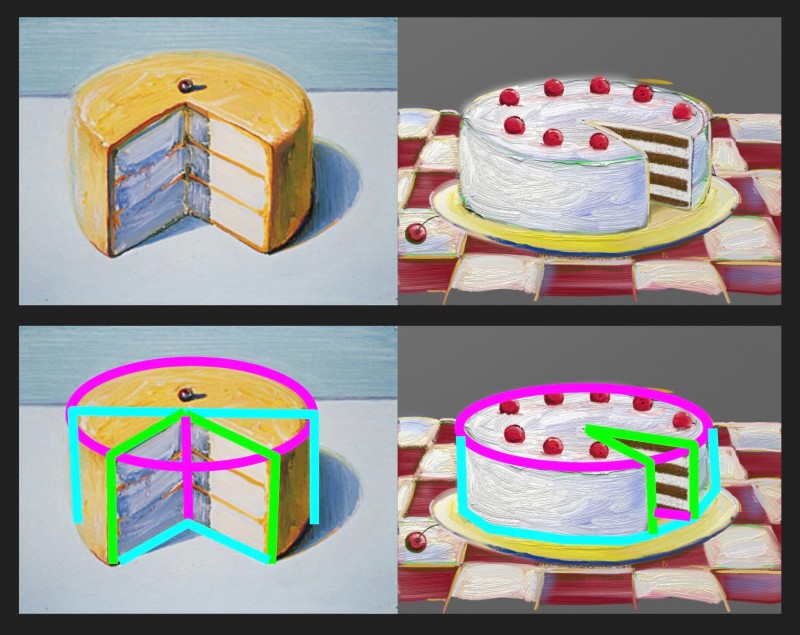 Draw and color a cake with a slice missing
Head to the Institute for Arts Education and STEAM for this fun lesson, where kids will learn how to draw a cake with a slice missing.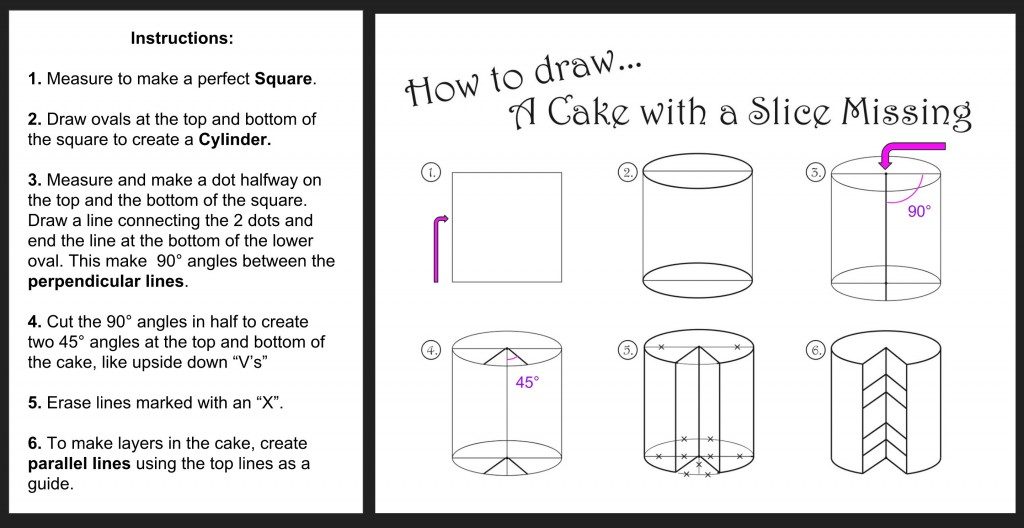 From there, they'll color it in with oil pastels, either on black or white paper.
Materials used: sturdy black or white paper, pencil, oil pastels
Thursday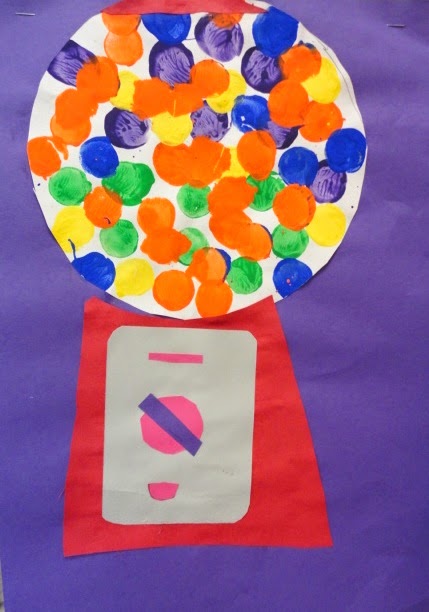 Make a collage and paint-printed bubble gum machine
This fun project is courtesy of Thomas Elementary Art, where Mr. Stoller writes:
I took about 30 regular plastic soda caps and hot glued little circles of foam to the top of them. Kids were able to apply tempera paint to the foam circles with a brush, then print circles to their heart's content. The rest of the project was simply made out of construction paper.
You could also cut a sponge or use something similar for stamping the gumballs. Head over to the blog to see many more examples of his students' wonderful Thiebaud inspired art.
Materials used: construction paper, copy paper, tempera paint, foam or sponge piece
Friday
Oil pastel lollipops
Kids will trace glasses to make the circles and the lollipop sides, and then color them in with oil pastels. Head over to Create Art With Me for the directions (homeschool kids can do the project listed on days 2-4 easily in one day).
Materials used: sturdy paper, pencil, oil pastels
Weekend Fun
There's always something missing when art lesson plans don't include any way for kids to create art in the style that the artists actually used.
Thiebaud created most of his art with oil paints, chalk pastels and charcoal. He painted on canvases but also on things like cigar boxes. He was known for having thick paint with visible paint lines. He liked to draw and paint in the "still life" method (art showing inanimate objects) and some people have said that even his portraits looked like still lives.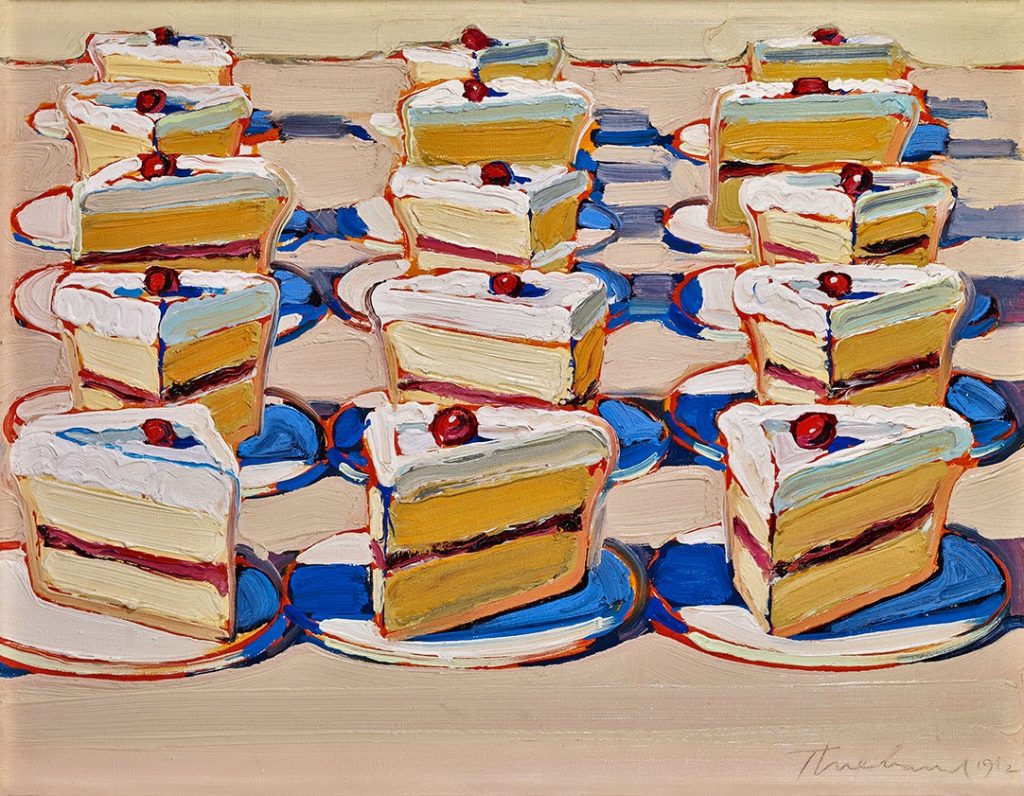 Over the weekend, invite the kids to use these materials to paint and create their own artwork in Thiebaud's styles. Encourage them to find objects that Thiebaud might like to draw or paint, and to try making artwork in his style.
Try to join in, too! Kids always enjoy art more when they have company, and doing art is good for us grown ups too. 😉
Have fun!
Where to get materials:
All of these lesson plans use simple art materials that are easy to find and inexpensive. Feel free to swap out materials if you don't have the ones called for. For instance, you can easily use crayons instead of oil pastels, or you can use tempera paint sticks instead of oil pastels or tempera paints.
You can buy paints inexpensively at discount stores like Dollar Tree and online at sites like Amazon. Keep in mind that you do get what you pay for at these sites. We've found that the acrylic and tempera paints at Dollar Tree are far more watery, for instance, and their paintbrushes are hard to get good results with. Amazon merchants frequently sell name brand art materials that are expired, so even though they're good brands you may get dried out pens or products that the manufacturer sold to discount sites cheap because they weren't up to their standards. We sometimes get really nice art materials at these sites, but it is a bit of a crap shoot!
I recommend investing in slightly higher quality art materials if you can, since kids will be able to produce more satisfying art with better quality art materials. Painting on watercolor paper makes infinitely better results than painting on typing paper, for instance, and a cheap paintbrush can lead to a lot of frustration for even the best artists. You can get a good student grade watercolor pad for just a couple of dollars on sale, so even better quality doesn't have to be expensive.
I personally recommend Michael's for art supplies. We get most of our art materials at Michael's, either online or in stores. They run many fantastic sales and there are almost always 40% coupons out there. They also offer homeschool discounts! Even their "student level" art materials tend to be good quality.
Also look for art materials at thrift stores, garage sales and such. We've found lots of supplies like watercolor paper pads and boxes of oil paints for next to nothing at places like these.