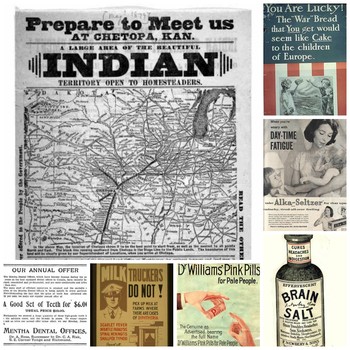 Here's a wonderful resource to help expand your history lessons. The Vintage Ad Browser offers over 100,000 historical ads, posters and newspaper clippings going back as far as the 1700's.
The site creator explains:
Vintage Ad Browser was created in 2009/2010 and released in 2010, by Philipp Lenssen from Germany, currently living in China. This site aims to collect vintage ads from a variety of sources, including comic books, CD-Roms, websites, APIs, your submissions, book, magazine & comic book scans, and more. At the moment, this site contains 123,311 ads.
The site sorts the vintage ads into the categories:
Airlines & Aircraft • Alcohol • Animals • Beauty & Hygiene • Books & Magazines • Candy • Cars • Cartoon • Celebrities • Clothes • Coke • Comics • Phone & Communication • Computers & Software • Drinks • TV & Electronics • Movies & Entertainment • Fitness • Food • Furniture • Future • Gender • Got Milk • Guns • Household • Industry • Jewelry & Watches • Joe Camel • Kids & Babies • Latest • Leaflets & Flyers • Medicine • Military • Money • Music • Office • Oil & Gas • Perfume • Photography • Propaganda & Posters • Race • Random • Restaurants • Shaving • Spam • Sports • Tin Signs • Cigarettes & Tobacco • Tools & Gadgets • Toys • Transportation • Travel • Xmas
For each category, you click on the time period you'd like to view. For instance, "computers and software" starts in the 1940's and offers a glimpse into the sort of ads that were presented as computers changed over the years. For the "industry" category, the ads go back to 1780, with a notice of a forfeited estate sale in Pennsylvania and a list of fine sewing goods "just imported, and to be sold by Joseph Greenough, Jun. at his cheapshop, a little below the ferryway, Newport."
Studying WWI with your kids? Check out categories such as the military and propaganda during 1910-1920.
Reading the Little House on the Prairie Series? Check out the industry section from 1870 on, including the poster advertising "Indian Territory open to homesteaders."
Learning about airplanes? Watch how the ads for airline travel change over the years.
The ads are from the United States and countries all over the world, and many are in other languages.
You can click on the images to view larger sizes.
These would be great additions to lapbooks, notebooks, displays and reports. Some, such as the historic theater posters, would also make great framed art. It's also just a fascinating site to click through and view with kids.
The ads give a real glimpse into how our country (and others) has viewed issues such as health, gender roles, war, race, technology, beauty, success and even the future.