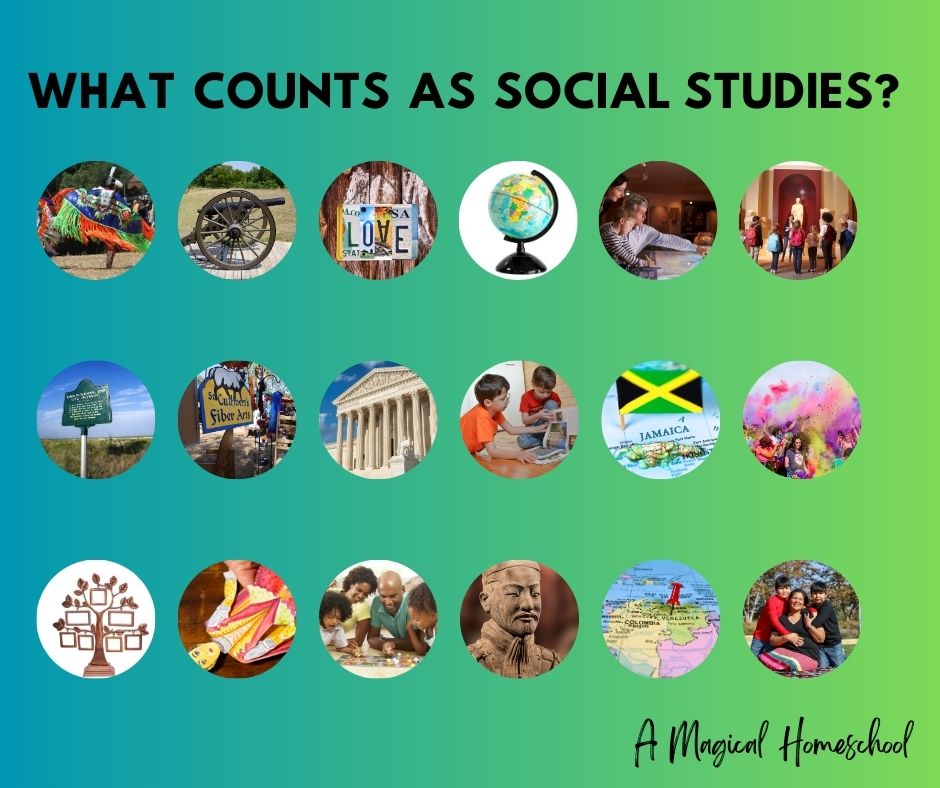 Looking for some hands-on ways for kids to work on history, geography, government and more? There are so many great ways to work on these skills with kids besides boring lesson plans and textbooks.
Here are 50+ great ways for kids to learn social studies from fun, games and real life:
Volunteer at a historic site
Do living history
Read historical fiction books
Attend wacipis (pow wows) and other local Native American events
Watch great shows like Liberty's Kids, Where In the World Is Carmen Sandiago? and Wishbone
Put maps up in the house
Go to your state capital and talk to your legislators about issues that matter to you
Make a timeline together to go around the ceiling of your rooms
Watch TV shows with a time travel theme like Timeless
Write tourism centers from other states and countries and ask them to send you visitor information
Visit international grocery stores and shops
Play games like The Scrambled States of America
Bring home great library books about different times, countries and cultures
Play Timeline games
Print out free paper dolls from ancient history from around the world
Play with globes
Watch travel shows
Talk to elders about life when they were young or historic events they lived through
Visit local historical sites and museums
Watch movies based on historic events like Hidden Figures, Harriet, Apollo 13, Newsies, and On the Basis of Sex
Tour your local courthouse
Chart your family tree and learn where your ancestors came from
Do a postcard swap with families from around the US or the world
Subscribe to kids' magazines like National Geographic Kids, Honest History and Cobblestone
Play apps like Stack the States
Go with the family when voting and caucusing
Read the local paper together and talk about what's happening in your area and around the world
Watch biographies of famous people
Learn a foreign language
Visit historic sites when traveling
Watch election coverage
Watch YouTube courses like Crash Course US history, world history, civics or geography
Watch fun shows like Drunk History and How the States Got Their Shapes
Have conversations with lots of people from lots of places
Watch documentaries on history
Use Google Earth to "visit" places around the world
Use apps or pages that tell you what happened on this day in history
Use fun, free geography game sites like Lizard Point
Attend history-based events like Civil War Days, the Renaissance Festival and Pioneer Days
Volunteer on the campaign of a local person running for office who you support
Color in all the state license plates you see over the summer on car maps
Attend cultural events in your area like international festivals
Put a pin everywhere in a map that you've traveled together (or where loved ones live)
Visit churches and temples of all denominations
Watch fun videos that teach history through song parodies like History for Music Lovers
Regularly cook foods from all around the world
Use maps and atlases when you travel to new places
Print out free historic coloring pages from sites like these.
Talk about your history, your family's history and what's going on in the world together
Travel
Of course, this is just a drop in the bucket! There are so many historic apps, games, websites, books, activities, etc. that it's impossible to name them all.
What are your family's favorite ways to learn social studies together?