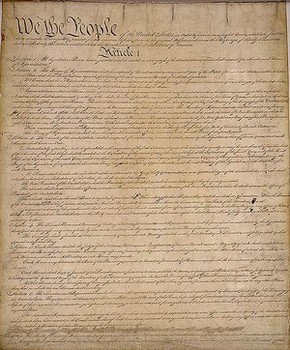 A national, nonpartisan campaign launched this week to promote the First Amendment to young Americans.  1 for All provides lesson plans for elementary, middle and high school students, plus a contest, links, resources and more.
The campaign was conceived after surveys by the First Amendment Center found that only 1 in 25 Americans can name all five freedoms listed in the First Amendment: religion, speech, press, assembly and petition.
1 for All founder Ken Paulson says the initiative is aimed at people ages 8 to 22 as well as those who teach them. It is designed to apply First Amendment freedoms to modern technologies and concepts.
The First Amendment "protects all those things that give life flavor," he said. "You are free to tweet, you are free to sing, you are free to dance. It protects all those things that make life special."
The campaign relies on supporters to provide free advertising space and features interactive ways for people to get involved, such as a video contest. People are also encouraged to submit photos, songs and stories.
The campaign has the support of celebrities like Ellen DeGeneres, John Mellencamp and NBC "Meet the Press" host David Gregory, plus more than 1,000 other organizations committed to helping publicize the campaign.
***
Want to support our site?
You deserve it, and it will help us out.
It's a win-win!   😉 
This site is an affiliate for Amazon.com.  Purchases made through this link will earn us a small commission, at no extra charge to you.
***
This article originally appeared on examiner.com