There's nothing better when you have fresh tomatoes than homemade salsa — and luckily there's almost nothing easier too.  Here's our 3-minute fresh salsa recipe, which is the type of salsa (pico de gallo) you get from authentic Mexican restaurants and so good.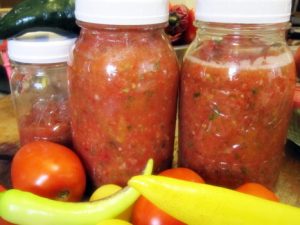 Our recipe is adapted from one I found years ago that we simplified and perfected over time.  The nice thing is that you can use whatever onions, peppers and additions you have on hand and that suit your family's tastes.  We prefer it more blended rather than chunky, since the flavors meld so wonderfully that way.  You can leave it chunkier if you like it better that way, though.
Measurements are approximate, because we just toss this and that in. There's really no way to mess it up if you stick to these basics and use fresh, local produce.
I make two batches at a time — one with a couple of great, medium-heat peppers from the Farmers Market, and one with just one mild pepper for the younger kids who don't like their salsa spicy.
The entire process takes about a minute and generally fills a one-quart canning jar.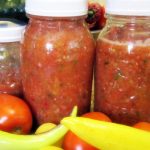 Print Recipe
The Best (and Easiest) Fresh Salsa!
One-minute fresh salsa (pico de gallo)
Ingredients
6

cups

tomatoes

1

onion (quartered)

1-2

medium to large peppers

1

handful of cilantro

1

tbsp

salt (or to taste)

1

tsp

sugar (or to taste)
Instructions
Clean the peppers and remove the seeds and veins.

Put all the ingredients in a food processor and pulse till well combined.

Taste and adjust seasonings or ingredients if needed.

Pour into a jar and serve in small bowls with tortilla chips. Keep refrigerated.
Notes
Note: This is not a canning salsa because it does not contain high quantities of acids like vinegar or high quantities of salt. This is a fresh salsa and it will keep in your fridge for about 1-2 weeks.  I have friends who have canned this recipe and reported good results, but I cannot personally recommend it because of the uncertain acid levels.  Use your favorite vinegar based salsa recipe for home canned salsa to be safest.
Enjoy!
Please follow and like us: