We love roasted cauliflower heads in our family but it takes a lot of time and effort to roast them traditionally to cook up tender and bake throughout.  I've discovered that the Instant Pot can eliminate most of the cooking time and delivers perfect roasted cauliflower heads in much less time.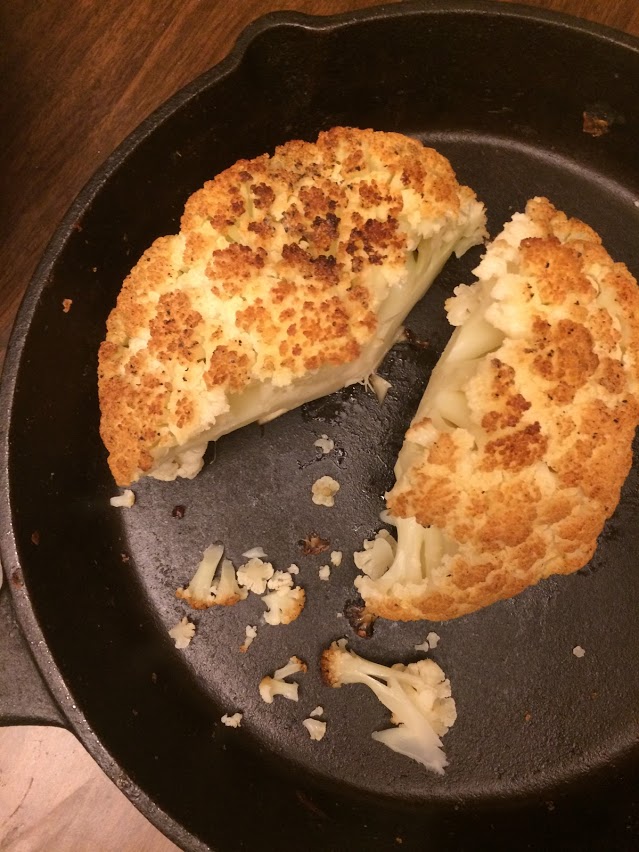 It turns out the Instant Pot will perfectly cook a head of cauliflower throughout if you set it to 0 (zero) minutes.  Yes, zero minutes!  That doesn't mean it takes no time to cook it, as it takes time to come up to pressure, but it's incredibly fast.  You don't even need to wait for it to come down to natural pressure, so it's amazingly quick.
If you just want a cooked head of cauliflower, you can call it done and serve it now, but if you want it roasted that's pretty easy too.  Just drizzle the cooked cauliflower head with some oil or butter and sprinkle seasonings (salt and pepper, Parmesan, seasoned salt or whatever tickles your fancy), put the cauliflower in the oven and bake until golden on top.
You can bake it at whatever temperature you like, which works great for when you're cooking lots of dishes.  In general, aim for about 350 to 450 F, and it will take more or less time depending on how high your oven is.  Remember, your cauliflower is already cooked through, so this is just to get that nice browned top.
Roasted cauliflower heads make fantastic entrees for vegan or vegetarian dinners, especially for holidays like Thanksgiving and Christmas where you might be looking for something as a roasted meat or turkey alternative.  They also make fantastic side dishes for omnivores and are paleo, too.
To serve, you can either cut them into thick slices (or cauliflower steaks) or into wedges.  Cauliflower steaks are wonderful with sauces, curries, stuffing or anything you can think of.
Here are the simple instructions.
Wash the cauliflower and trim the leaves off the bottom so it sits flat.
Put the trivet in your Instant Pot and add one cup of water, then the cauliflower on top.
Put the lid on, lock it and set your timer to pressure cook for 0 (zero) minutes.
When the pressure cooker beeps that it is done, quick release the pressure and then carefully remove the lid.
Let the cauliflower cool slightly and transfer to an oven safe pan (I use my cast iron pan).  Drizzle with olive oil, butter or oil of choice, and sprinkle with seasonings of choice.
Roast in the oven (at 350-450 or whatever setting you have the oven set at for other foods you're cooking) until golden (about a half hour at low heat, much less at high heat).
Enjoy!
Please follow and like us: