It's zucchini season, meaning that even if you don't grow zucchini you probably have more than enough giant zucchinis to find something to do with. 
Here's a delicious way to make use of it.  This zucchini bread recipe is simple and quite versatile.  You can use your favorite gluten free flour mix or a blend of the ones you have on hand.  Our kids scarf it up.
I like to post my favorite recipes online so I can find them easily and so I can send friends the link when they ask for the recipe.  🙂  I am not a food blogger and I just use my cell phone for pics most of the time, so I apologize that there are not oodles of fancy pictures to show you how tasty it is!  Just trust me — this zucchini bread is simple to make but moist, sweet and delicious, with a great crumb.
This makes two loaves, to best use a lot of that zucchini and because one loaf will disappear too fast.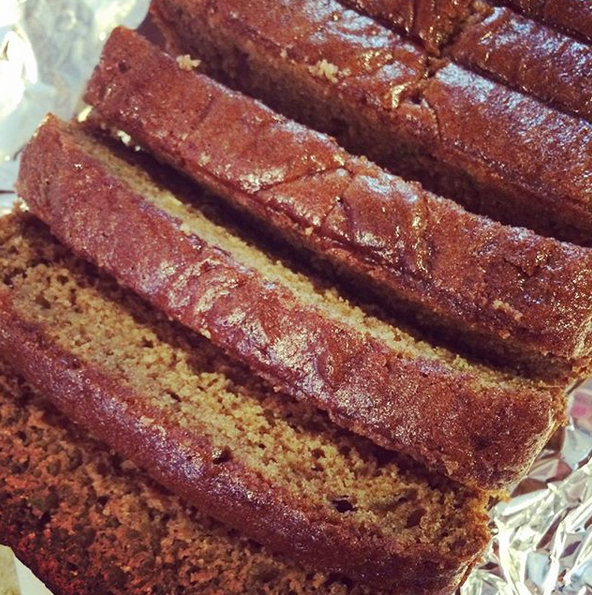 Gluten Free Zucchini Bread
Ingredients:
non-stick cooking spray or oil


1

pound

(2 small-medium) zucchini, grated (nearly 4 cups)


1 1/2 cups sugar

 3 cups gluten free flour mix (**see below for my mix)


1

tablespoon

ground cinnamon

1 teaspoon pumpkin pie spice (or a mix of allspice, nutmeg, ginger and cloves), optional

2

teaspoons

baking soda

1 1/2

teaspoons

salt

1

teaspoon

xanthan gum (if your mix does not include it)

4

large

eggs or vegan equivalent


3/4

cup

oil of choice (I use half grapeseed oil and half applesauce)
Directions:
Preheat oven to 350. Grease two 9×5-inch loaf pans.

Put grated zucchini in a colander and press extra moisture out with a clean dish towel or paper towel.

In a large mixing bowl, mix all dry ingredients and sugar.  Add the oil and eggs and beat until well incorporated.  Add the zucchini and blend well.

Divide the batter evenly between the prepared pans.

Bake until golden brown, about 50-60 minutes, or until a toothpick inserted in the center comes out clean or with just crumbs.

Remove pans from the oven and place on a wire rack. After five minutes, remove bread from pans and cool on the wire rack.
You can store your zucchini bread wrapped tightly in plastic wrap or beeswax cloth at room temperature for up to four days. If you want to freeze it, wrap it tightly in plastic wrap and again in aluminum foil or freezer wrap. Allow bread to thaw on the counter before unwrapping.
** I use 2 cups sorghum flour, 1/2 cup sweet rice flour and 1/2 cup arrowroot starch, or whatever homemade gluten free mix I have on hand.  Aim for 2 parts whole grain and 1 part starch for best results in most gluten free cooking.
Enjoy!
Please follow and like us: