April
is a fantastic time for foraging wild edible foods. The weather is generally beautiful, and it's great to get back out in the outdoors after a long winter. Greens like dandelions and nettles are tender, mild and at their peak for cooking, teas, salads and medicinal uses. Many of the best wild edibles can only be found this time of year, too, such as morels and ramps.
If you're new to
foraging
, head out with an experienced forager your first few times or stick to plants that you already know or can easily identify. There are wonderful books that can help you ID wild edibles, and there are also dozens of Facebook groups filled with foragers who are happy to help ID photos of plants you're unsure about for some of the best).
Here are 30 wild edible foods to look for in

April

.
Note that wild foods emerge at different times depending on location, so you may find some of these early in the month in one part of the country and not till the end of the month in another region. This list is for our area here in Minnesota and generally holds true for midwest and northeast states such as Wisconsin and Connecticut with generally similar climates, but many of these plants can be found in much of the United States and elsewhere. Many of these, such as morels and asparagus, are more likely to be found earlier in April in warmer states like Nebraska and much later in states such as Minnesota (as of this publishing on
April
17, morels have been spotted in southern Minnesota and asparagus is yet to emerge, for instance). Connect with other foragers in your region to see when your favorite wild edibles are being spotted in your area. If you're in another part of the country or another part of the world, feel free to add your favorite
April
wild edibles in the comments.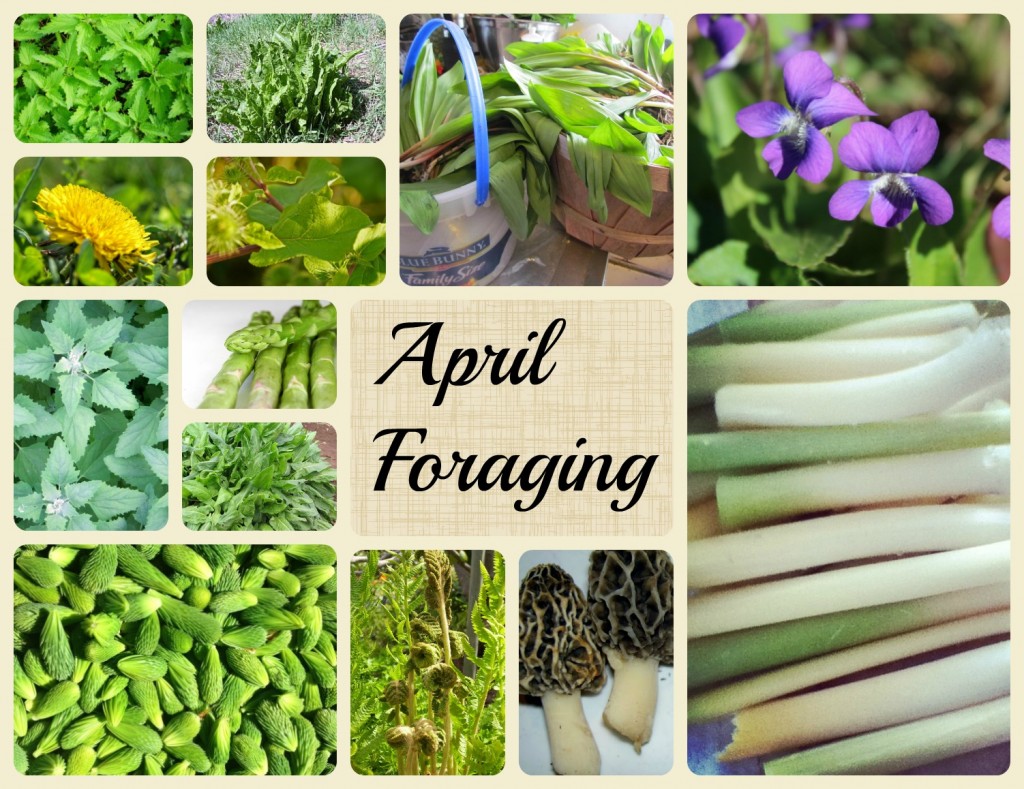 Click on the edible's name to read more about how to find and use it.
Morel mushrooms* (towards the end of the month and into May here in Minnesota, earlier in warmer states)
Wild Violets
Lamb's Quarters
Fiddleheads
Oyster mushrooms*
Chicken of the Woods mushrooms*
Sheep Sorrel
Plantain
Burdock
Cattail shoots
Chicory leaves
Chickweed
Shaggy Mane mushrooms*
Milkweed shoots
Catmint
Mustard greens
Yarrow
Watercress
Wintercress (Yellow Rocket)
Horseradish
Trout Lily (Note that there are over 30 types of trout lilies. A few of these are threatened, including Minnesota dwarf trout lily, which is endangered. Many are abundant, but be sure to know the status of any plant you

forage

.)
Field garlic
Dandelions
Asparagus (towards the end of April and into May here in Minnesota, earlier in warmer states)
For detailed pictures, information and recipes for all of these wild edibles and many more, see my
Wild Edibles board
on Pinterest.
*When

foraging

wild mushrooms, it's especially important to follow safety guidelines. Never eat a wild mushroom if you are not 100% sure of it's identity and always cook wild mushrooms before eating them. Click here for information on how to safely gather wild edible mushrooms.
This is just a small taste of all of the fabulous wild edible foods that are in season in
April
, but these are some of the best.
Remember to follow common sense

foraging

rules for both safety and courtesy
— only gather plants when you are sure of their identities, always obtain permission to
forage
if you are not on your own land or public lands that allow it, take only what you can use and leave enough to ensure sustainability — other than cases of invasive plants such as garlic mustard, where you're doing good if you gather as much as you can!
Save
Save
Save
Please follow and like us: