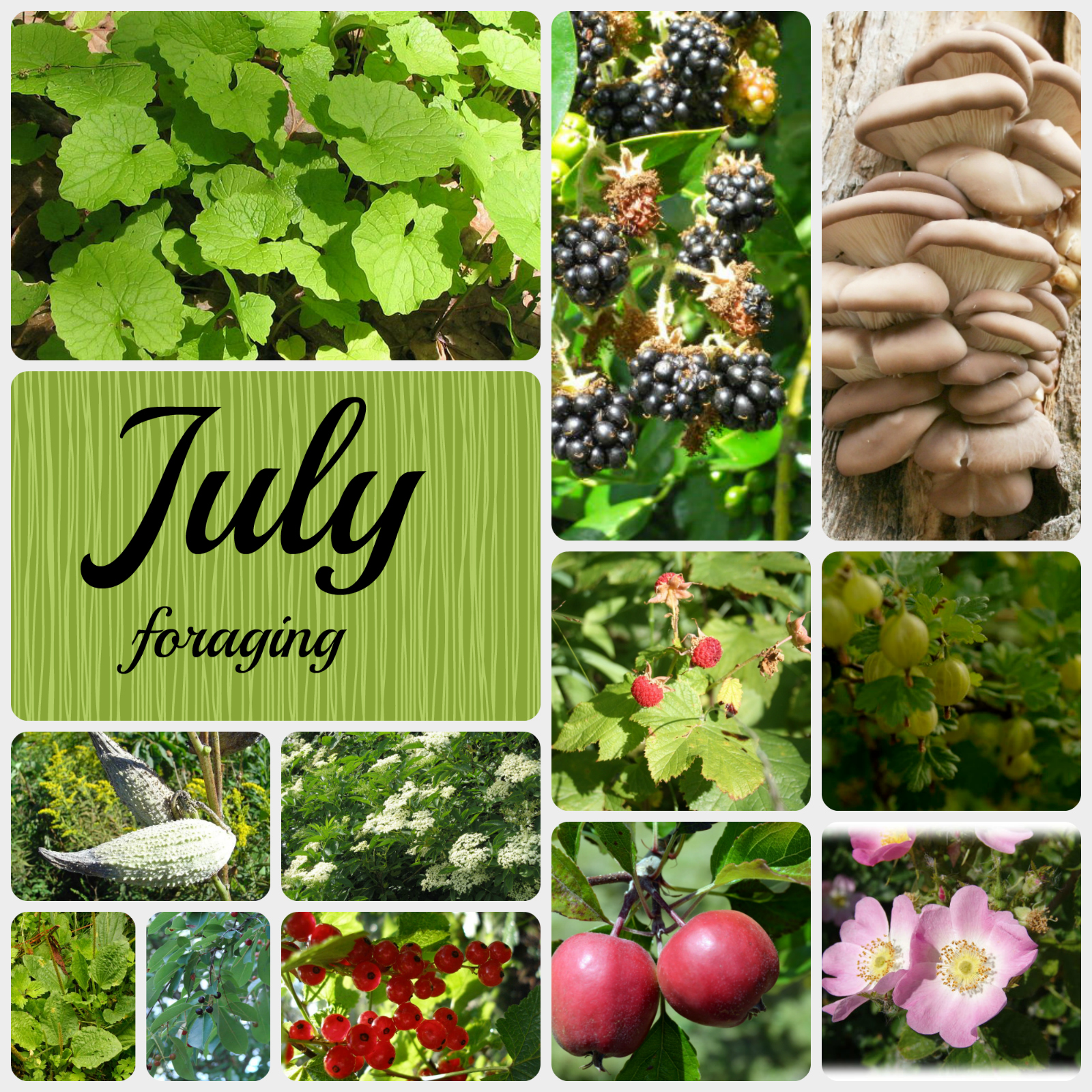 July is a fantastic time to forage for wild edible foods. Whether you're in the country or the city, there are wild foods all over that are tasty and nutritious.
This is a good month for wild fruits, such as black raspberries and wild plums. Wild greens are still plentiful, such as purslane and lamb's quarters (just look for the more tender, newer growth). Young milkweed pods are developing, which are a delicious treat when they're still tiny (we like them battered and fried). We're at the start of prime mushroom season for many favorite varieties of wild mushrooms, as well.
If you're new to foraging, head out with an experienced forager your first few times or stick to plants that you already know or can easily identify. There are wonderful books that can help you ID wild edibles, and there are also dozens of Facebook groups filled with foragers who are happy to help ID photos of plants you're unsure about (look for 25 Fantastic foraging groups and pages on Facebook here soon for some of the best).
Here are 31 wild edible foods to look for in July. This list is for our area here in Minnesota and generally holds true for midwest states such as Wisconsin and Iowa along with similar climates, but many of these plants can be found in much of the United States and elsewhere. If you're in another part of the country or another part of the world, feel free to add your favorite July wild edibles in the comments.
Some of these are especially time sensitive, such as elderberry flowers.
Elderberry flowers (early in the month)
Gooseberries
Mulberries
Wild plums
Wild cherries
Currants
Raspberries
Black raspberries
Blackberries
Crab apples (some varieties ripen in July, while others will ripen in upcoming months)
Apples (some varieties ripen in July, while others will ripen in upcoming months)
Wild rose petals
Garlic mustard (pick the lighter, new leaves for mildest flavor)
Lamb's quarters
Wild grape leaves
Milkweed fruits (the young pods when they are still small and green)
Plantain
Purslane
Wood sorrel
Chickweed
Cattail pollen
Catmint
Oyster mushrooms*
Chicken of the woods mushrooms*
Chanterelle mushrooms*
For detailed pictures, information and recipes for all of these wild edibles and many more, see my Wild Edibles board on Pinterest.
Also consult with your favorite foraging books for proper ID information.  Some of our favorites and some on our wish list are:
* When foraging wild mushrooms, it's especially important to follow safety guidelines. Never eat a wild mushroom if you are not 100% sure of it's identity and always cook wild mushrooms before eating them. Click here for information on how to safely gather wild edible mushrooms.
This is just a small taste of all of the fabulous wild edible foods that are in season in July.
Remember to follow commonsense foraging rules for both safety and courtesy — only gather plants when you are sure of their identities, always obtain permission to forage if you are not on your own land or public lands that allow it, take only what you can use and leave enough to ensure sustainability — other than cases of invasive plants such as garlic mustard, where you're doing good if you gather as much as you can!
Happy foraging!
***
This post contains affiliate links.  Purchases made through our links will earn us a small commission at no extra cost to you.  Thanks for your support!
This article originally appeared on examiner.com.
Please follow and like us: