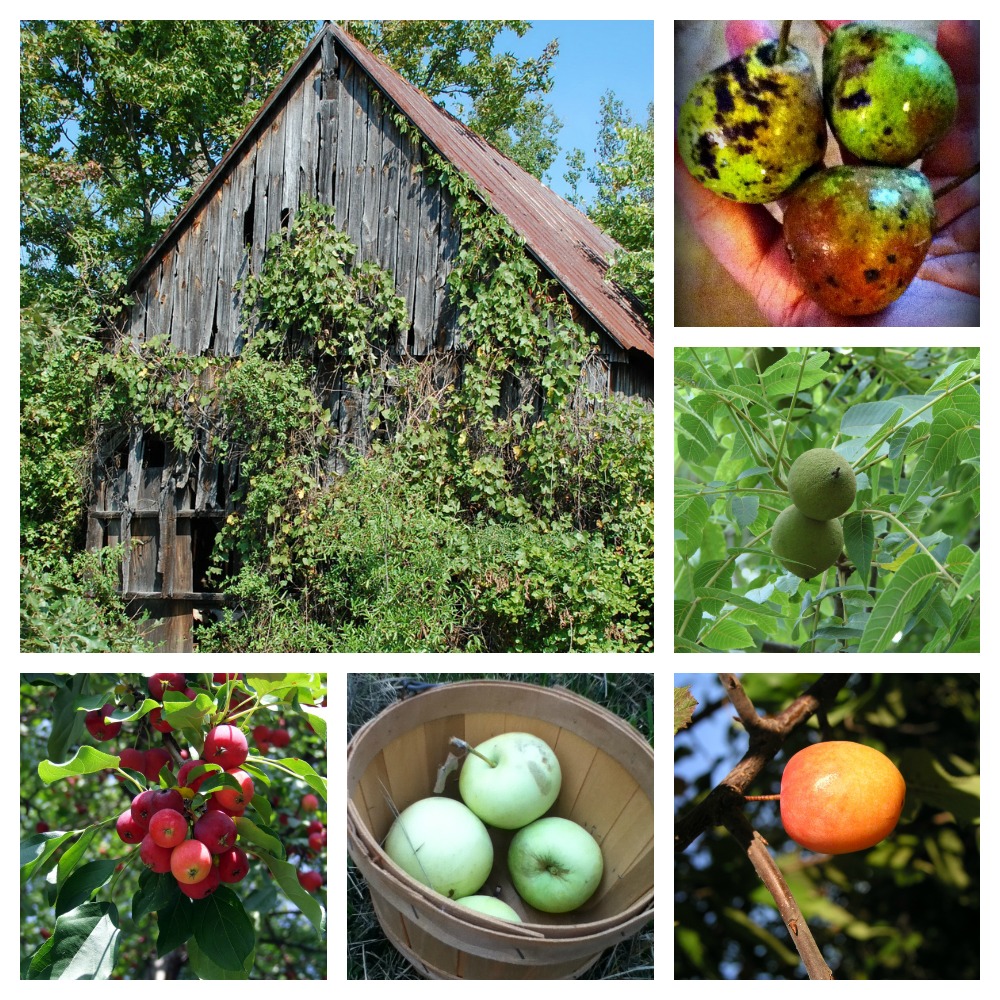 Have you ever driven down the road and spotted an apple tree on an empty piece of land? That's what I like. Finding an old farm, or where a house used to be, anywhere people planted fruit in the past but are no longer around to harvest it.
I've even come up with a name for picking fruit from those locations: feral foraging.
A feral organism is defined as "an organism living in the wild but descended from domesticated individuals". I think that sums it up nicely.
One of my latest discoveries is on state-owned land. It's a very remote area, and one spring when I was parking there I noticed a peony blooming in the prairie grasses. Since peonies only bloom where people plant them, I knew there must have been a farm at one point. I checked with the local DNR office who confirmed it (the farm had been gone for over 40 years), and they said I was free to pick anything I could find.
Last week, we went back. Among all the other trees were three kinds of pears (Bartlett, almost all gone; Kieffer, very ripe and ready for picking; and some kind of Asian or Wild pear, apple-shaped and impossible to peel, tastes like lemon juice). We also found at least one apple tree and a couple of crab apple trees, long past harvest season. Next year we'll go back sooner. The trees were all ancient and twisted.
At another homestead, there are some wonderful apples (sweet and perfect for eating), plus another mystery tree with tiny yellow apples or crab apples. Another site has walnut trees and two kinds of crab apples, and I have the permission of the owner's brother (who tends the property) to harvest as much as I want. One site had two kinds of apples, small and perfect for cider. That lot has since been turned into farmland,which is a terrible loss (I should have gotten cuttings of the branches).
One of our local parks is called "Pat's Grove", named for the man who used to live there before it became county property. The walnuts from the trees he planted are huge and amazingly tasty. I haven't discovered other trees yet, but it may be time for a trip. At our local state park, there's a plum tree next to the site where a log cabin used to stand.
This is a wonderful way to find truly delicious fruit, but if it's on state or county land, ask permission from officials. In state parks it's legal to forage, but non-park areas may be different (or may have a caretaker who doesn't allow it). County land is usually okay to forage on, but again — ask first. It will save time and trouble.
Of course, avoid any property that has "No Trespassing" or "No Hunting" signs. That means someone still cares enough about the property to keep an eye on it. If it's on private land, try to locate an owner. If the site is in the country, check with a neighboring farm to see if they can tell you who the owner is. The object is to get free fruit, not to get arrested for trespassing.
If you find a site with some good fruit trees on them and want to check on the ownership for later foraging, use a foraging app or use Google maps. If there is a property number by the property, that and the road will frequently give you a hit on a Google Maps search as well.
So what are the advantages to it? Well, so far we've gotten several varieties of apples (including many heirlooms), crab apples, pears, walnuts, and plums, and abandoned properties are just teeming with mulberries, asparagus, and other perennials. It's well worth your time to check them out.
Have fun with your feral foraging!
***
This article originally appeared at Examiner.com
Please follow and like us: