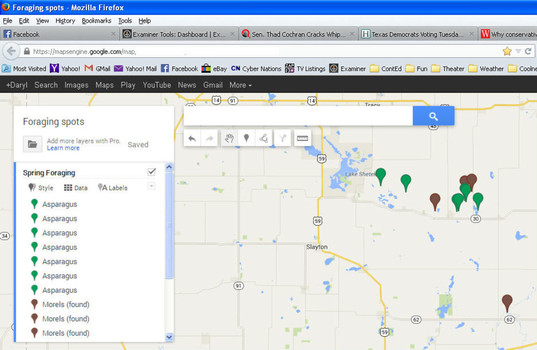 Have good foraging spots but forget where they are from year to year? See something promising by the side of the road and want to check it out later? Google Maps is the answer!
I don't have a handheld device with GPS (I'm too old to be learning new tricks), but this works perfectly. I just make a note of where my spots are and put them on Google Maps, then look it up when it's foraging time. You can add notes to your locations, you can access it from anything with internet access, and it's free.
You're allowed 3 layers with the free version, and I use them for Spring, Summer, and Fall foraging spots (depending on whether I'm marking items such as wild asparagus, black raspberries, or acorns). You can even color-code the pins to make it easier to visualize. There's a description field where you can add notes like the location (one of my wild asparagus spots is 1 block south of the intersection of 240th St. and County Road 6, E side of road), what time of year they can be found, and how good the harvest is (some of my asparagus spots produce enough spears for a meal in themselves, others just have a few straggly ones). If it's on private property, make a note of whether or not you have permission and who you talked to in order to get permission to harvest there.
You can make it as complex or simple as you like. I don't usually include things like dandelion or violet fields, because they're everywhere. Rhubarb is in town and is always "ask first". Morels, on the other hand, are definitely something you want to mark down (make your map private if you do this — grin!). I include both spots where I have found them and where I think they'll be found. Being able to do this is a great help, because in the spring I can see apple trees blooming (white flowers), so I'll know where to harvest in the fall, and in the fall I can spot the asparagus "trees" so I'll know where to look in the spring.
The best part is, it's completely customizable — only include what you want. Here's what's on my current lists:
Spring Foraging:
Wild asparagus
Morel mushrooms
Summer Foraging:
Black Raspberries
Mulberries
Gooseberries
Fall Foraging:
Apples (including whether they're early, tart, good for sauce, etc)
Crabapples
Walnuts
Acorn trees
Elderberries
And so on. These are all of the ones we currently use, but I can always add more. In fact, I have locations marked for wild grapes and pin cherries, even though we don't currently harvest them. But when we do, I know where to look!
***
This article originally appeared at Examiner.com
Please follow and like us: