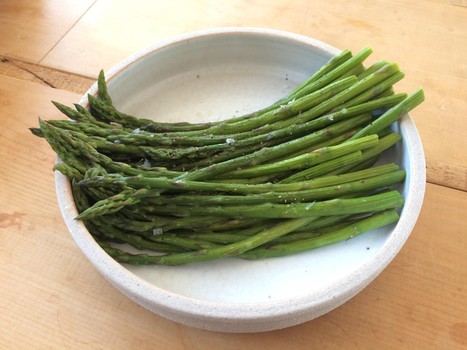 It's harvest season for wild asparagus, and here are 10 ways to enjoy it now or preserve it for later.
First, unless you're using the entire stem, you'll need to process it.
Break off the bottom inch or so — if the stem is too woody, it will bend instead of snapping cleanly. You can also cut it with a knife — the tender parts will slice cleanly, the tougher parts will be crunchy and difficult to cut.
For many or the recipes, we prep the asparagus by slicing off the tips, which is the top 2″ or so. Put that aside. Cut the stems into pieces, usually about 1″ or so and put those in a separate bowl. As you get to the bottom end, pay attention to how hard it is to cut. We do this because the tender tips and the tougher stems take different times to cook. If you do them together, you'll either end up with mushy tips or crunchy stems.
To enjoy your asparagus now:
Steamed. Cut the tips and stems into pieces as above. Place the stems in a steam basket over boiling water, covered, for 4 minutes. Add the tips, cover again, and cook for another 2-3 minutes or until fork tender. Serve with butter and salt.
Grilled. Here's a video from Weber Grill showing how to do it.
Roasted. From SimplyRecipes.com. Put them in a roasting pan, drizzle with olive oil, and season. Put them in the oven until tender, and you're all set!
Cream of asparagus soup. Vitamix has an easy recipe on their website.
Microwave steamed. Alton Brown shows you how.
Sautéed with other wild edibles (ramps, young cattails, morels). Here's a recipe from About Food for sauteed asparagus and morels. It simple and only requires butter, seasonings, and chives (or ramps if you have any).
Asparagus with fried eggs over polenta "toast". A wonderful recipe from SavorySaltySweet.com, it would also work well over potatoes, rice, or quinoa.
To enjoy them later:
Blanche and flash freeze them. Cut the tips and stem into pieces. Bring water to a boil and add the stem pieces. Boil it for 2 minutes, then add the tips and boil for one more minute. Drain it and plunge the pieces into ice water. Take them out, spread them on a baking sheet, and put them in the freezer. When they are all frozen solid, place them in a freezer bag.
Pickled. Many people like the flavor of pickled asparagus. The National Center for Home Food Preservation has an easy recipe.
Canned. Asparagus is easy to can, but requires a pressure canner as it is a low acidic food.
Bon appétit!
Please follow and like us: