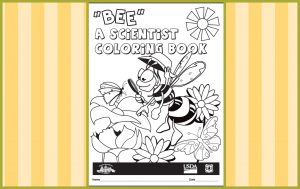 Here's a great freebie that kids can get through the mail to learn about scientists. The National Inquirer, a children's publication through the USDA Forest Service, is offering "Bee a Scientist" coloring books for free. The coloring books can be printed as a PDF file or you can request one or more copies through the mail at no charge.
The sixteen-page black and white coloring book was produced by the Cradle of Forestry in America Interpretive Association (CFAIA) in partnership with the Forest Service. It features a bee performing all different scientific jobs, with a short sentence at the bottom of each page about various jobs that scientists can hold that help nature. Some examples are:
Some scientists study water.
Some scientists study weather and fire.
Some scientists use math to study the environment.
The National Inquirer lists the target grade range as kindergarten through second grade, but it's also well suited for preschoolers.
You can order multiple copies of the coloring book, and can also order other publications from the site at the same time. The site also offers free wildlife magazines for older kids. There is no shipping charge. No credit card or other payment information is needed, though you will need to register at the site and give your email address and mailing address if you wish to have the coloring books sent through the mail.
Click here to visit the site and order your coloring book!