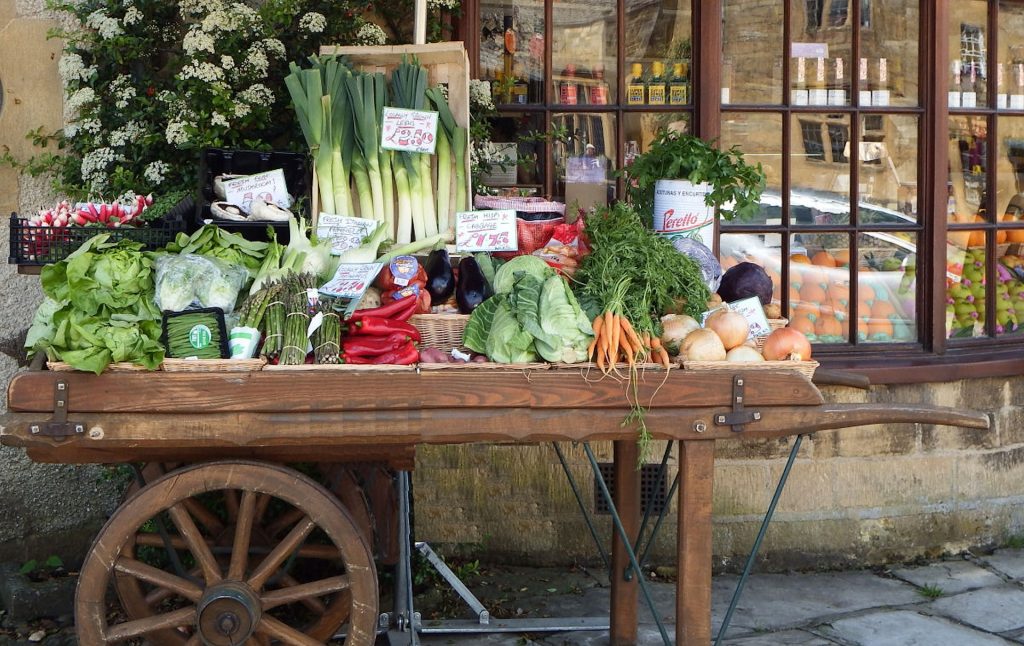 Here's an easy way to dramatically lower your grocery costs and still eat well. 
At the start of each week (or whenever your local stores change their sales), check out the sales flyers for any grocery stores near you. 

Only check for grocery items that you either use regularly or would use if they were cheap enough. 

Make a list for each store in a general area of items that are much cheaper than you usually pay and then make a stop only to pick up those items — if any are even worth the trip. 
And otherwise?  Avoid grocery stores most of the time.  Yes, really.  🙂 

We live in a very rural area with one local grocery store that does not usually have thrifty prices on most items and carries almost nothing organic.  I'll check the flyer to see what's on sale there each week, and then I'll also check the flyers for the two major grocery stores in a city about 40 miles away and for Aldi's, which is about 90 miles away from us but is only a half an hour away from our UU church.  I won't make a special trip for groceries at these stores, but I will go in with my list when I am in that area. 
But for the most part?  I don't often go to grocery stores.  Yes, even though I'm feeding a family of 8.  I've found that most modern grocery stores aren't worth even entering.
As an example, Hy-Vee is a grocery store that has chains 30 minutes and 40 minutes away from us.  The 30-minute store carries very little in the way of organic food and tends to have higher prices (yes, prices can vary widely even in the same chain of stores!).  I really admire a lot about Hy-Vee as a company, since it is employee-owned and they have good people, but I am not a charity and will not shop someplace that will cost me more money simply because I like them. 
That's not to say I won't avoid a store that is terrible to its employees and its community (which is why I try not to shop at Walmart), but I only shop Hy-Vee for sales and a few items since I can get much better prices elsewhere.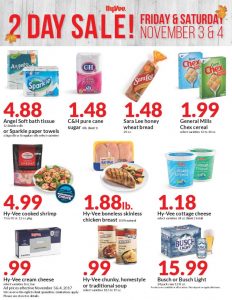 Looking at Hy-Vee's sales ad online this week, I selected "health market" and "produce" to refine the items, since that will show me organic and natural foods and produce.  I am not interested in convenience or conventional foods, so it's quick and easy to see what's on sale that I'd be interested in this way (84 items met this criteria). 
After a quick look, it was apparent that not a single thing was on sale that I could not find cheaper through my other strategies (buying in bulk at Costco, making it myself, etc.).  I was tempted by some organic cereal that was on sale for $3.39 a box, but I get organic gluten-free cereal cheaper in bulk online.  While my kids would like these colorful fruity O's as a treat, they'd scarf it up in a day.  We didn't need it and I can cook a homemade breakfast for a fraction of that price that they'd like more (and would be a lot better for them). 
And most prices were far higher than I spend elsewhere.  For instance, conventional baby carrots were on sale for $1.69 a pound, when I pay less than that a pound for organic baby carrots at Costco — although I prefer to buy whole organic carrots in bulk there instead and save more.  Herbs were on sale for $2.50 for a small package for conventionally grown parsley, when I pay $4 for a huge 3-pack bag of organic parsley at Azure Standard. 
So where do we shop? 
Once or twice a month:
Aldi.  The nearest one is an hour and a half away, so we combine this with other trips for fresh organic produce and some other items.

Stops at local grocery stores for any sale items (I check every week or two, though it is often months before any of them offer anything worth the stop)
Monthly:
Azure Standard.  Items are delivered via truck to drop points around the country once a month.

Costco.  We travel an hour and a half once a month to stock up for the month on frozen organic veggies, canned goods, dry goods and a few fresh organic items.
Every few months:
Amazon.  I no longer take part in Subscribe and Save (I'll talk about why it can cost more money in an upcoming post) but I do buy in bulk for some items.

Jet.  This is a hit-or-miss site but it offers the best prices on a few of my regular items.

Nearby food coops.  There are some in cities within a couple of hours from us that occasionally have very good deals or who let us buy by the case for an additional 10% discount.  I'll sometimes make a stop at these if we are already in that city and we need those items.
Once or twice a year:
Trader Joe's.  We live 3+ hours from the nearest Trader Joe's but I stock up when we're in a city with one.  There are some items they carry that I can't get elsewhere or are cheapest there, such as organic taco shells, frozen artichoke hearts and an organic Sriracha ranch dressing that I love on Mexican dishes.

Stores we visit while traveling.  Yes, I have happily loaded up the van with discounted good quality organic foods that I found while on family vacations!  I even have joked with my husband that we need to go back to St. Augustine so I can stock up on gluten free organics at a discount store we found on vacation.  😉
Otherwise, we get a lot of our foods through non-traditional means that I've mentioned earlier.  For instance, we haven't paid for applesauce or pears in years.  We gather an average of 300 pounds of pesticide-free apples, pears and plums every year for free for applesauce, canning, baking, etc.  Remember, anybody with a fruit tree in their yard who doesn't spray pesticides on it is technically growing organic fruit, and most of them are happy to let you come and pick the fruit so it doesn't go to waste. 
Likewise, who needs to pay for rhubarb, when it's usually growing free in every other back yard in America and most people never use it?  Neighbors are generally more than happy to let you come and harvest some, especially if you make a habit of thanking them with some treats!

Shopping in season means that we stock up on seasonal items like cases of organic apples for about $1 a pound this time of year from Azure Standard (many varieties of apples keep for months in a cool basement, root cellar or refrigerator).
Foraging provides hundreds of pounds of healthy wild foods like elderberries, walnuts, wild plums, acorns (which are utterly delicious if you process them right and the source of my all-time favorite gluten free flour), ramps, morels, wild asparagus, nettles, crab apples, wild grapes, pheasant back mushrooms, dandelions, blueberries, mulberries, and so on.

We've planted edible landscaping plants in our yard that provide free organic cherries, raspberries, elderberries and bush cherries, along with perennial garden plants that produce free organic chives, horseradish, spearmint, chocolate mint, strawberries, asparagus, sage and so on. 
https://www.instagram.com/p/BVnv9Bvlmox/?taken-by=magicandmayhem
And then there's the garden.  That gives us tomatoes, lettuce, spinach, swiss chard, onions, broccoli, brussels sprouts, basil, lemon balm, oregano, etc.
We also buy from local farmers, trade with other families who have their own bounties, and we took part in Bountiful Baskets when there were in our area… among other strategies. 
Before we got this far, we took part in a local organic CSA, which provided weekly bounties of local, seasonal produce through spring, summer and into fall. 
Some families take part in community gardens. 
We don't eat meat but some families buy a share of a cow or pig once a year that a local butcher portions out and they keep the meat in a freezer. 
Other families hunt and fish for part of their food. 
Some families make deals with farmers to purchase their "canning grade" (imperfect) produce and then can, freeze and dry it to use later in the year.
There are many ways to obtain healthy, whole food besides walking down aisle after aisle of the supermarket and buying prepackaged, brand name foods shipped from factories and factory farms around the world.  And almost all of them are way less expensive than shopping those supermarkets.

Think of what our great grandmothers did, or great-great grandmothers.  Grocery stores are a fairly new invention in history.  Even when grocery stores became commonplace, they did not used to provide all of a family's food.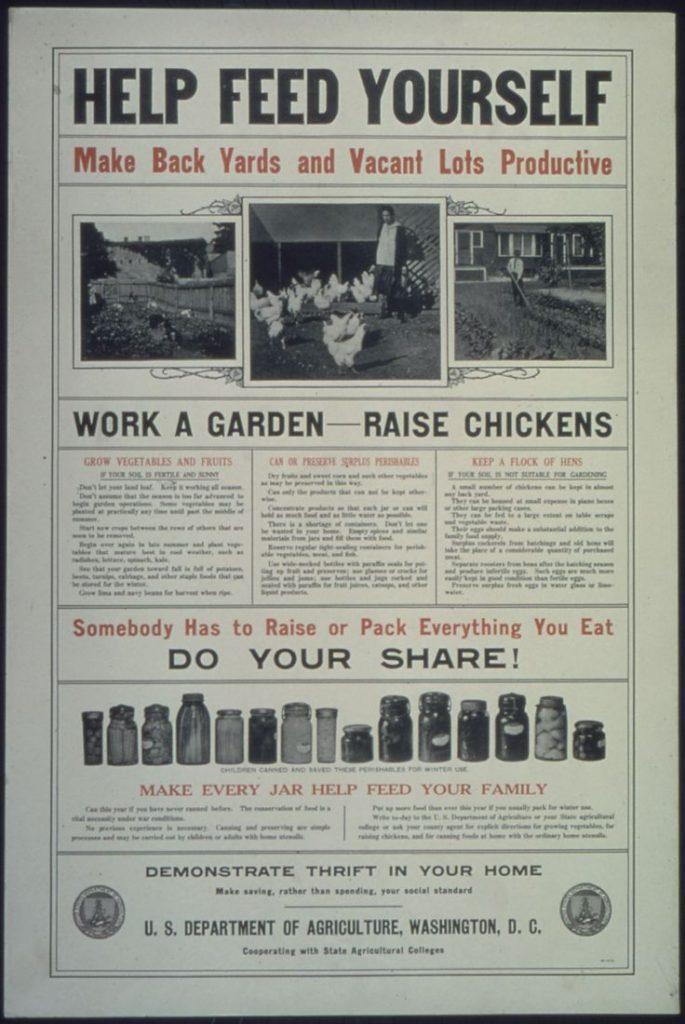 This post is not meant to overwhelm you or give the impression that you have to do all of this to slash your food costs. 
This took a lot of years for our family to put in place, but every step was a little bit more of a blessing. 
Each wild food that we learned about and added to our repertoire was one more step towards self sufficiency and saved us that much more money.  Each little skill we learned, from canning juices to making a roux, empowered us more.  Each fruit tree we planted in our small yard, each plant transplanted from a generous friend, each crop we finally mastered in the garden… all of added up and continues to add up. 
https://www.instagram.com/p/BUe0_ydlZG2/
And remember, you can do FYFO-100 (Feed Your Family Organic for under 100 a week) from anywhere, urban or rural, in any circumstances, and you don't have to do it the same way we do. 
Does Fed-Ex or UPS deliver to your home? 
Do you have access to any natural areas or public parks? 
Can you get to any stores like Costco, Trader Joe's or Aldi's? 
Are you willing to cook from scratch or buy in bulk? 
Do you have even a balcony or roof to grow some plants on? 
Are you interested in learning new skills? 
If you answered yes to any of the above, you can use FYFO-100 strategies. 
How often do you grocery shop?  Would you like to shop there less?
Save
SaveSave
Please follow and like us: