Daryl and I have been faithfully checking our elder patches for the past few weeks and he brought home a bag of our first elderberry bounty for the year this week.
This particular clump of elders is bordering a nursing home that has given us permission to pick their pears and elderberries.  He harvested them in the dark, bless his heart, and quickly filled a bag with one of our favorite wild foods in the world.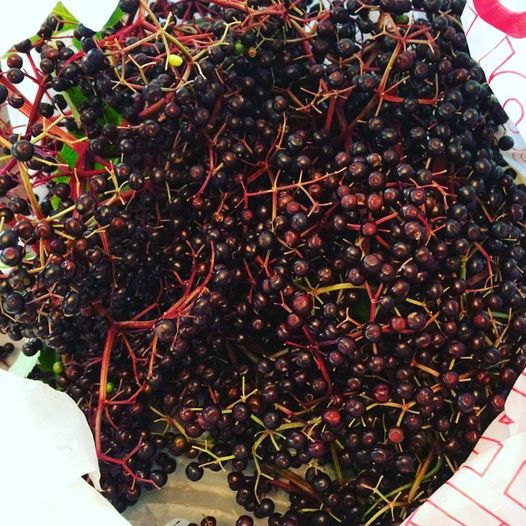 You can see they're just slightly under-ripe (they should be deep purple black) so I decided to use them for juice, which can then be used for jelly, elderberry meringue pie, wine or other recipes, instead of for baking or medicinal remedies.  They have the absolute best flavor, texture and medicinal value when they are fully ripe — though they are still healthy and delicious now!  Luckily, this is a tiny fraction of the patches near us so we can happily use this for juice and use those to come for other purposes.  🙂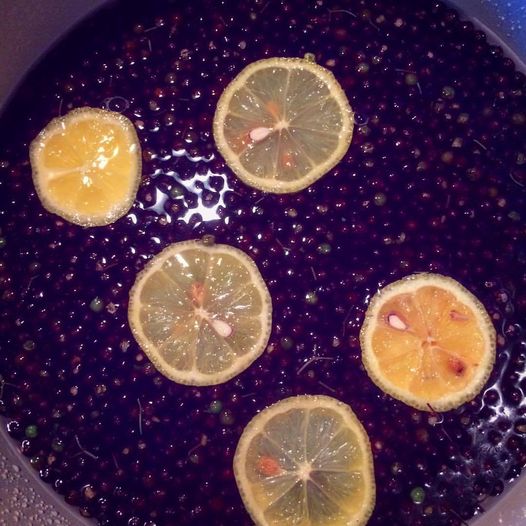 Those three cups of berries made exactly enough juice for one pint (2 cups of juice) after simmering with water just to cover and then pressing through two layers of cheesecloth.  You can add a few slices of lemon, if you like.  Lemons and elderberries are made for each other. Since elderberries are pH indicators and lemons are acidic, this will turn the lemons hot pink by the time they're done and give the juice a slight magenta color.  🙂  (If you like, you can use this bit of science to stir a spoonful of your finished elderberry juice into fresh lemonade to make all natural pink lemonade!)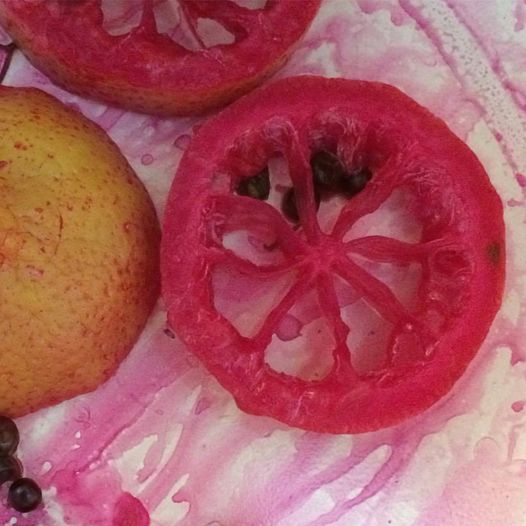 I also put it through my food mill (this is the one I've had since 2009 and I love it) to get every bit of elderberry goodness, but that's not a necessary step.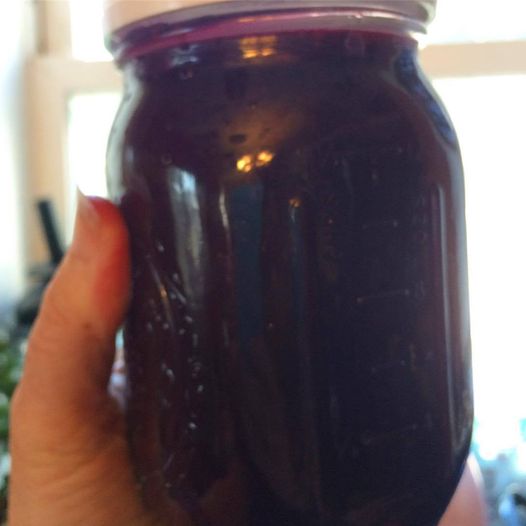 The juice can be refrigerated short term to use for jellies or recipes, or it can be canned for long term storage.  To can it, heat it to simmering and put it in sterilized jars, then process it in a boiling water bath for 5 minutes (add more time for higher altitudes).  All of this is in my book too, of course, with a little more detail.
Daryl came back the next day with another bounty and my little helper wanted to join in "forking" the elderberries off their stems.  🙂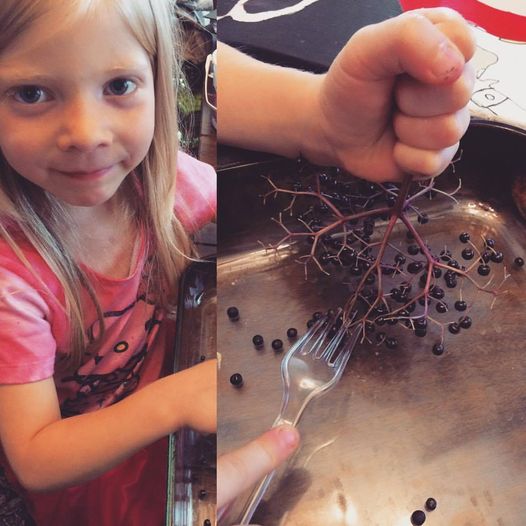 The rest of our local patches are nowhere near ripe yet.  Luckily, elders tend to flower and fruit over a pretty long season (about a month) so if you miss one patch you're likely to still find lots more. 
If you're new to elderberry foraging or want to branch out in what you do with your bounties, I have all the information you need to forage, ID, preserve and use elderberries in my elderberry book — including lots of ID pictures, information about the many health benefits of elderberries and how different types of processing affects those, and nearly 70 recipes for medicinal remedies, jams, jellies, baked goods, fritters, beverages and lots of elderflower and elderberry spirits. 
Some of the recipes are here on the blog, such as elderberry schnapps, elderberry cream cheese spread and elderflower soda and sparkling wine.
If you'd like to check it out, you can get the paperback version at Amazon, Barnes and Noble or your local bookseller. You can also ask your local library to carry it!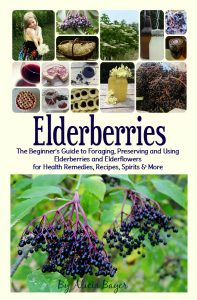 Or you can buy the Kindle version on Amazon.  It's also free to read if you subscribe to Kindle Unlimited.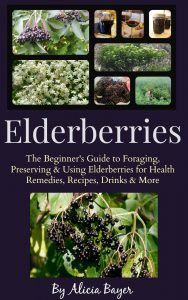 You can look inside and check out a preview here (click on look inside).
Recipes in the book include:
Health Remedies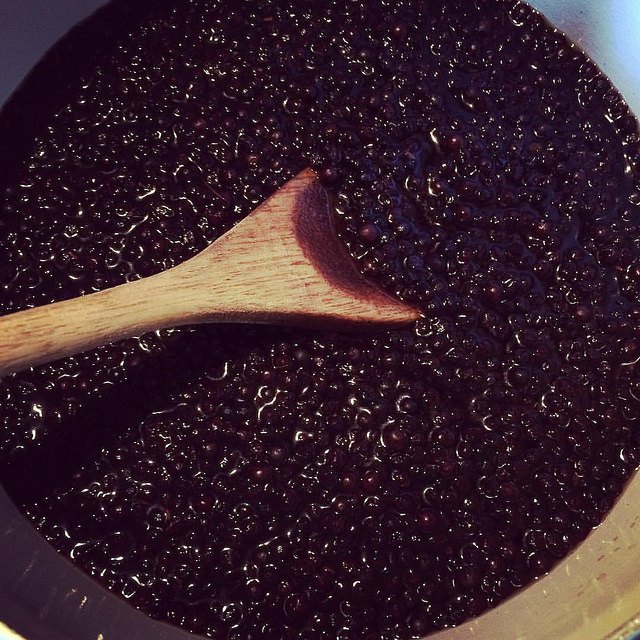 Elderflower Tea 

Elderflower Herbal Hay Fever Tea 

Elderflower Tincture 

Elderflower Herbal Hay Fever Tincture 

Elderberry Syrup (Flu Remedy)

Alternate (Alcohol-Based) Elderberry Syrup 

Elderberry Tincture

Elderberry Tincture Tonic

Elderberry Elixir 

Elderberry Oxymel 

Elderberry Herbal Tea 

Elderberry Lollipops

Elderberry Gummies

Quick Elderberry Apple Juice 

Super-Strength Elderberry Apple Juice 

Elderberry Apple Juice Popsicles
Jams & Jellies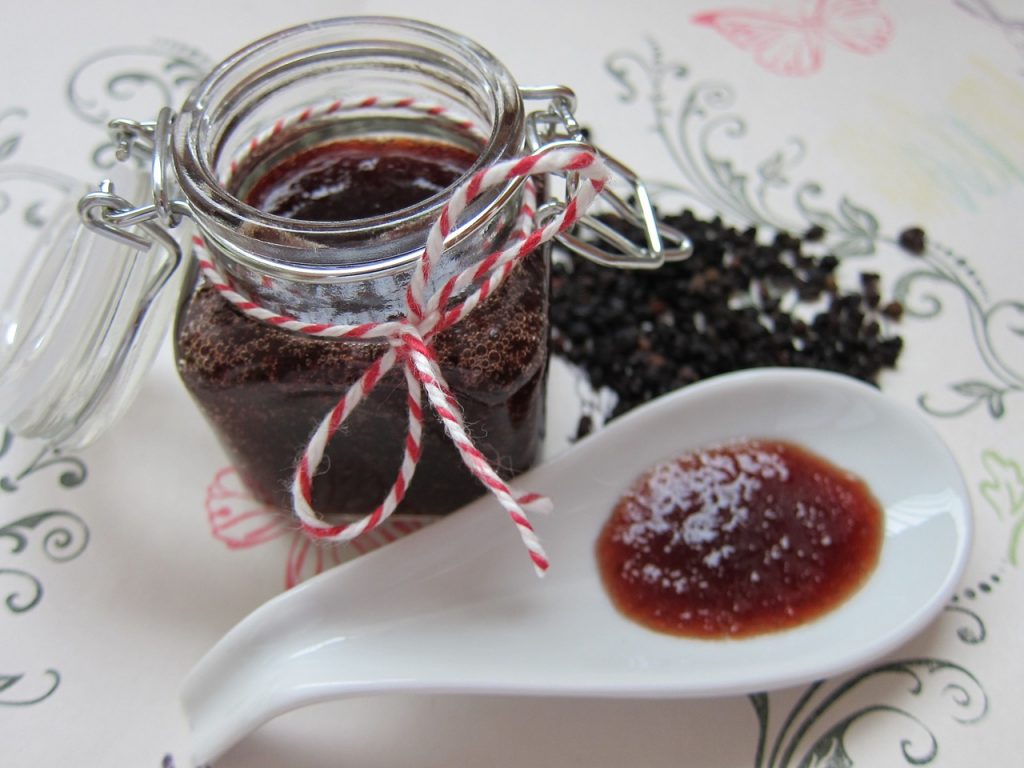 Elderflower and Rhubarb Jam 

Apple-Elderflower Jelly

Elderberry Jelly

Elderberry & Crab Apple Jelly 

Easy Elderberry Jelly from Juice 

Easy Elderberry-Apple Jelly from Juice 

Easy Elderberry-Grape Jelly from Juice 

Elderberry Jam 

Elderberry Apricot Jam 
Elderflower & Elderberry Treats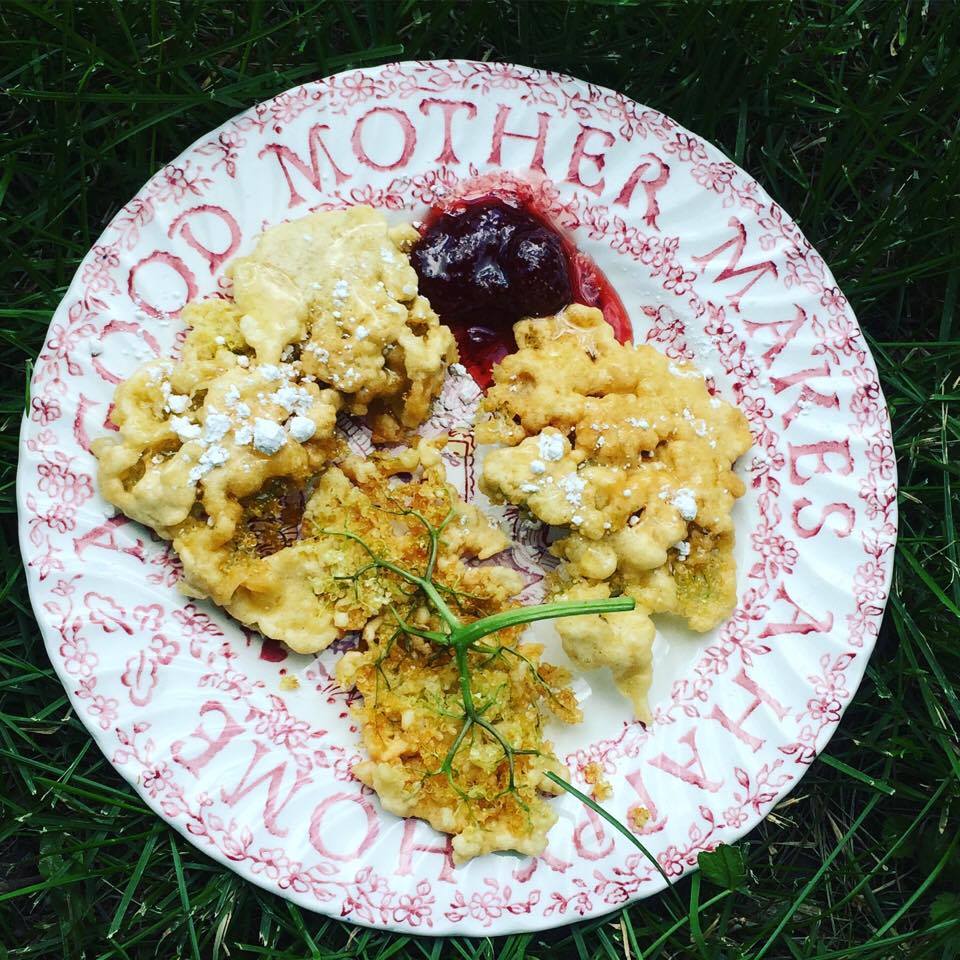 Elderflower Fritters 

Elderflower Pancakes 

Elderflower Syrup

Socată/Suc de Soc (Elderflower Soda)

Elderberry Thumbprint Cookies

Elderberry Crumble Muffins 

Elderberry-Ginger Buckwheat Muffins

Elderberry-Apple Fruit Leather

Elderberry Cream Cheese

Elderberry Cream Cheese Frosting

Roasted Pears with Elderberry Glaze

Dark Chocolate Elderberry Truffles

Striped Elderberry Truffles 

Lemon Cheesecake with Elderberry Syrup

Elderberry Dumplings

Elderberry Fluff

Elderberry Cream Cheese Pie

Elderberry Meringue Pie

Old-Fashioned Elderberry Pie 

Foolproof Elderberry Pie

Elderberry Apple Pie

Sour Cream Elderberry Pie
Spirits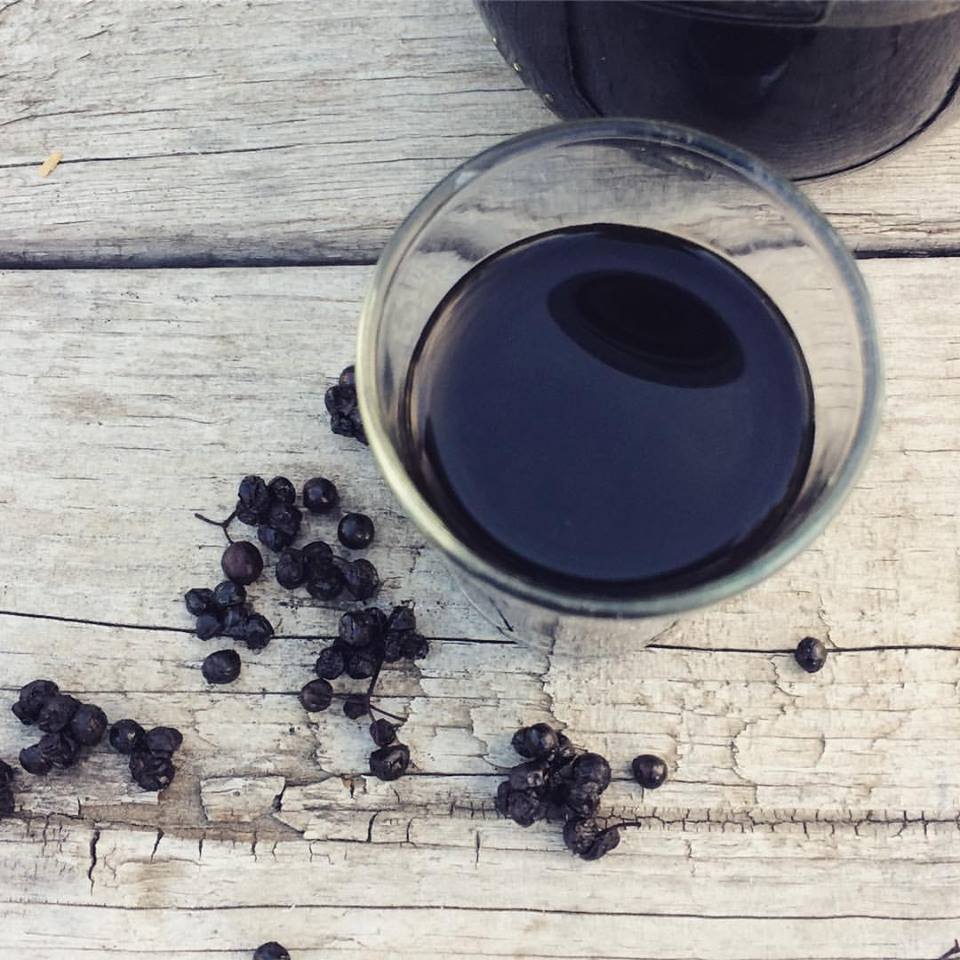 Elderflower Wine

Elderflower Liqueur 

Sparkling Elderflower Lemonade 

Elderflower Hard Lemonade

Raspberry Elderflower Garnita

Elderflower Smash

Blueberry Elderflower Smash

Basil and Elderflower Smash 

Elderitas 

Elderflower Champagne 

Elderflower Liqueur Ice Cream Float 

Elderberry Liqueur

Elderberry Hard Lemonade

Elderberry Schnapps

Elderberry Cordial

Elderberry Bourbon

Elderberry Wine

Elderberry Mead
Happy elderberrying!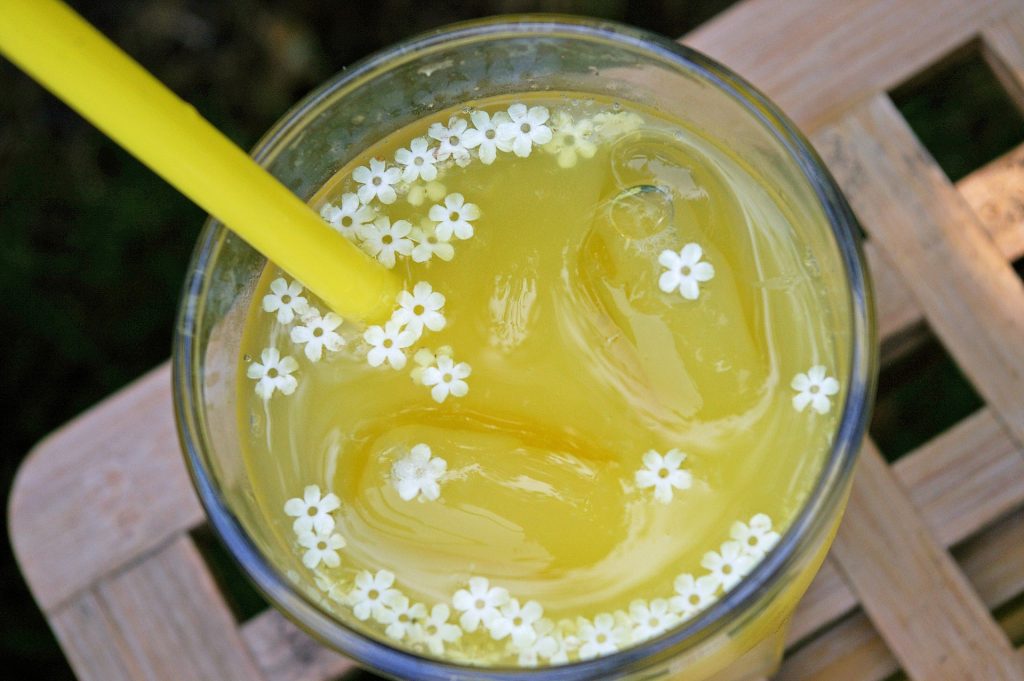 (This post contains affiliate links.  Purchases made through our links earn us a small commission at no extra cost to you. Thanks!)
Save
Save
Please follow and like us: