Here's a way for kids to be creative, spread awareness to protect our oceans and coral reefs, and possibly earn scholarship money through their art right now.
The Khaled bin Sultan Living Oceans Foundation's Science without Borders® Challenge is an annual art contest open to kids 11-19 years old, with scholarships of up to $500 awarded to the winning entries.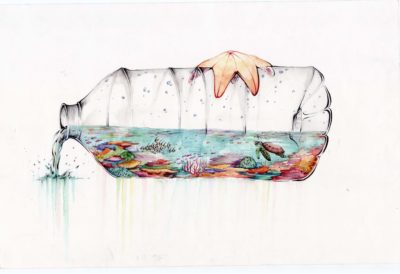 The foundation says:
The Science Without Borders® Challenge was created to get students and teachers interested in ocean conservation through various forms of art. This annual contest inspires students to be creative while learning about important ocean science and conservation issues.
The theme for this year is "Take Action: Conserve Coral Reefs":
Throughout the world, coral reefs are rapidly declining and threatened by a variety of factors—both natural and man-made. If nothing is done to save them, many coral reefs will no longer exist as functioning ecosystems by the end of the century. For this year's contest, the Khaled bin Sultan Living Oceans Foundation is asking students to use their artistic talents to create a piece of art that illustrates one or more of the different actions that can be taken to preserve coral reefs.
The competition is open to all primary and secondary school students 11-19 years old, including homeschool students. College and university students are not eligible.
The artwork is judged in two categories, 11-14 year olds and 15-19 year olds. Each age group will have awards for 1st ($500), 2nd ($350), and 3rd place ($200).
The deadline to enter the Challenge is Monday, April 20, 2020. 
The organization has changed their rules somewhat to respond to the COVID-19 outbreak, which means kids merely scan their artwork and email it in to enter now. Once semi-finalists are chosen, they will be asked to send in their original artwork. See New Guidelines for Submitting Artwork for the 2020 Science Without Borders® Challenge for more information.
To apply to the Challenge, read the Contest Rules, fill out the Submission Form online, and upload a photograph or scan of your original artwork (along with a completed COPPA Privacy Form for kids under age 13).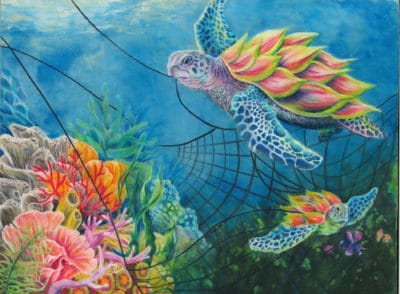 Be sure to check out all of the past winners and their wonderful artwork too!
Find them here:
The first year, in 2013, students were asked to submit a short video showing how we are all connected to the oceans. This was that year's winning video.
Good luck!