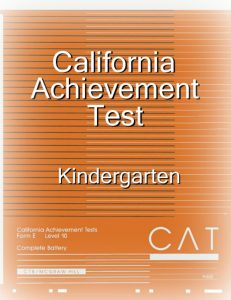 The most commonly used standardized test among homeschoolers is probably the California Achievement Test (CAT). The fifth edition, or CAT-5 is most commonly used. Other editions are not as long or as comprehensive.
Why would homeschoolers use standardized tests?
Homeschoolers in some states such as Minnesota are legally required to administer a standardized, norm-referenced achievement test every school year for their children of compulsory school age. Other parents like to periodically access where their children are in all subject areas. Parents who are new to homeschooling often use tests such as the CAT to access their children's current proficiency in various subjects to determine what grade level materials to order for instruction or what subjects to give special attention. Standardized tests can also reassure others (such as non-custodial parents) that children are learning well at home.
The CAT has many advantages. It is affordable (around $35), can be given at home, is comprehensive, provides very detailed results, and can be administered by the parent. The CAT is also a test that most homeschooled children find fairly easy, and the results can be excellent for reassuring doubting relatives.
Administering the CAT requires parental involvement for grades K-3, with the parent reading a scripted tester's manual. After 4th grade, the test is largely self-administered by the child, with the parent only in charge of timing and general instructions.
The test consists of between 5 and 10 different areas depending on grade level. The subjects include Word Analysis, Vocabulary, Reading Comprehension, Language Mechanics and Expression, Math Computation, Math Concepts and Applications, Science, Social Studies, Study Skills and Spelling. Each subject contains multiple timed sections.
Test times vary between about 90 minutes for the youngest children to over 5 hours for older students. Most homeschoolers administer each section separately, with some choosing to do one or two areas each day for several days and others testing in one day but providing breaks in between.
You can order the CAT from Family Learning Organization (FLO). They will send you all of the testing materials and you have two weeks to complete the tests and return them. FLO will send you a detailed report of the results in several weeks. The report will include information including what percentage of each section your child scored correctly, percentile ranking, grade equivalent and more. A full list of the results can be viewed here.
There are other, shorter versions of the CAT which are also available. These tests are still comprehensive, but do not cover subjects such as science and social studies, and require far less time to administer. Students can take this version of the CAT online through Christian Liberty for around $25 and homeschool coops sometimes offer this version of the CAT, as well. Keep in mind that if you are testing to fulfill your state's legal requirements, you will still need to find a way to access your child in required subjects such as science that are not covered by the test.
Also keep in mind that there may be a waiting period during popular testing times like late spring. Some services offer a small discount if you order test materials before then.