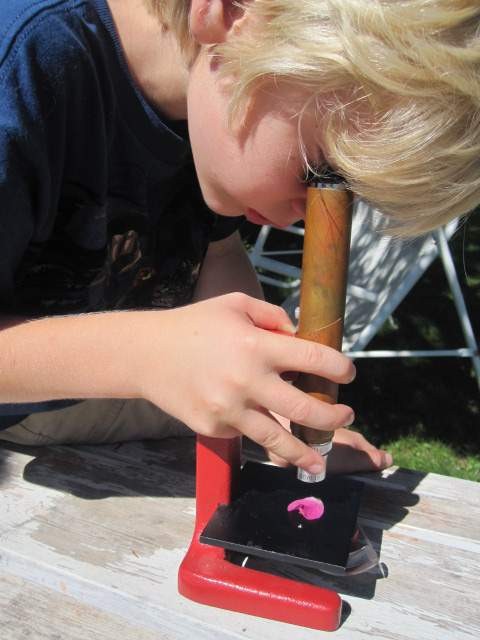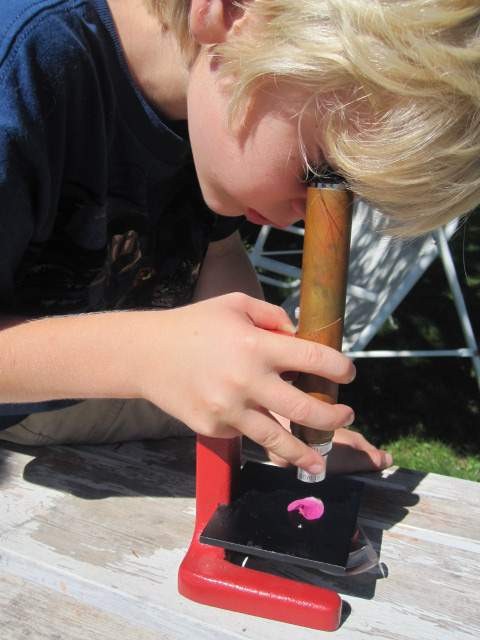 So you have a microscope (or are giving one to the kids for Christmas) and you're stuck on what to do next?
Here are 50 easy-to-find things to view under a microscope.
All of these can be viewed with a basic microscope without high powered lenses (or even a pocket scope), though they'll often be more interesting with higher magnification.
(Some links on this post are affiliate links. Thanks for your support!)
Salt (including different types)

Sugar

Sand (compare from different beaches, if possible)

Bird seed

Different colors of human hair (be sure to look at dyed and natural, and roots)

Fur from various species

Whiskers

Onion skin

Wings and legs of butterflies and insects (hint: look on your car grill in the summer time to find lots of species!)

Bread mold

Yeast (dry and after proofing in warm water with sugar)

Slice of sea sponge

Soil

Thread

Fingernail clippings

Wool

Dust

Dirt from the vacuum cleaner

Celery fibers

Dandruff

Torn papers of different types

Dryer lint

Coffee grounds

Melted snow

Moss

Various seeds

Bread crumbs

Fruit flies or fleas

Feathers

Grass

Chicken skin

Pollen (lilies have especially bright pollen)

Flower parts such as stamens

breast milk versus cow's milk (it's pretty fascinating!)

Spider webs

Synthetic fibers

Fish scales

Different types of leaves

Pond water

Fish tank water

Ladybug parts

Mushroom gills

Diatomaceous earth (finely crushed shells, sold for farm and garden uses)

Seaweed

Algae

Pine needles

Wood splinters and bark

Snowflakes (hint: chill slides first and take the microscope outside if possible)

Different types of flour (soy flour, whole wheat flour, all purpose white, etc.)

Ear wax (sounds gross but is very interesting to view!)
Obviously, different specimens are easier in different seasons than others. January is a much better time to view snow and ice crystals than pond water if you're in Minnesota, for instance.
Where to get slides? You can pick them up inexpensively at online stores like Amazon.com, American Science and Surplus or Rainbow Resource. You can also pick them up at most neighborhood teacher stores and science supply stores.
In a pinch, you can use the glass from small picture frames for microscope slides. We've even used a broken plastic CD case for a temporary slide to view something interesting that came along!
Which microscope to buy?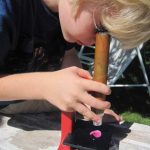 Our family prefers the nearly indestructible (made in America) Brock Magiscope, which is very portable and durable for even very young children to handle, and comes with a lifetime warranty. We bought ours used on eBay where there are usually quite a few used ones offered (remember they have a lifetime guarantee no matter where you get them or how old they are) but the Brock website sometimes runs great sales direct from the manufacturer. Amazon sometimes has them in stock, too, but they may be older models.
Keep in mind that you can also order a "pocket microscope" (a tiny hand-held magnifier with a light) from eBay for under $5 (with free shipping), which also works great for younger kids when you're just starting out.
If you don't want to wait for a super cheap eBay scope, for a few dollars more you can get a surprisingly high powered lighted pocket scope like this one or this one on Amazon for as little as $5 to $10 with speedy Prime shipping. They're fun, easy to carry, and so inexpensive that you don't have to stress as much if they get lost or broken.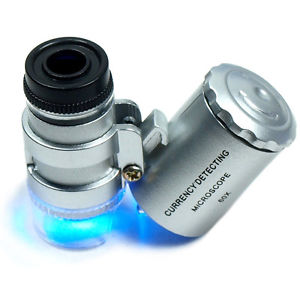 We love these pocket microscopes, especially for younger kids. They make great on-the-go magnifiers and work surprisingly well. I get them for party gifts and stocking stuffers too. 🙂
You can also try using magnifying apps on your phone!
Have fun!
Save
Save