Wild Kids Magazine for January 2021
Happy New Year!  I hope 2021 finds you healthy and happy.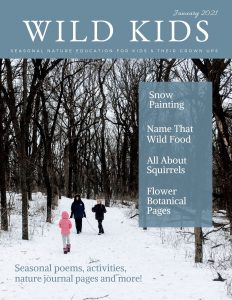 Here's the link to the January 2021 issue of Wild Kids Magazine.
This month's issue is 20 pages and, as always, is ad-free and 100% free to read online or print out.
In this month's issue, we've got all kinds of info on squirrels and how to help them and enjoy them, whether it's in your yard or at the park.  We've also got some ideas for snow painting, information about hyacinths and artichokes, a foraging match up to ID some common wild edible foods, nature journal pages, ways to have fun with nature and lots more.
I've decided to go with flowers for this year's botanical coloring pages.  It seems like a year when we could all use a little extra beauty, and flowers are so good at adding cheerfulness to outdoor spaces — plus they help pollinators, give us food and medicines, and lots more.
I'm wishing you all the best in 2021!  Have a wonderful, wild month.
Please follow and like us: