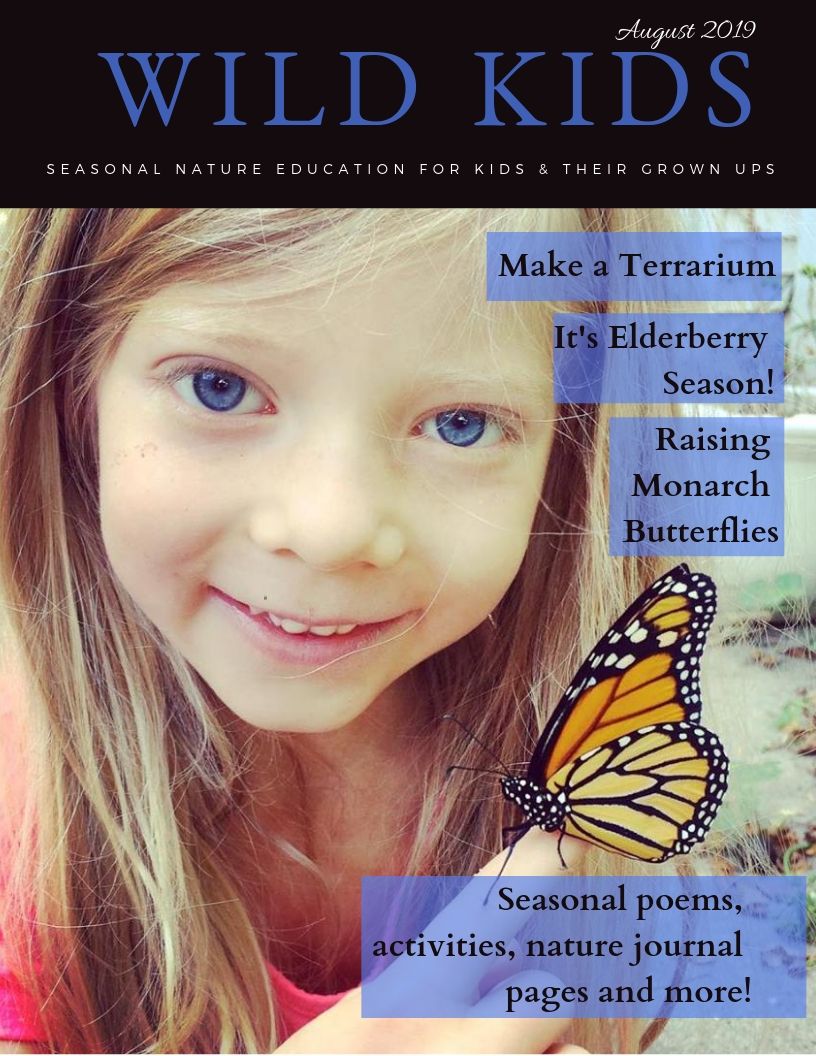 Wild Kids Magazine for August
Happy August!
In this month's Wild Kids Magazine we have information on raising monarch butterflies from tiny eggs and caterpillars, making a terrarium, foraging elderberries and more. As always, there are also free printable foraging record keeping pages, nature journal pages, botanical wild plant coloring pages, seasonal poems and more, too.
This month's issue is 16 pages, in PDF form as always.
Here's the link to download or read the August issue of Wild Kids Magazine:
Here are some links to learn more about the topics in this month's issue.
Raising Monarchs
The U.S. Forest Service offers fantastic Monarch Butterfly Teacher and Student Resources with all kinds of great PDF lesson plans and printouts.
Here are a couple of videos of monarchs we've raised and released at our home.
Here is a video of our youngest daughter, Fiona, releasing her first Monarch a year or two ago.
And here is Fiona releasing one of our butterflies this year.
https://www.instagram.com/p/Bz3buIchb-b/
How do you know if your monarch is a boy or a girl?  You can tell by the wing spots.  The boys have dark spots on either side of their hind wings near the bottom of their bodies like this:
The girls have no spots there and have thicker, darker veins, like this:
Can you tell whether these monarchs are male or female?
Have you raised butterflies?  Tell us about it in the comments below!
Elderberries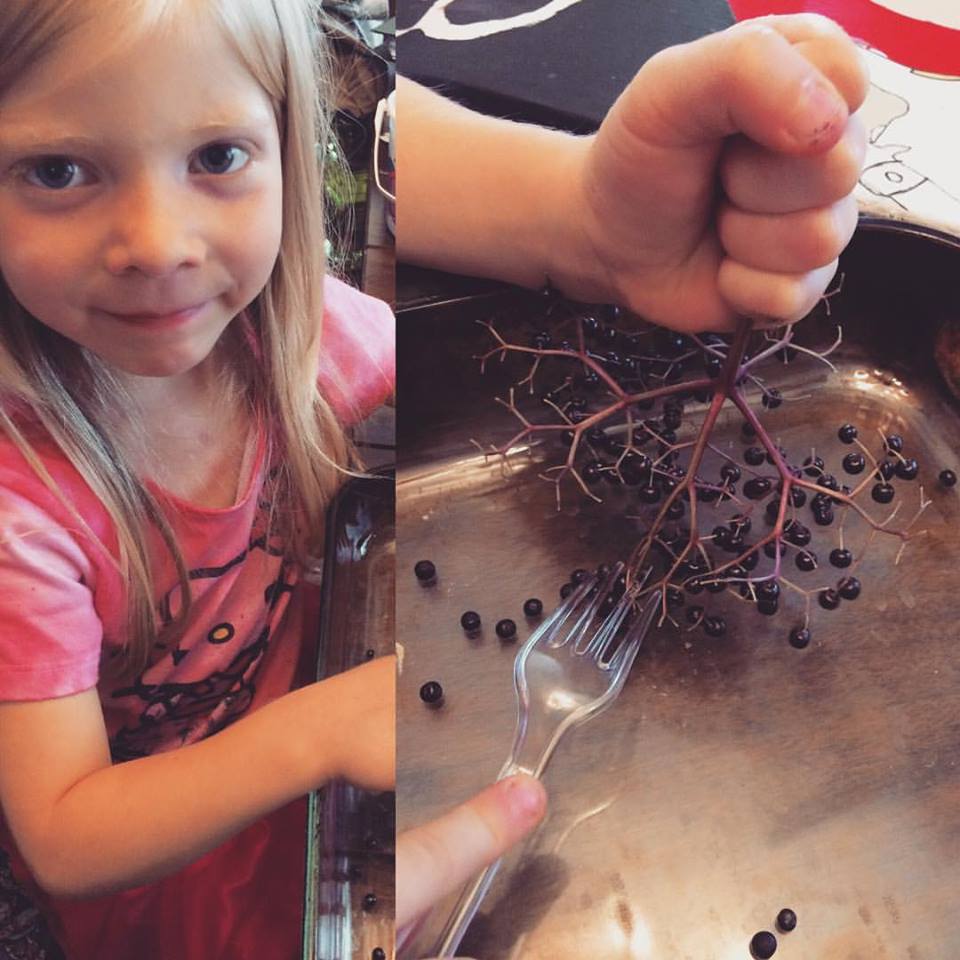 You can find lots of information on how to find, forage and use elderberries on our family homesteading blog like It's Elderberry Season and Now Is the Time to Easily Find Elderberry Shrubs. I also have some recipes like Homemade Elderberry Lemonade Concentrate, Elderberry Lemonade Popsicles and Three Ways to Use Elderberries & Elderflowers to Ward Off Sickness (Besides Elderberry Syrup) on my much-neglected author blog.  🙂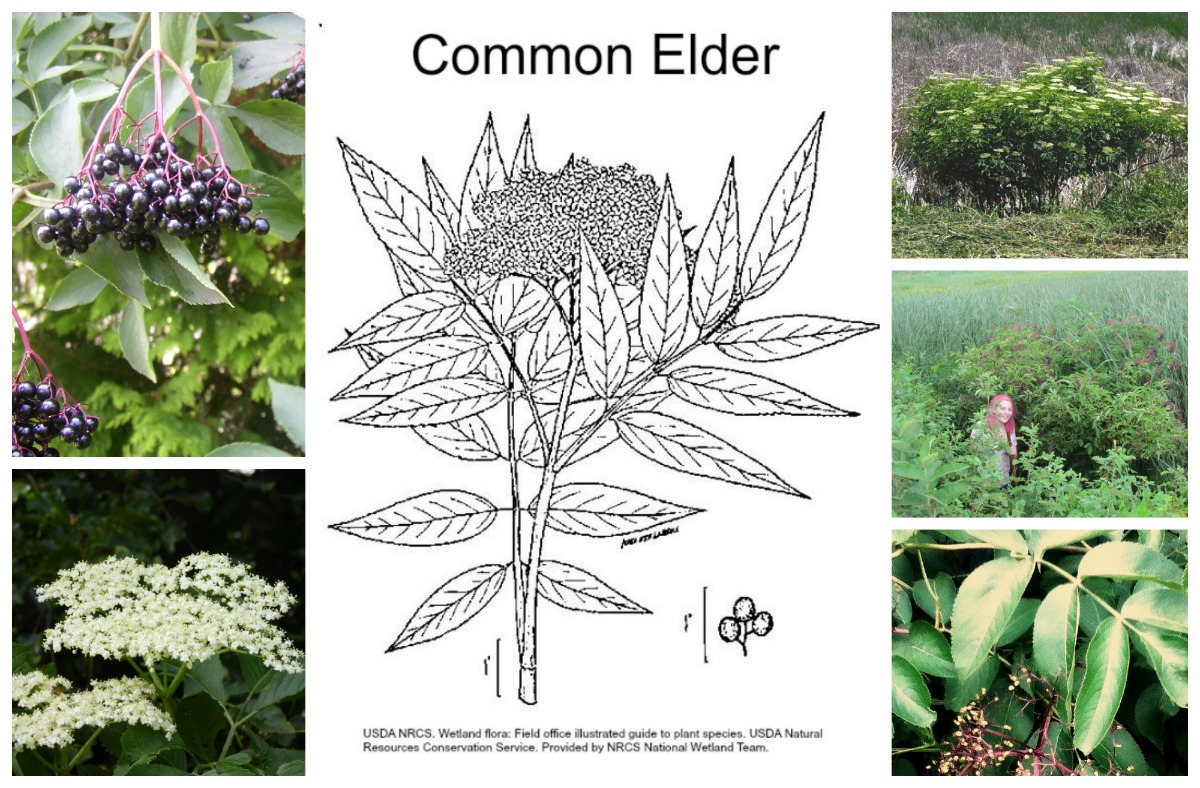 Do you use elderberries at your house?  What's your favorite way to use them?
And with that, I'll sign off as this is dreadfully close to midnight on July 31st as I post it!
Have a wonderful, wild month!
Please follow and like us: