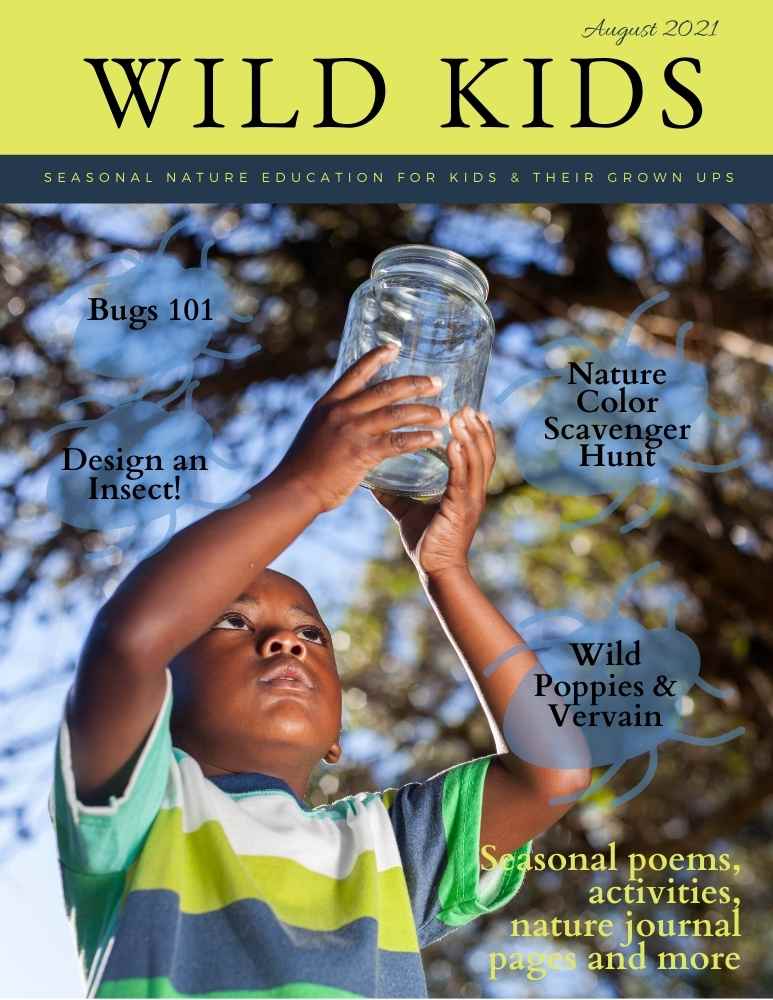 Wild Kids Magazine for August 2021
Happy August!  How can we be more than halfway through 2021 already?
I hope you and your family are safe and well, and you've found some great ways to enjoy the outdoors lately.
In this month's Wild Kids Magazine, we're focusing on insects with some cool facts about how they use their colors and other parts of their designs.  Kids can design their own insects and they'll also learn about blue vervain and poppies.  We also have a color matching nature scavenger hunt and all the usual nature journal pages, seasonal poetry, a nature tracking calendar, a weather tree and more.
Here's the link for the August 2021 issue of Wild Kids Magazine.
This month's issue is 18 pages in PDF form as always.  It's in color and is designed to be printed on both sides of the page if your printer is able to, to be read like a magazine, or in single pages or just read online or on your kindle.  Whatever works for you!
As always, the magazine is ad-free and completely free to read, download and/or print.
Feel free to share the link with anyone who might benefit!
Here are a few links if you'd like to learn more about some of the topics in this month's Wild Kids.
Blue Vervain (verbena)
Poppies
Foraged Wild Poppy Seed and Lemon Drizzle Cake from Totally Wild UK
Foraging for Wild Poppies (California Poppies) from Grow Forage Cook Ferment
Plants of the Poppy Family from Wildflowers and Weeds
Pleasures of the poppy seed from The Oldie
Have a wild and wonderful month!
Please follow and like us: