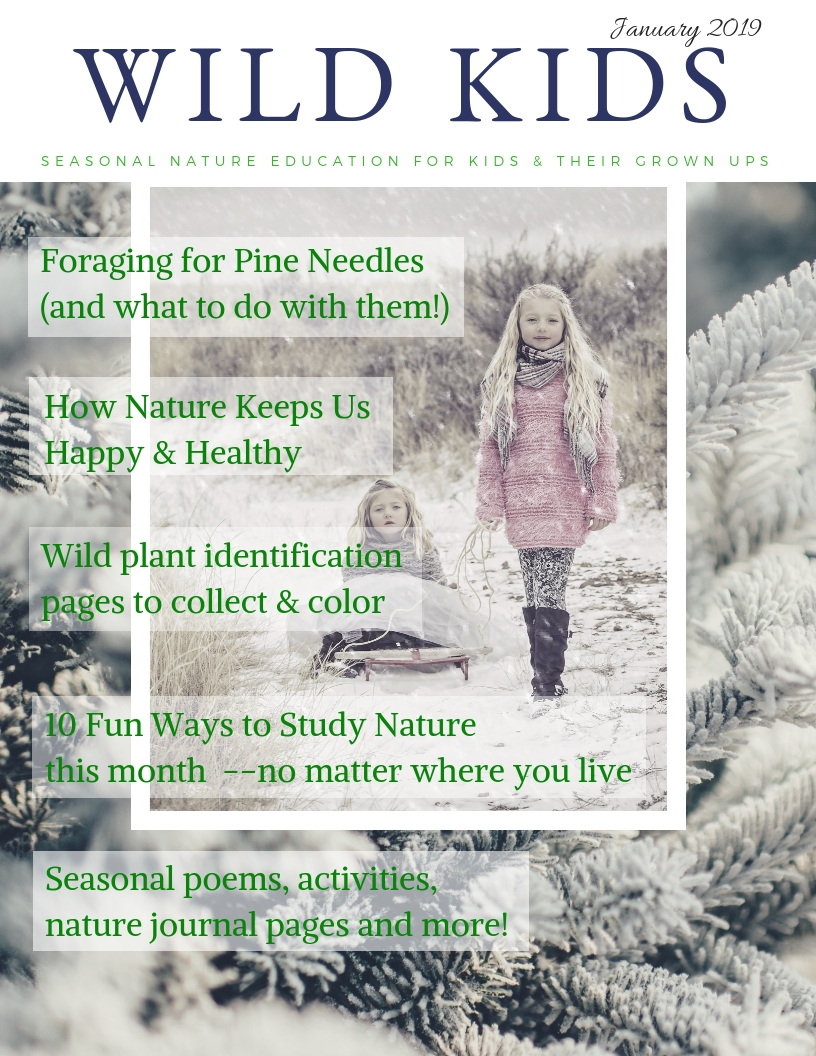 Wild Kids Magazine for January
It's here!  Here is the download for the January edition of Wild Kids Magazine.  The magazine is full color and is 16 pages in PDF format.  Feel free to read it online with your kids or print it out.  It includes printable plant ID pages, nature journal pages and other printables, so you may want to at least print those out if they're helpful.
Here are some fabulous web sites to learn more and have more fun with this month's themes:
Foraging Pine Needles
Conifer Confusion: An Identification Guide for Pine, Spruce, and Fir Trees, by Gardener's Path
Foraging for Pine Needles (and other conifer needles), by Grow Forage Cook Ferment
Yew: The Hedgerow Poisoner, by Four Seasons Foraging
Evergreen Shortbread Cookies, by Kitchn
Pining for You, by Green Deane of Eat the Weeds
Pine Keeps You Fine, by Susun Weed
Winter Medicine — Evergreen Syrup (recipe), by Herb Geek
Elizabeth Blackwell 
Will the Real Elizabeth Blackwell Please Stand Up? by The New York Botanical Garden
About Elizabeth Blackwell, by Botanical Art & Artists
Elizabeth Blackwell, by the National Library of Scotland
Elizabeth Blackwell, by the Illustrated Garden
You can read Ms. Blackwell's book online here and see her wonderful illustrations:  A curious herbal : containing five hundred cuts, of the most useful plants, which are now used in the practice of physick engraved on folio copper plates, after drawings taken from the life
Winter Nature Studies
25 Wonderful Ways to do Nature Studies in Winter, at my author's site
Free Nature Notebooking Pages, from Handbook of Nature Study
Please share the magazine with anybody who might be interested.
Have fun!
Please follow and like us: